TCT Show 2017 Open their doors this September in Birmingham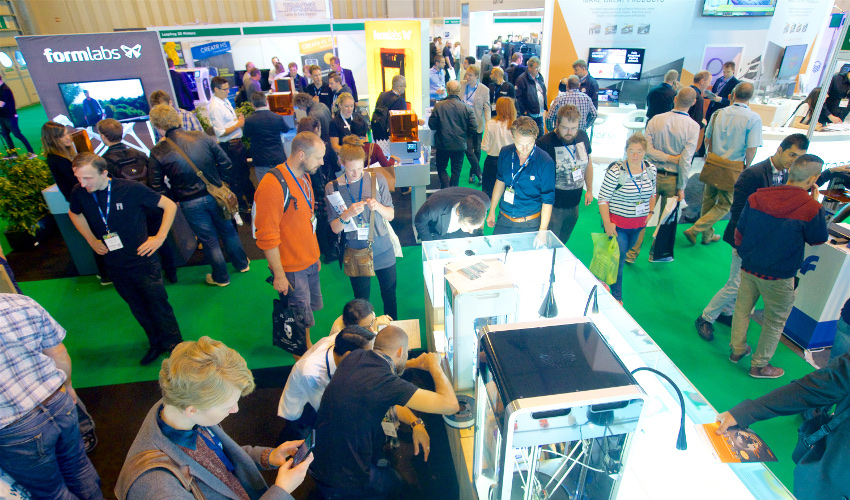 TCT Show is one of the largest 3D printing events in the world and will be taking place in Birmingham, England in only a couple weeks. This event is known for both wowing their visitors and bringing together some of the top names in the 3D printing industry under one roof for an exciting 3-day event.
This year's event is centered around the acceleration of 3D technologies and as such, their event is set to bring both surprises and new innovations to the world of 3D printing. To find out more about this event and to see what they will be offering their visitors this year, we sat down with Holly Delaney, the Visitor Marketing Manager for TCT Show who gave us the inside scope on this exciting event!
3DN: Can you introduce yourself and TCT Show?
My name is Holly Delaney, I'm the Visitor Marketing Manager for TCT Show – one of the world's leading 3D Manufacturing events. This is TCT Show's 22nd event and each year the event continues to dominate; we have expanded into a second hall for 2017 with a record breaking increase in exhibitors, with currently almost 300 taking part as of right now. The theme of this year's event is Accelerating 3D Technologies, which is an extension of the TCT Group mission to accelerate the adoption of 3D technologies in design, development, and manufacturing across all sectors. We bring the 3D manufacturing industry together for insight, education, innovation and most importantly to do business!
3DN: What are the new features of TCT Show Birmingham 2017?
Where to begin? There are so many exciting show features, and it's all free! The Start Up Zone will introduce the most promising new start-ups in the industry and give them a platform to showcase their ideas, Inspex will focus on providers of inspection, measurement, and testing; and TCT Inspired Minds will return to allow over 300 school children to get hands-on with 3D technologies!
The conference and seminar programme is worth a visit alone; It has grown enormously for 2017, in line with the show's expansion, which will now take place across the three dedicated stages. The Main Stage is CPD accredited and will host presentations from Intel, McLaren Racing, Johnson & Johnson, Sabotage Design, DuPont and more. The Tech Stage will offer a range of CPD accredited workshops and the Product Stage will see exhibitors from around the world discussing their latest products and services – a really great way to cram in as much info as possible over the three-day event.
3DN: What 3D printing technologies are you wanting to highlight this year?  
Stratasys will be presenting the McLaren-Honda Formula 1 race car in a TCT Show exclusive and they'll show how the race team is using Stratasys FDM and PolyJet technology to improve performance. There'll also be the global launch of Materialise's 3DP AdviceHub – a concept aimed at providing expert guidance on all things 3D printing, and Desktop Metal's Studio system – the first opportunity for the UK public to see it in action. Carbon will be demonstrating the SpeedCell manufacturing system and 3D printed Futurecraft 4D athletic footwear on their stand. Futurecraft 4D was launched with Adidas earlier this year and Adidas' Vice President of Innovation, Gerd Manz, will deliver a Main Stage keynote address on 28th September that will dive deeper into the design and technology that made the Futurecraft 4D a reality. CraftUnique will also be launching the CraftBot 3 at TCT Show too and I can't wait to get a look at that!
3DN: In what ways is TCT Show Birmingham helping to accelerate 3D printing and additive manufacturing?
For years, TCT Show has been the place to see the cutting edge. It's a rare thing to get so many forward-thinking businesses in one room, because of this, TCT Show provides a unique ecosystem for the development of new ideas and ultimately, new technologies. With the sheer number of exhibitors, there are countless opportunities for professionals from all industries to find new ways to benefit their businesses with the application of 3D technologies.
rapid prototyping, for instance, can be used in early-stage product development in every field, be that custom and personalised packaging, medical devices, and technology, aerospace, plastics, automotive, architecture or engineering. TCT Show accelerates this through 3D printing and additive manufacturing by promoting the broad scope of use and benefits of application to those who may never otherwise have realised how it could work for them.
3DN: Any last words for our readers?
By visiting the show, you will ensure that you remain up to date with the latest technologies and services in this fast-moving industry. You can network with your peers, be inspired by a truly world-class conference programme and engage with vendors who will give all the information you'll need to find solutions to your challenges and make purchasing decisions for the coming year. Your free visitor badge will also grant you access to four exciting co-located events including our sister show, Interplas 2017, as well as the PPMA Show, Sensors and Instrumentation and Micro Nano MEMS 2017.
TCT Show will take place at the NEC, Birmingham (UK) from September 26 to 28, 2017. Register now for free here and let us know in a comment below or on our Facebook and Twitter pages if you will be there too!