The Tallest 3D Printed Building in the World Unveiled in Saudi Arabia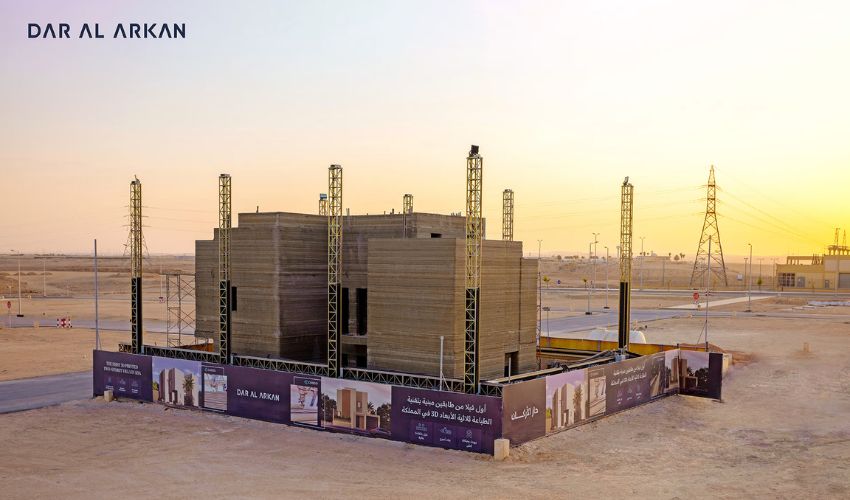 It has been a busy year for 3D printed construction projects. From Zero Net Energy buildings to 3D printed schools and holiday parks and more, never before has additive manufacturing seemed to have such a crucial role in the building sector worldwide. COBOD, which is known for its BOD2 construction 3D printer and which has been involved in a number of projects, has yet another to add to its list. This week the company and Dar Al Arkan a real estate company in Riyadah, revealed what they claim is the tallest 3D printed building in the world, located in Saudi Arabia.
It is no surprise why 3D printing is becoming more and more popular in construction. Though it of course has drawbacks, notably relating to building regulations and accessibility, it is seen to be a potential solution to the global housing crisis thanks to its speed and cost-saving ability. In this specific case, the three story 3D printed building is located in Shams Al Riyadh, a development project of about 12million m2 of land. It is part of Saudi Vision 2030, a strategic project to develop sectors such as health, education, infrastructure, recreation and tourism in the Kingdom.
Wael Al Hagen, the 3D construction manager from Dar Al Arkan, further explained, "Our efforts are focused on developing the kingdom's real estate sector by integrating the latest trends and technologies, drawn from global best practices to enhance our industry locally and deliver on the objectives of vision 2030. The introduction of 3D construction printing enables us to focus on greater flexibility of design, strengthen productivity and achieve higher cost efficiency."
The World's Tallest 3D Printed Building
At three stories and a height of 9.9m, the building is not just the tallest 3D printed building in the world but it is also the tallest on-site 3D printed building in the world. This is because while other projects involve 3D printing the blocks separately and then bringing them on site, COBOD's BOD2 printer allows for direct printing wherever is needed.  Indeed, this building displaces the previous tallest building, also built using COBOD's technology, a 3-story 3D printed building in Germany that was completed by Peri.
The house was made out of low cost local materials to create the concrete thanks to the D.fab solution developed by Cemex and COBOD which allows for users to source 99% of concrete materials locally. Additionally, due to this, less than €10,000 was spent on the building supplies themselves, making it the home encompasses a space of 345 m2. The first floor consists of a spacious hall and several living areas while the second floor holds three bedrooms, two bathrooms, a living room and a balcony. The third floor could actually be considered a roof annex, called as such in Saudi Arabia because it is smaller than the other floors, and holds a maid's room, multipurpose hall and laundry room.
Dar Al Arkan is planning on building yet another villa in the coming future, with Wael Al Hagen concluding:
"We are currently building the second villa, which will typically take a month to complete, but we've already finished the first floor of 130 m2 in only eight days. This 3D printed villa has additional insulation layers and features that ensure energy conservation, saving up to 30% in energy consumption. We urge all industry experts to visit us and view the first completed villa and the second under construction for themselves."
You can read more in COBOD's press release HERE. What do you think of the world's tallest 3D printed building? Let us know in a comment below or on our LinkedIn, Facebook, and Twitter pages! Don't forget to sign up for our free weekly Newsletter here, the latest 3D printing news straight to your inbox! You can also find all our videos on our YouTube channel.