T3D, 3D printing direct from your mobile phone
Published on September 22, 2017 by
Jamie D.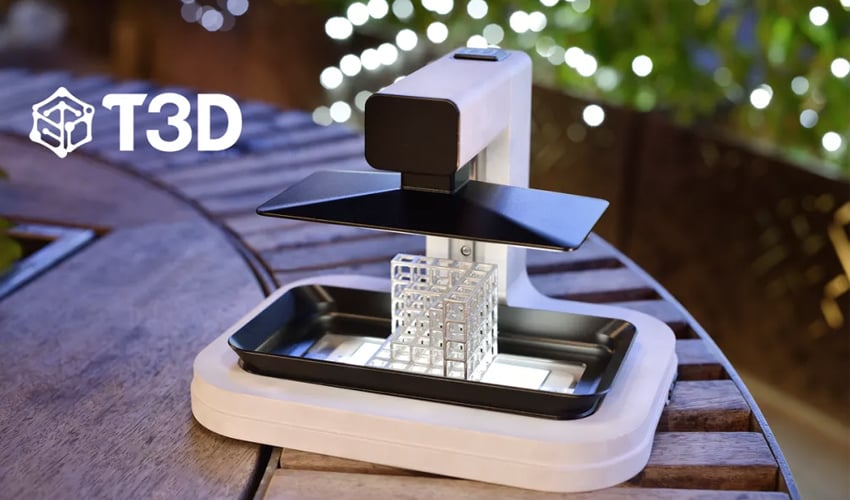 This revolutionary new T3D mini-printer can 3D print in multiple colours directly from your smartphone, and can even do it outside!
Riding high on the coat-tails of an extremely successful Kickstarter campaign, T3D is a new Californian 3D-print company. This compact printer develops light-sensitive resins, solidifying them using your smartphone's lights. This isn't the first time we have spoken of a company using a smartphone however, previously ONO raised $2m in their fundraiser, to much acclaim.
Development: A Timeline
T3D's development dates back to 2015 when created by Professor Jeng, in a project at the University of Taiwan. This resulted in the development of the original prototype, and the eventual end product.
T3D have also developed an app in conjunction with the device. This app turns your smartphone into a light projector, similar to a DLP printer. The app comes with a library of 5,800+ 3D models to download, and they can be cut within the application.
Dr. Jeng spoke enthusiastically of the printer when interviewed. He commented that the T3D will "definitely change the game of the 3D printing industry", and "you will not find anything comparable in the 3D printing market… it works with all your mobile devices". He may be right too, the mobile printer is also very affordable, at just $219 during the crowdfunding campaign.
What else can it do?
Another selling point of the T3D printer is that it allows you to create models outdoors. Other than the laser of an SLA or the light of a DLP printer, it is not necessary to cover the construction platform.
The resin used inside the machine comes in a variety of shades that give users the ability to print in 3D in many colours. Although they have patented the material, the 3D printer is still open source. This allows manufacturers to change the machine according to their different preferences.
Heres the video presentation of it in action:
What's your opinion on this neat new 3D printer? Let us know in a comment below or on our Facebook and Twitter pages! Don't forget to sign up for our free Newsletter, all the latest news in 3D printing straight to your inbox!