Surgeons use 3D printing to fix 6-year-old boy's spine
Published on October 13, 2017 by
Jamie D.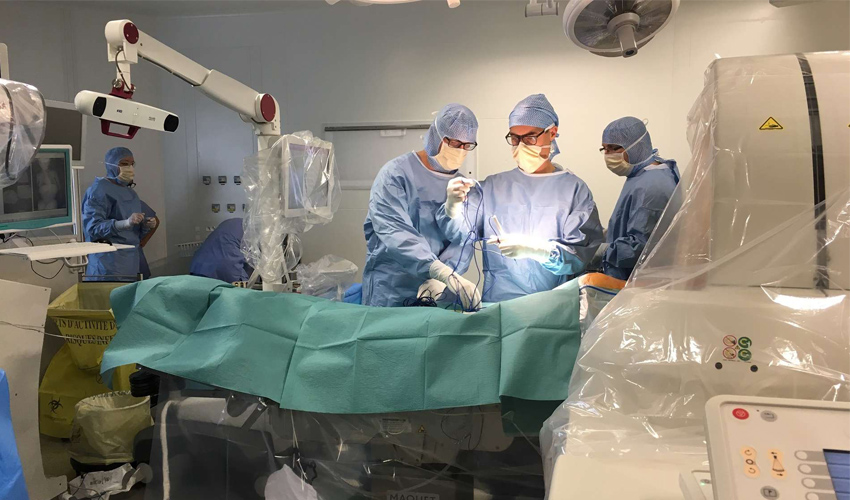 Surgeons from France's Amiens-Picardie University have used 3D printing alongside a robot to successfully perform surgery on a boy's spine. The boy, 6, had been suffering from severe progressive scoliosis coupled with infantile spinal amyotraphy, rendering him unable to even sit. This marks the first successful surgery of this kind.
How was 3D printing involved?
Firstly, 3D scanning tools were used to gain an insight into the state of the boy's spine. The 3D scan was then used to 3D print a replica of the boy's spine to study in more depth. The spine could then be used in a scenario which emulates a real body of similar proportions to the boy. This allows the surgeons to plan, practice, and simulate the procedure without any of the fatal risks that could occur in the real operation. Moreover, this allowed surgeons to test a surgical robot which assisted in the operation.
Professor Richard Gouron, Dr François Deroussen, and Dr Michel Lefranc performed the complex surgery together on September 28th 2017. The three renowned surgeons ranged from neurosurgeons (Lefranc) to the head of the child surgery department (Gouron). The surgery lasted 3 hours, involving the implanting of the stem inside the boy's spine. The surgical robot, Rosa, assisted by drilling and installing screws into the spine.
The surgery
The robot was used due the complexity of the operation. The screws installed are "large in comparison to the small size of the child's bones", said the team. "The complexity of the operation as well as its potentially long duration could be alleviated, for the first time, thanks to the Rosa robot."
Reports claim the boy has seen good results since the surgery and can now sit. Hopefully, this surgery will allow the boy to live a fuller life without the discomfort he previously had. In addition, now this surgery has been completed successfully for the first time, this may have implications for others in similar situations. There are at least 4 other children waiting for a similar operation, so hopefully this means they can recover too.
This trifecta of human, robot, and 3D printing paints an interesting picture. These 3 technologies combined to help provide a child with a better life is a fantastic result. We can only hope for more collaboration with these technologies, to improve and extend our lives.
What do you think about this? Let us know in a comment below or on our Facebook and Twitter pages! Sign up for our free weekly Newsletter here, the latest 3D printing news straight to your inbox!