Suprem on the Democratization of Continuous Fiber for Additive Manufacturing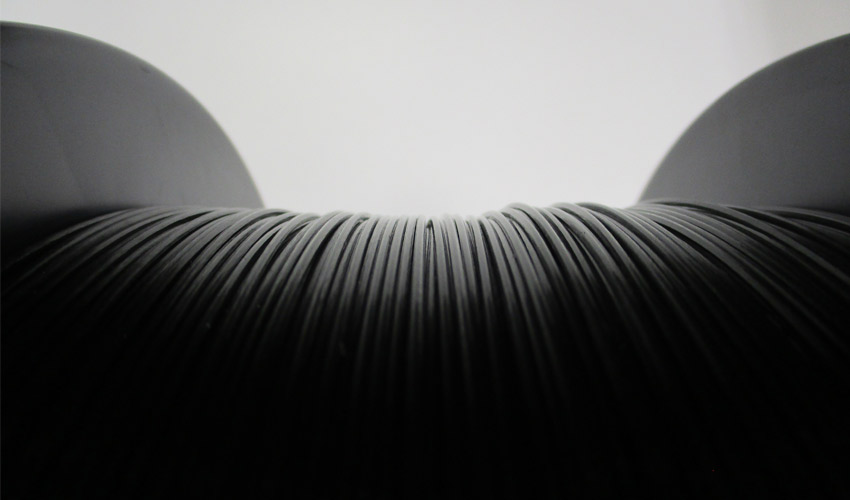 Suprem is a Swiss materials manufacturer that specializes in continuous fiber reinforced thermoplastics. Its solutions enable the machinery, medical, energy, sports and aeronautic industries to design strong, lightweight parts with high temperature resistance. Recently, the company launched a brand dedicated to additive manufacturing: this new FilapremTM range offers continuous fiber reinforced filaments. Drawing on its more than 30 years of experience in the field of composite materials, Suprem has developed filaments with excellent temperature resistance and an optimal stiffness-to-weight ratio. We met with the CEO, Anatole Gilliot, to learn more about this strategic move and its ambitions in the additive manufacturing market.
3DN: Could you introduce yourself?
Hello, my name is Anatole Gilliot. I have been managing the company Suprem SA for six years. I am a materials engineer and I had the opportunity to do a PhD with the German Aerospace Center in partnership with Airbus. I also completed my education with an Executive MBA.
3DN: How did you discover additive manufacturing?
In fact, our thermoplastic composite materials have been used for additive manufacturing for about 30 years. They are added, respectively deposited and consolidated layer by layer and not machined from a billet like metals. However, it is only recently that the various additive manufacturing processes have been democratized and industrialized, particularly thanks to more automation and digitalization.
3DN: What is Suprem's primary business?
We develop and manufacture thermoplastic composite materials with continuous fibers that our customers process with automated manufacturing technology, such as filament winding and now 3D printing. These materials then be used for applications in machinery, sports and leisure, medical, aeronautic and energy.
3DN: You recently launched the Filaprem brand. What made you turn to additive manufacturing?
 The Filaprem™ brand corresponds to products specifically adapted for 3D printing, whether it is processed through extrusion or direct energy deposition. It is pretty much a miniaturization of what we have been offering for additive manufacturing for decades. Meanwhile, Filaprem™ required several years of development and industrialization
3DN: What are the characteristics of your 3D printing materials?
The fibers in the filaments are continuous and provide mechanical properties far beyond filaments made of pure polymer or reinforced with short fibers. Furthermore, Filaprem™ low porosity, very good fiber/matrix distribution and consistent quality allows to manufacture automatically and industrially parts. It can be used either to reinforce 3D printed plastics parts or to replace metallics components
3DN: Which markets is Suprem targeting?
Filaprem™ can be used in any market where a mechanical performance increase is needed versus plastics or metals. We are also targeting industrial applications where engineered thermoplastics are required to resist to hostile environment such as water, temperature and chemicals. Moreover, our 3D printing materials are dedicated to parts that have to be printed in large amount and without interruption.
3DN: What are the particularities of composite additive manufacturing? Are Suprem's materials compatible with all 3D printers?
Filaprem™ filaments are compatible with the extrusion process, such as FDM or FFF. They can be used with high temperature "open" printers where the user can choose its material. Some 3D printing machines on the market can already successfully process our materials and we could recommend them to 3Dnatives readers. Engineers can also adapt or built their own printer while considering the specifics of our filaments
3DN: Could you tell us what Suprem has planned for the future?
Our plan is to contribute to the democratization of 3D printing with continuous fiber and make this manufacturing technology and corresponding materials accessible to a lot of industries from several markets. We will be supporting with high and consistent quality material, manufactured industrially and in large quantity.
3DN: Any last words for our readers? 
If your part is too heavy, not stiff enough, should not conduct heat or electricity or if you have corrosion problems and you have to 3D print it, consider and ask for Filaprem™.
Did you already know the Filaprem™ brand? If you are interested in learning more about it, make sure to visit the Surpem website HERE. Let us know in a comment below or on our Linkedin, Facebook, and Twitter pages! Don't forget to sign up for our free weekly Newsletter here, the latest 3D printing news straight to your inbox! You can also find all our videos on our YouTube channel.