Sugar Lab 3D-Printed Peppermint Mocha Chocolate Holiday Treats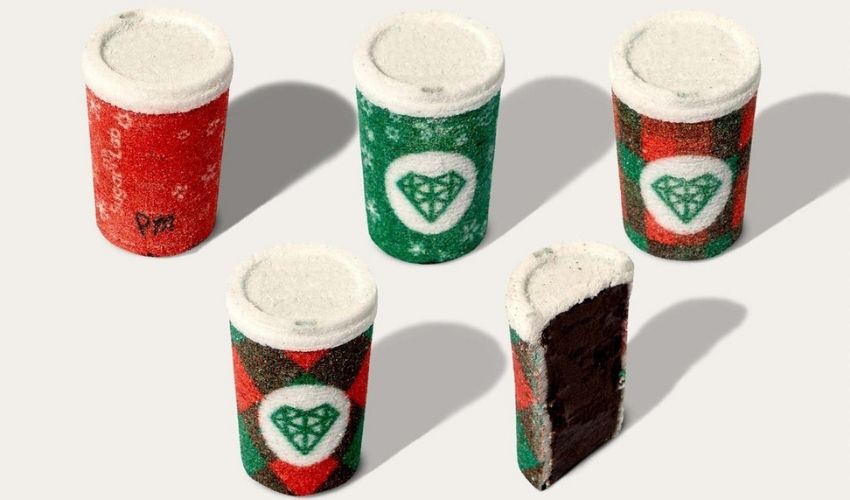 'Tis the season to eat chocolate—or however that saying goes. Dashing into this holiday season, the Sugar Lab is back with another jolly collection of 3D-printed treats. The chefs at the world's first digital bakery have whipped up some 3D-printed peppermint mocha chocolates in the likeness of everyone's favorite holiday coffee cups. Using sugar as 3D printing material, the Sugar Lab is a Los Angeles-based confectioner founded by Lyz and Kyle von Hasseln in 2012. With Binder Jetting technology, instead of using the typical polymer or ceramic powder printing material, the Sugar Lab relies on the chemical properties of sugar to 3D print intricate treats. This sweet innovation caught the interest of additive manufacturing giant 3D Systems who bought the startup just a year later.
"At Sugar Lab Roasting Co., we believe that carrying a fresh peppermint mocha is the closest thing to holding the holidays themselves in your hands.", states the bakery's website. Additionally, if by chance you need to sprinkle a bit more holiday cheer on these cups,  the bakery is able to personalize or restyle the 3D-printed coffee cups with anything from your brand for an event, a party theme, or for a special gift.
Sugar Lab 3D-Printed Treats & Gifts
The Sugar Lab launched a tradition that near each holiday season, the company brings back their "Sugar Lab Roasting Co." featuring seasonal sweet comforts. This year, the Sugar Lab Roasting Co. features Peppermint Mocha 3D-printed into a decadent chocolate bonbon inside an edible coffee cup intricately designed with festive colors and patterns. The yummy take-away coffee cups are created by 3D printing peppermint-flavored sugar, followed by generously poured espresso dark chocolate ganache made from real espresso.
Often in 3D food printing, and dealing with sugar or edible powder material,  binder jetting is the technology used. This technology is used in 3D systems' Brill 3D Culinary Studio, which offers advantages that include fast fabrication and low materials cost. However, a rough surface finish makes for a certain aesthetic that works well with some applications. Also, high machine costs make 3D printing food an endeavor for a select few companies at the moment. While the Sugar Lab is leveraging the design expertise of former architects for their culinary creations cost a bit more than your average chocolates, cost does not seem to be a deterrent for customers because due to high demand, pre-orders for these new holiday treats that are made after Dec 1st will begin shipping in January. You can learn more about the company HERE.
What do you think of these 3D-printed holiday treats from the Sugar Lab? Let us know in a comment below or on our Linkedin, Facebook, and Twitter pages! Don't forget to sign up for our free weekly Newsletter here, the latest 3D printing news straight to your inbox! You can also find all our videos on our YouTube channel.