Sugar Lab Digital Bakery Produces 3D Printed Wedding Treats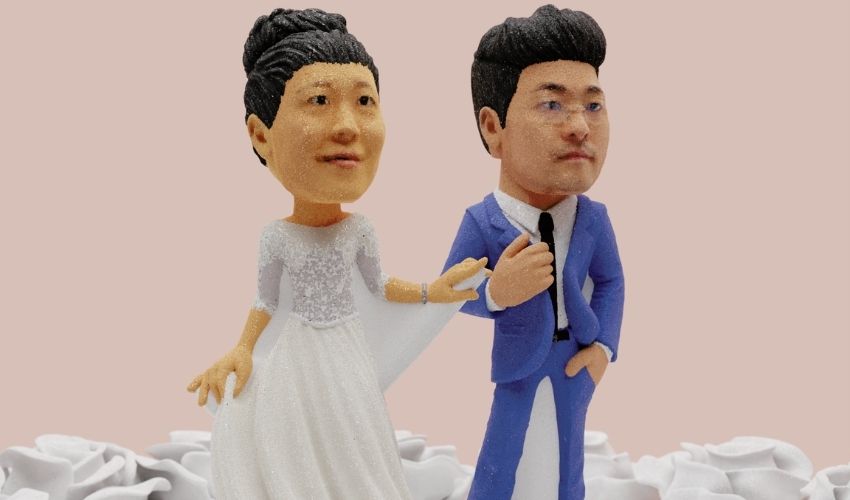 While the pandemic has shaken up many wedding plans, couples across the globe are rushing forward with previously postponed nuptials. To sweeten their experience, Los Angeles-based "digital bakery" the Sugar Lab is tapping into the wedding market using a patented technology invented by founder Kyle von Hasseln to create custom 3D printed wedding treats. Satisfying every sweet tooth with 3D printed sugar cake toppers to wedding bitters, the Sugar Lab can create nearly anything using almost any flavor and color.
Using the Brill 3D Culinary Studio with software powered by 3D Systems technology, the Sugar Lab can bring a couple's imagination to life with edible experiences. The Brill 3D Culinary Printer can 3D print full-color sugar, candy, and frosting with an added single flavor. The printer can produce candies at a rate of 100 candies per hour.
3D Printed Food Science
Research published in the American Chemical Society describes some of the advancements made by food scientists that allow for some of these intricately colorful confections we see available on the market. In one instance, researchers were shown to have developed a colorful new ink for 3D art made of mica pigments in alginate, a sugar derived from seaweed that forms a stable gel without heat. Also worth noting is that with its high viscosity, sugar is often added to 3D printed foods to help retain shape.
Using 3D printing technology, the Sugar Lab helps couples display their shared interests — one couple working with the Sugar Lab plans to have chocolate-filled miniature versions of their 5-year-old Boston Terrier attached to name cards. In addition to custom creations, Sugar Lab has a variety of ready-made 3D printed treats such as Diamond Champagne Bitters, which are made from sugar and Angostura bitters and can be dropped into a flute of Champagne. For the couples not tying the knot just yet, Sugar Lab also offers a "Date Night" collection of 3D printed treats featuring a "Broken Heart Puzzle" chocolate ganache truffles and "SMS Text Candy Hearts". For customized treats from the Sugar Lab, the minimum order requirement for weddings is $250.00 at a rate of $4 / piece. Learn more about Sugar Lab's digital bakery on their website at SugarLab3D.com.
What do you think of Sugar Lab's 3D printed treats? Let us know in a comment below or on our Facebook and  Twitter pages! Don't forget to sign up for our free weekly newsletter to receive all the latest 3D printing news straight to your inbox!
Cover Photo Credit: Sugar Lab