Studio RAP will 3D print 4,000 ceramic tiles for a new architecture project
Published on October 12, 2020 by
Aysha M.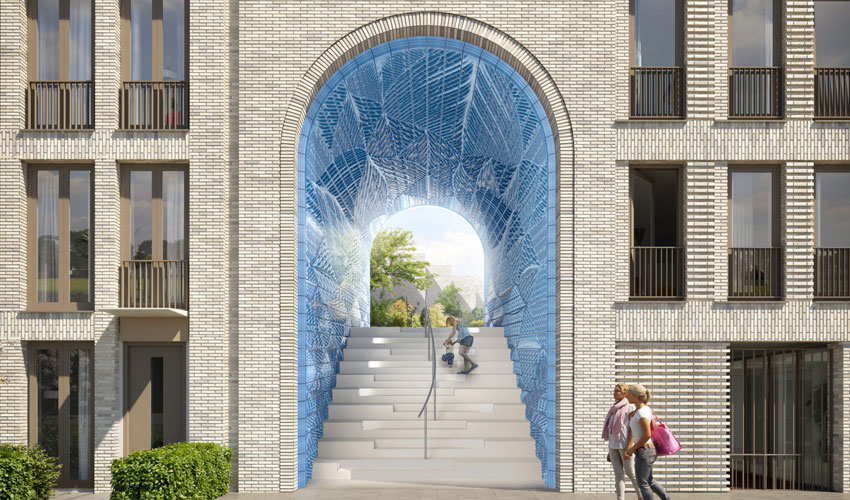 In the Netherlands, more precisely in Delft, studio RAP is building an architectural structure that will incorporate 3D printed ceramic tiles. Called "New Delft Blue", the project pays homage to Delft Blue, the famous Dutch porcelain, that has been invented in the 17th century. The project combines clay 3D printing, computational design and artisanal glazing. The result is quite impressive, with 4,000 tiles to be integrated in the final structure!
Renowned for its finesse and quality, Delft Blue is a Dutch tradition that has left its mark on the country's architecture and decoration. It is not surprising to see additive manufacturing interested in it and adding its touch in terms of creativity and complexity of form and geometry. One example is the 3D printed vases by Olivier van Herpt, who combined cobalt blue and clay and then extruded them to form, layer by layer, unique decorative elements. This time, studio RAP focuses on the architecture sector and uses 3D printing technology to cover the lush courtyard of a residential building.
The KUKA robotic arm is behind the 3D printing process of the ceramic tiles. Once the piece has hardened, it gets glazed -covered with blue and white layers that give it the final aesthetic touch. According to the team behind the project, the material chosen offers both high durability and low maintenance. It also specifies that it opted for an algorithmic approach for the 3D design of the tiles, which allowed it to take into account certain manufacturing constraints when generating the tile geometry (maximum overhang, width, height and depth, shrinkage constraints and internal support structure). The vault is 4 meters wide, 8 meters high and 12 meters deep, hence studio RAP is additively manufacturing 4,000 tiles in total.
Concerning the glazing method, studio RAP explains: "Because the tiles are 3D-printed, applying variation in their shape is rather cheap. By applying a runny glaze on white-burning clay portions of the tile that are convex (hills) will remain white as the blue glaze pools in the concave (valley) areas of the tile. This poetic method of 'painting with shape' allows for smooth transitions between hues of blue and white that are impossible to produce otherwise." The studio can thus obtain two-colored tiles that offer a unique visual effect to the future passageway. You can find more information about the beautiful project on the studio RAP's official website.
What do you think about the beautiful design and the innovative manufacturing method of Studio RAP? Let us know in a comment down below or on our Facebook and Twitter pages! Don't forget to sign up for our free weekly Newsletter, with all the latest news in 3D printing delivered straight to your inbox!