Striatus, The First 3D Printed Bridge Made From Unreinforced Concrete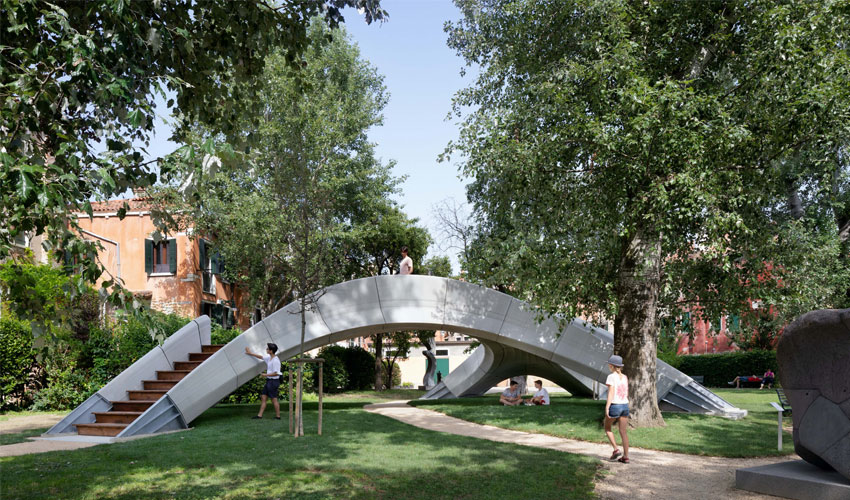 Architects and engineers from ETH Zurich, in collaboration with Zaha Hadid Architects and Incremental3D, among others, have designed a 3D printed bridge made of unreinforced concrete. The 12 x 16-meter arched bridge is being installed in a park in Venice for the International Architecture Exhibition, which takes place there every two years. Named Striatus, it is composed of several blocks that can be assembled and disassembled anywhere. What is most remarkable about this structure is the printing process used: the concrete is not laid horizontally but at specific angles to press each layer together and thus avoid the need for any reinforcement.
In the architectural sector, the use of additive manufacturing has become more and more frequent, especially in the construction of bridges. Today, it is a very polluting industry due to the use of reinforced concrete which generates large quantities of CO2 emissions. Faced with this not very encouraging environmental report, several actors are mobilizing to find greener alternatives. One example is the Dutch project Print Your City! which prints 3D street furniture from recycled plastic waste. This time it is in Venice that our 3D printed bridge is located.
Building the Striatus Bridge
The Striatus Bridge is made up of several 3D-printed blocks: once assembled, they form this 12 x 16 meter arch. The ETH Zurich team developed a new printing process in collaboration with the Austrian company Incremental3D: instead of applying the concrete layers horizontally, they chose to apply them in a direction orthogonal to the flow of compression forces. This way, the different layers are well pressed against each other, which avoids the use of mortar, steel or any other reinforcement. The concrete was formulated by Holcim to meet these constraints. According to the company, this material is 70% less voluminous than traditional concrete.
Philippe Block, professor at ETH, adds, "This precise method of 3D concrete printing allows us to combine the principles of traditional vaulted construction with digital concrete fabrication to use material only where it is structurally necessary without producing waste." The team explains that the blocks can be assembled anywhere, allowing for a mobile bridge. If the structure is no longer needed, they can be recycled entirely, avoiding an unnecessary and environmentally unfriendly waste stream.
The footbridge, with a wooden frame, is accessible to all pedestrians in the park Giardino della Marinaressa until November 21. For now, we do not know its next location. You can find more information on the website of ETH Zurich or the Striatus website HERE.
*Thumbnail Photo Credits: Studio Naaro
What do you think of this 3D printed bridge? Let us know in a comment below or on our Facebook and Twitter pages. Don't forget to sign up for our free weekly newsletter, with all the latest news in 3D printing delivered straight to your inbox!