Stratasys to acquire Origin and launch in the polymers market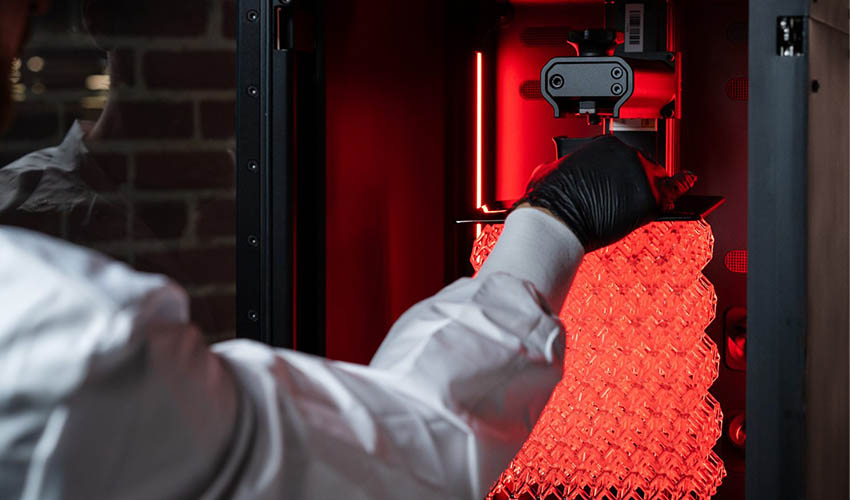 Stratasys has announced that it will acquire the 3D printing startup Origin Inc. in a transaction for total consideration of up to $100 million. Origin Inc. is a US-based startup that introduced its Origin One 3D printer back in May 2019. Its system is an open additive production platform, based on open materials, expandable software and modular hardware. Therefore, the merger will allow the 3D printing giant Stratasys to expand its leadership in the fast-growing mass production parts segment. The acquisition is expected to close in January of 2021.
Based on Programmable PhotoPolymerization (P3) technology, the Origin One printer relies upon photopolymerization, just like stereolithography (SLA) and digital light processing (DLP) technologies, to produce 3D printed parts. Thanks to its open platform, Origin has been able to work with a network of material partners such as Henkel, BASF and DSM to develop resins for its system. "We partnered and developed materials with Origin before Origin One was launched because we believed in their technology and vision for the future of photopolymers in additive manufacturing," said François Minec, Managing Director at BASF 3D Printing Solutions GmbH.
Indeed, the company had identified the issue of closed solutions a while back, with manufacturers producing materials exclusively compatible with their systems. Its network of partners allowed the company to expand its range of materials considerably. Therefore, it will help Stratasys fortify its position in the polymers market and production applications in industries such as dental, medical, consumer goods, and more. The company expects this acquisition to represent an important growth engine, adding up to $200 million incremental annual revenue within five years. The Origin team will join Stratasys and lead the development of its technology and product platform, aiming for a full global launch in mid-2021.
Stratasys' CEO, Yoav Zeif commented: "Our customers are looking for additive manufacturing solutions that enable use of industrial-grade resins for mass production parts with process and quality control. The acquisition of Origin reflects another step in fulfilling our objective to lead in polymer additive manufacturing by offering comprehensive, best-in-class technologies and solutions to create a fully digital additive value chain." Yoav Zeif added that Stratasys intends to enter the powder bed fusion (PBF) market too. Today, its 20+ solutions are mostly based on FDM and PolyJet technology, with one machine based on stereolithography (SLA) . The move into the polymers market comes following an anticipated growth in production-oriented resin-based applications.
In fact, Stratasys estimates that resin polymer-based systems will grow at a 20% annual rate from 2020 to 2025. Origin CEO and co-founder Christopher Prucha concludes: "Stratasys is the best company for us to join to achieve our vision, giving us an unparalleled opportunity to significantly expand market reach and enable us to bring our P3 technology to a larger audience." You can find more information HERE.
What do you think of this acquisition? Let us know what you think in a comment below or on our Facebook and Twitter pages! Don't forget to sign up for our free weekly Newsletter, with all the latest news in 3D printing delivered straight to your inbox!