Stratasys J55: A PolyJet desktop 3D printer that offers thousands of colours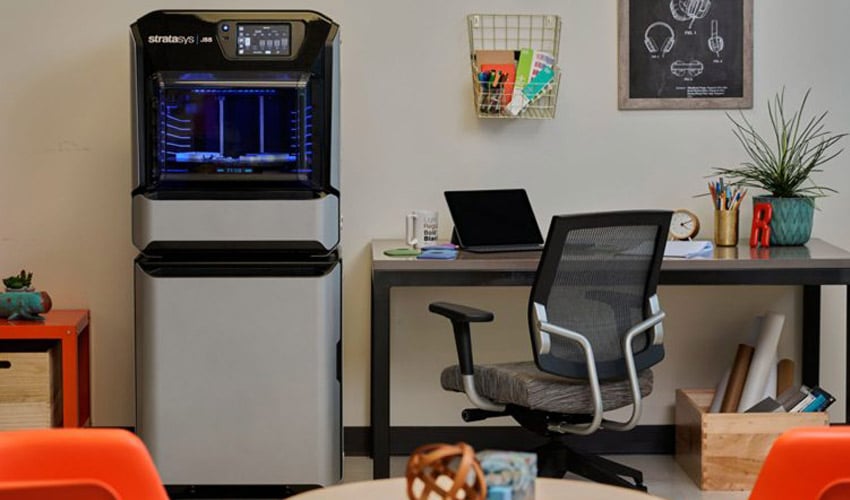 The manufacturer Stratasys has just launched its new PolyJet machine: the J55 is a compact solution, suitable for all designers who want to bring their designs to life. The printer is smaller but retains its multi-material and multi-colour capabilities: it can print with 5 materials at a time, excluding the carrier material, and more than 500,000 Pantone validated colours. The J55 is intended to be more affordable, as it is available at about one-third of the price of industrial-grade PolyJet printers such as the J850. Equipped with a rotary table and a fixed print head, it offers a printing surface of up to 1,174 cm².
The material jetting technology is highly valued by designers who wish to quickly produce visual and aesthetic prototypes, thanks in particular to its ability to print multiple colours, the possibility of obtaining smooth surfaces and the high resolution it can achieve. It is one of the most useful means of manufacturing in product development, allowing a concept or idea to be validated in record time. These machines are industrial solutions, representing a certain investment but also requiring special installation and skills. Stratasys wanted to democratize the use of PolyJet technology by proposing a desktop model, easy to handle and more affordable, just like it did for its FDM technology with the F120.
Technical specifications of the Stratasys J55
Let's start with the size of the machine itself: it measures 651 x 661 x 1,551 mm and does not have a material cabinet like its bigger sisters, thus considerably reducing the space needed to operate the 3D printer. The J55 would be silent (about the same noise as a refrigerator according to the manufacturer) and odourless, more suitable for offices, studios and classrooms. Omer Krieger, executive vice president of products at Stratasys, explains, "We developed this innovative 3D printer to truly transform the product development process for designers and engineers around the world. Not only is the J55 affordable for virtually any product design team, but the quality of the parts it 3D prints is exceptional. It's also so simple that anyone can set it up and use it, and so quiet that you'll forget it's even running."
Most notable is the presence of a rotating print table and a fixed print head, a first for the Stratasys range. This shortens the print paths and therefore increases the speed and improves the final quality of the part. On the material side, it could print up to 5 materials at a time, not counting the substrate, and more than 500,000 colours would be printable with the possibility of creating textures and transparency. The J55 works with the GrabCAD Print software, which is capable of supporting 3MF format files, as well as the most common CAD files such as Solidworks, Siemens NX and CATIA.
The J55 has already been tested by a few designers, including the American company Kinetic Vision. Tony Guard, its director of innovation and industrial design, says: "There is no way to validate a 2D design without a realistic 3D model: it's just not possible. When I saw what the machine could do, I was stunned. We can validate our products faster, with their shape, colors, finishes, design, everything! We can present our customers with tangible 3D printed models, representing the final product, faster than ever before. I would like the J55 to remain our secret strategic advantage, but I'm afraid that won't be the case for long. "The machines are already available to order, with deliveries scheduled for July 2020. More information can be found HERE.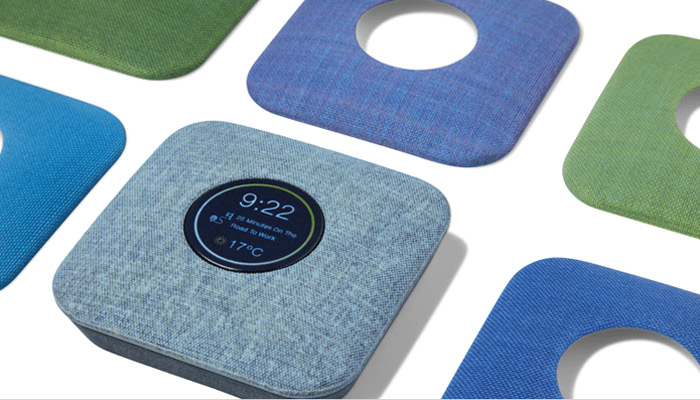 What do you think of the J55? Let us know in a comment below or in a comment on our Facebook and Twitter page!