STL vs. 3MF: Which Format to Choose for a 3D Model?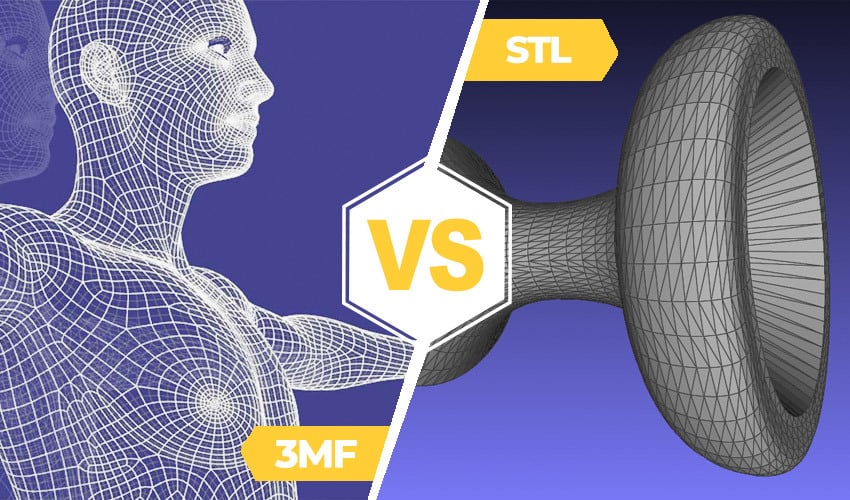 While all additive manufacturing technologies work differently and each has its own specificities, one printing process always starts in the same way: Computer Aided Design. This step consists of modeling a part in two or three dimensions, which is where the geometric shape of the part is determined. Once the 3D model is finished, it is necessary to export it into a file that can be read by a slicer, a software that acts as an intermediary with a 3D printer. And at this point, several choices are presented to the user. Between OBJ, STL, PLY, 3MF and many others, it can sometimes be difficult to choose between the different formats offered. To learn more and find out what the pros and cons of certain files are, we took an in-depth look at STL  vs. 3MF files, probably the most popular among additive manufacturing enthusiasts.
Launched in 1987 by 3D Systems, the first company to specialize in 3D printing, the STL format is now the most widespread on the market. It stands for stereolithography (or Standard Triangle Language) and is found on most platforms that offer 3D models, such as Thingiverse, MyMiniFactory and Cults. Much more recently, the 3MF format was developed by a consortium led by Microsoft. Released in 2015, the format is now attractive because of some of its unique properties. Also called 3D Manufacturing Format, 3MF models are intended to be intelligible and to limit errors during the printing process.
Characteristics of STL files
Since its creation in 1987, STL has been the most popular format for 3D printing users, thanks to its age. Compatible with all slicers and CAD software, STL files are now mainly used in the rapid prototyping industry. As the acronym Standard Triangle Language indicates, the format "replicates" each model using triangles. In other words, the STL format recreates a 3D model as close as possible to its shape using thousands of triangles. More concretely, a flat surface with 4 sides is necessarily divided into 2 triangles. Thus, if we take the example of a cube, it is divided into twelve triangles, given that it has 6 faces.
The amount of triangles also determines the accuracy of the print. The modeling of a face for example requires many triangles. All these triangles are intended to be as close as possible to the shape defined by the 3D model. However, they do not contain any information about the manufacturing process, material, texture or color. And this is precisely where one of the main limitations of the STL format lies.
Despite their large size, STL files only contain information that allows the geometry of a part to be established. However, by using a slicer, the user can nevertheless add various printing (slicing) parameters to the model/STL file. These parameters can only be saved in 3MF format.
Another problem with STLs is the frequency of damaged files. When a file is defective, which is regularly due to a problem during conversion, the user is forced to repair it. This is why, following the example of Netfabb and Meshmixer, several repair programs exist. They allow to correct the defects of 3D files. But using such software adds an extra step to the printing process. Finally, the STL format is unreadable by humans, only a compatible software is able to understand it and therefore to interpret it.
Characteristics of 3MF Files
Much newer than the STL format, 3MF is the result of a consortium founded by Microsoft that includes Dassault, Autodesk, Stratasys and Ultimaker, among others. At its launch, Adrian Lannin, executive director of the 3MF Consortium, unveiled the project's goals: "3MF empower people, maximise productivity, and unlock the full capabilities of 3D printing." Envisioned to provide professionals with a viable solution for storing 3D files, the 3MF format is distinguished by its light weight and the large amount of information the file contains.
3MF files, unlike STL, are not just mesh. They are archive files (similar to .zip) containing both the 3D model (as a mesh) and the information related to the manufacturing of the model, such as manufacturing methods, materials or assemblies. On this subject, Microsoft explains: "3MF is a file format specially adapted for 3D printing and Windows. 3MF includes colors, textures, scaling containing recommended printing options, and many other enhancements." In addition, a 3MF file is encoded in XML which makes it intelligible to a human, not just a machine. So, if you replace the .3MF extension with a .ZIP extension, you can open each file in the archive to discover its characteristics. In addition to its openness (easy readability), it is also more intelligent since it offers a better understanding of the meshing errors. It avoids problems related to geometric varieties (manifold) which prevents self-intersections, "non-manifold" models and holes in the mesh.
At the moment, the main limitation of the 3MF format does not lie in its properties, but rather in its lack of popularity. In spite of the various constraints related to its characteristics, the STL is today much more democratized than the 3MF. This phenomenon is particularly noticeable on the various sharing sites, such as Thingiverse, Cults or Printables. And other disadvantages remain. For example, there is a lack of integration with certain slicers and CAD software, which are currently incompatible with this format. There is also a lack of intercompatibility between slicers, as some parameters configured in one slicer will not necessarily be transferred to another slicer when opening the same project. However, we can hope that in the future, if 3MF gains popularity, efforts will be made to solve these problems. Especially since it is an archive file with XML code, and can therefore be improved. One can imagine a cross-compatibility allowing to share more easily files that can be correctly interpreted by different slicers.
The Concrete Benefits of 3MF vs. STL
Imagine you have a 3D printer and you want to print a complex model. If you need external help, from a printing service for example, they can configure the model in a slicing software with all the appropriate parameters and then export this configuration in 3MF format. In this way, you will find in a single file your model, but also the printing profiles, possible modifiers and other parameters. In the same case, using the STL format, the manufacturer would have had to export the print profiles in addition to the mesh, but even sharing these profiles, information like modifiers would be missing.
Now imagine you're a designer who wants to share your 3D models on the Internet, on Thingiverse, Printables or Cults, for example. Using the 3MF format, you can embed material information or modifiers that simplify the 3D printing process. The 3MF format also allows you to define the license and associated copyrights. You can also add your name and a description to the file. So, since all this information is stored in the file and not just on the site's download page, if your model is shared outside the site where you originally shared it, all this information will be preserved.
Is 3MF the Format of the Future?
As you can see, in the future, 3MF is likely to become the standard. Seduced by its properties, several technology experts have already adopted it. Charly Le Roy, co-founder of Polyfab, a company that resells 3D solutions and provides training, explains the reasons for this choice: "The main difference, in my opinion, is the amount of information stored. An STL contains only the 3D model, its 3MF counterpart contains the model but also its orientation, its supports, its printing parameters… So the 3MF is much more practical for multiple iteration needs." A view shared by Michael P. Bourque, director of digital manufacturing at Boston Engineering, "I can't believe that STL is the most common format among 3D printing enthusiasts. STL is a terrible format for reproducing model geometry and is only used because the slicing step is fast. […] I prefer 3MF because it is self-contained and can hold additional data to reduce problems."
Because of its ability to limit the risk of error and facilitate model sharing, the 3MF format seems much more appropriate and could endure over time. One promising sign of this is the fact that the American giant 3D Systems, creator of the STL in 1987, decided to join the 3MF Consortium at its launch in 2015. Charly Le Roy concludes: "The format that will be used for sharing printing projects through libraries of ready-to-print models will definitely be the 3MF format. It naturally limits the risk of error and saves time when manufacturing parts."
What do you think of STL vs. 3MF? Which do you use? Let us know in a comment below or on our LinkedIn, Facebook, and Twitter pages! Don't forget to sign up for our free weekly Newsletter here, the latest 3D printing news straight to your inbox! You can also find all our videos on our YouTube channel. 
Article co-written by Philippe Girardie and Elliot Saldukaite
*Cover Photo credits: 3Dnatives