Startup Süß & Friends Reinvents Everyday Objects With 3D Printing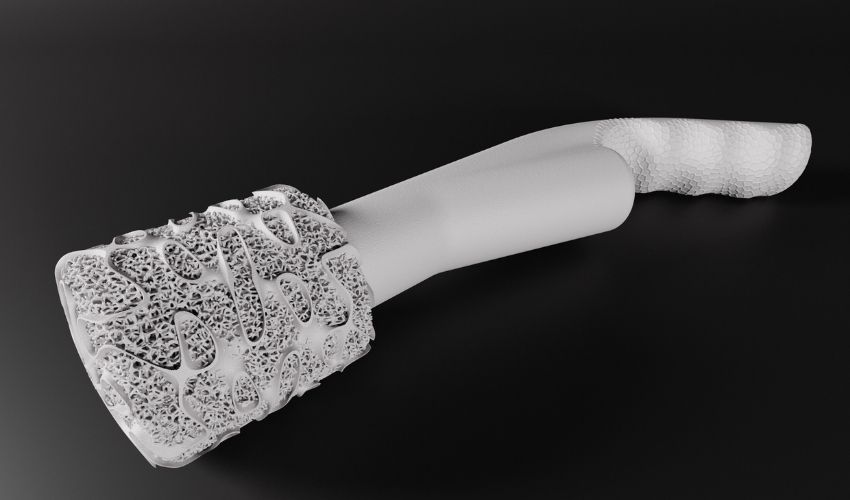 Have you ever heard of Süß & friends? The young German company stands out in the world of 3D printing thanks to its unusual name and but also its creativity, as attested by the jury of the 3D Pioneers Challenge  The company won in the "DIGITAL" and "Design for Manufacturing" categories by reinventing an age-old everyday object: the brush. We caught up with company founder Philipp Süß to find out more about the mission of Süß & friends and how they came up with their idea for this year's 3D Pioneers Challenge. The mechanical engineer also discusses the diversity of his customer base and how his team helps other companies get started with additive manufacturing.
3DN: Can you briefly introduce yourself and your connection to 3D printing?
Hi, I'm Philipp Süß, founder of Süß & friends. I have been working in the field of additive manufacturing since I was a student and and have seen in various industrial projects how difficult it can be for companies to enter this field. For a successful application, a change in thinking is required, the so-called additive thinking. At the same time, new design methods using modern CAD software must be employed to exploit the full potential of this technology. For this reason, I founded the engineering company Süß & friends in 2017 to support companies with the entry hurdles as well as to develop products optimized specifically for additive processes.
3DN: Süß & friends has an unconventional name compared to other companies in the industry. How did the idea for it come about and what distinguishes your company?
For a young 3D printing company, company names that include words like "tech", "digital" or "3D" are obvious, but our name should stand for more than terms associated with this industry. Collaboration with other specialists and companies is often essential for the successful development and manufacture of 3D printed components. These can be, for example, the manufacturers of 3D printing equipment and materials, software producers, 3D printing service providers and, above all, the employees at the customer's site. I think it's important, especially with a completely digital technology like additive manufacturing, to be able to discuss with each other on a common level. That's the only way to come up with new ideas and technical solutions. We want to express these aspects of our work, this collaborative side, hence the word "friend" in our name.
3DN: In addition to component and application development, you advise companies on entering additive manufacturing. From which sector do the majority of your customers come? What challenges do they face?
The wide range of applications for additive manufacturing is also reflected in the diversity of our customers. On the one hand, there are customers from the field of design and consumer products who, for the first time, have the possibility of realizing their ideas without creative restrictions in an economic framework thanks to 3D printing. Other customers come from the traditional mechanical engineering sector and are looking for new approaches to the design and manufacturing of a specific component or even a complete application. There, in particular, there is great interest in advice on getting started with additive manufacturing, when it comes to questions such as process selection or the acquisition of their own additive manufacturing systems. Another part of our customers are start-ups or product developers, since 3D printing processes are predestined for agile product development due to the possibilities for rapid prototyping.
In most cases, we also accompany projects beyond prototyping to production and market launch. When it comes to small batch production, the final product is also manufactured cost-effectively using additive manufacturing processes. The challenge our customers face is that they often have little to no expertise in 3D printing. As a result, there is still a lack of employee confidence in the overall technology and the use of the process for functional components. Like other manufacturing processes, additive manufacturing requires a shift in thinking and letting go of existing thought processes. Only then can you reach almost infinite design freedom, and usually only then is the use of 3D printing processes worthwhile. We are trying to drive this rethinking in the industry with innovative product developments.
3DN: Your project "THE BRUSH" is one of the winners of the 3D Pioneers Challenge 2021. Can you tell us more about it?
We were very interested in the literal challenge of the 3D Pioneers Challenge. We wanted to see how well we could develop a product in less than three months with the help of new software tools. During the brainstorming phase, the following question came to mind: What if we reinvented the past instead of the future?
And that's when I came up with the idea of designing a household item using the possibilities of additive manufacturing. Perhaps older than humanity itself, the brush was invented over a hundred thousand years ago by tying together a few twigs. Has it changed significantly? What is your toothbrush, hairbrush or dishwashing brush but a handful of plastic twigs? I took a single, flexible material and altered its mechanical properties by forming complex natural and geometric structures. The result is a multifunctional brush made from one material in one production step, which is only possible through 3D printing. A coral-like lamellar structure and an absorbent sponge structure are combined to form a cleaning head.
The handle has an internal diamond structure for rigidity and a cellular surface on the handle. A water connection with sealing lips is integrated in the upper finger groove. When connected to a faucet, water is flushed evenly through the cleaning head. I am very happy that we mastered the "Challenge" and, after making it to the finals, also won in two categories. This shows that with a creative approach, new software tools and 3D printing, we can create new things in a very short time.
3DN: What are your future plans? How do you see the future development of Süß & friends?
We are currently already working on several projects in which we are integrating new methods of data creation into the development process. This involves topics such as bionics, simulation-driven design, generative design and complex, freely formed geometries that are almost impossible to create with conventional CAD software. A major challenge here is to integrate these new technologies into the existing digital workflow or to adapt the workflow to them. Because these technologies are still relatively new, some pioneering work has to be done there.
3DN: Do you have any last words for our readers?
The most important and, in my opinion, often underestimated resource in additive manufacturing is the creativity of engineers. I think you have to give people the environment and the freedom to use their own creativity for technical problems as well. You can find more information about the company HERE.
What do you think of Süß & friends and THE BRUSH? Let us know what you think in a comment below or on our Facebook and Twitter pages. Don't forget to sign up for our free weekly newsletter, with all the latest news in 3D printing delivered straight to your inbox!