Startup of the month: OWA 3D, leading the way to a circular economy in 3D printing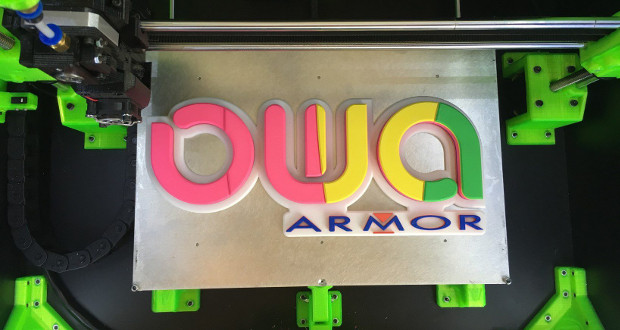 With the recent arrivals of tech giants such as HP, General Electric (GE), or Michelin, 2017 has begun as a year filled with promises and challenges for 3D printing. With the flexibility of the market and the advantages offered by technology, we are finding many young startups ready to join the force and embark on an adventure. To showcase some of the bright and talented and to follow the current trends in this sector, 3Dnatives will be embarking on an adventure of its own, by naming our 3D startup of the moment each month!
This month, we will be introducing OWA 3D, a startup we recently met with who offers something different, as it is integrated with the French group 'Armor'. For the past few months, it has been offering a new range of more environmentally friendly 3D printing materials to help combat against the pollution that is associated with the increased use of plastics in the world.
3DN: What is OWA 3D and how did you come up with this concept?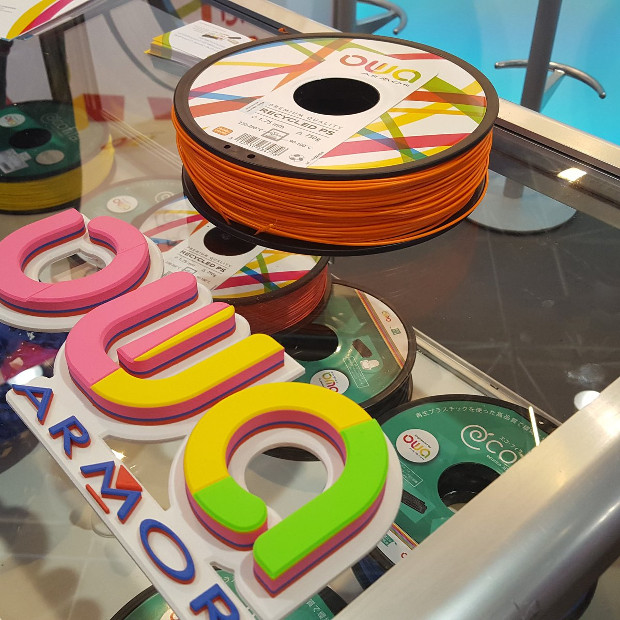 OWA is the concept of taking the end of the life of a product. Ah, yes! This is called producer responsibility. Even if the person in charge of the waste is its ultimate holder, we wanted to go further and offer the users of our products a solution for the collection and treatment of products at the end of its life. For 3D printing, the waste corresponds to filament drops, empty coils, but also unused 3D printed parts. We have created the OWA brand to meet these challenges.
The brand was born with the cartridges for the paper printers that the Armor group has been producing for more than 20 years. This logic has been extended to 3D printing supplies. We wanted to provide the 3D printing industry with quality, technical, and customized printing materials to meet the needs of professional users.
We also wanted to promote the reuse of plastic as much as possible. We started by observing it in two ways: in the ink cartridge field, only 20% are reused as cartridges. But 100% becomes waste due to the limits that are seen with reuse. The solution, therefore, is material recovery.
The other observation is that in the world, the consumption of plastics (more than 350 million tons in 2015), barely 5% of it is valued. This implies that collection and preliminary sorting is needed in order to enable their qualitative valorization. Today, 2/3 of our resources are in our garbage!
We therefore want to work with printer manufacturers, specialized resellers and industrial users to meet their expectations, in order to develop new 3D printing applications, with appropriate materials that take into account this environmental aspect.
3DN : What is your role at OWA?
I am in charge of the development of the 3D printing business at Armor and the strategic partnerships. The company's startup was born two years ago, drawing on Armor's experience in printing technologies (thermal transfer, inkjet and laser) as well as recycling and material recovery. On the other hand, we also drew from its strategy of innovation and investment in new technologies (ASCA solar film/ En'Safe current collector film).
The Armor 3D Printing team is also made up of a general manager who is in charge of the Office Printing Armor business, an RDI (Research, Development, and Innovation) and a R&D/ Production team, a sales manager in charge of the distribution channels, and a web marketing manager. It is a close team that gives us room for reactivity and adaption, with the support of a Nantes (France) industrial ETI (medium size company).
Starting in April, we are going to have a brand new R&D and production center in Nantes for the 3D printing materials of tomorrow. We want to co-develop with our partners to find the best solutions to meet the needs of manufacturers.
3DN : What is your current materials catalogue? What developments are you expecting for the future? 
To date, we have 3 materials available in our catalog, which includes two new ones that were released in February. The first one is our OWA PS-R, a high quality material, with a very nice finish. Its versatility is combined with the ease of use and mechanical property. It is an uncovered filament that allows you to learn 3D printing or make prototype prints. It is made from the recycling of PS used in the manufacturing of yogurt cups or laser printer cartridges (for the black PS).
Our next product to be released is the OWA TPU-R. It's a mix of flexibility while at the same time being very resistant. The adhesion between layers is very resistant. This makes it a technical product, for industrial use, for the manufacturing of parts and for the finished products. It is made from the recycling of ski boots. Imagine your products being as strong as your ski boots!
We will also be releasing a PLA-HI OWA (HI for High Impact). It is bio-sourced 100%. It's an easy to use filament like PLA, with a very high mechanical strength. This material is derived from an internal formulation. It can be used for the manufacturing of finished parts and products for personal and professional use.
We have other ongoing developments that are based on various recycled materials, quality techniques, such as PETF, and new bio-sourced filaments. We also work on materials with new features in 3D printing (Technologie Lumintech©).
3DN : What is the relationship between 3D printing and a circular economy?
By definition, 3D printing must be able to respond to this societal challenge of preserving and reusing our resources, which are specific to the circular economy. It's especially thanks to local production (less transport), tailor-made using the materials needed (additive manufacturing), and in small quantities (does no require mass production).
In addition, more sensitive and predestined 3D printing users will begin to pay more attention to the waste produced with the materials, meaning that there will be much more of a demand on the ways we deal with waste. This corresponds to the principles of the circular economy: no longer thinking linearly about resources (the consumption and destruction) but you begin to think circularly, and as such they will begin to take into account the (eco-design) and the way they treat the material at the end of the life cycle.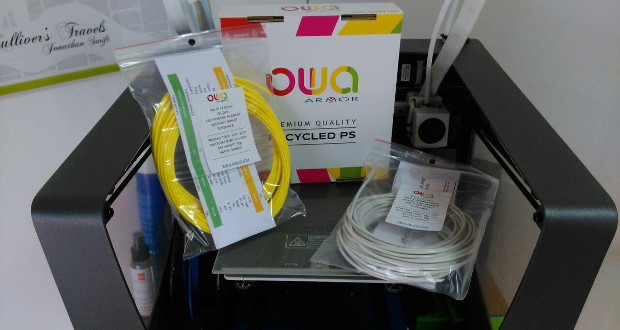 3DN : Any last words for our readers?
We believe strongly in the spirit of 3D printing, which is ultimately born from the spirit of the Makers community. Openness is important to enable this technology to continue to progress. We therefore invite you to join us to help co-develop different materials, printers and solutions that we can share with other 3D printing users, allowing us to show the benefits of this technology.
For more information on OWA 3D head on over to their website
What do you think of OWA 3D and their filaments? Let us know in a comment below!