Renishaw partners with IMR and nTopology to 3D print spinal implants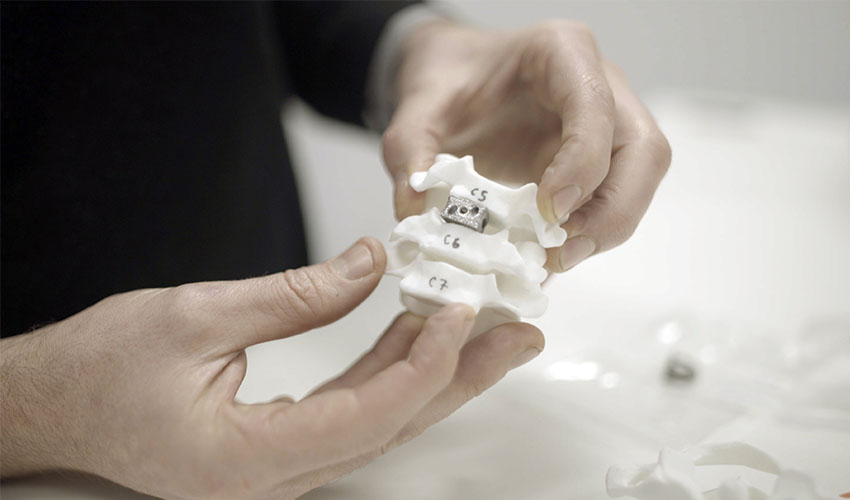 Renishaw announced not too long ago that it will be collaborating with Irish Manufacturing Research (IMR) and nTopology to demonstrate the advantages of additive manufacturing in the production of spinal implants. This collaboration also aims to show how much more streamlined the transition from design to additive manufacturing can be when working with partners.
Additive manufacturing revolutionising applications in the medical sector
Renishaw, based in the UK is a global engineering company and a leading company in additive manufacturing. The company supplies products used for applications as diverse as jet engine and wind turbine manufacture, through to dentistry and brain surgery. Their latest project focuses on developing a solution for patients with medical conditions that affect their spine. Conditions include degenerative disc disease, herniated disc, spondylolisthesis, spinal stenosis and osteoporosis. If the 3D printed spinal implants prove to be successful, they could help with surgery time for patients as well as lower the number of revision surgeries. Consequently, lowering healthcare resources and costs.
Earlier this year, it was researchers from the University of California, San Diego that were working on treating spinal cord injuries using 3D printing. Their technique involved 3D printing scaffolding around which stem cells could be implanted. The experiments on rats had shown promising results and they are now testing on larger animals.
The process of manufacturing 3D printed spinal implants
IMR, leading manufacturing Research and Technology Organisation, designed a representative titanium spinal implant using nTopology's generative design software. Then, the implants in question were manufactured using Renishaw's RenAM 500M metal AM system. Unlike traditional methods, 3D printing allows the creation of intricate and complex structures.
Ed Littlewood, Marketing Manager of Renishaw's Medical and Dental Products Division explains, "AM can be used to manufacture implants with lattice structures, which cannot be achieved with conventional manufacturing techniques. An implant with a lattice structure is lightweight, can be optimised to meet the required loading conditions and has a greater surface area, which can aid osseointegration. Therefore, AM implants can be designed to mimic the mechanical properties of bone, resulting in better patient outcomes. But all of this comes to nothing if you do not have the tools to create the design."
The same is true for the software used to design the implants: traditional CAD tools were not built to design complex structures. nTopology's software simplified the whole design process. Matt Rohr, nTopology's Application Engineering Manager explains, "We cut the design time of complex structures from days to minutes which was a crucial component in helping this project run to schedule".
Finally, an McConnell, Senior Research Engineer at IMR , commented "Renishaw worked tirelessly with us on improving the AM process for producing the spinal implants. Together, we designed a set of experiments that yield the most appropriate parameter settings for the product. As a result, we reduced the amount of post-processing required on key features of the implants by a factor of ten."
What do you think of this partnership to 3D print spinal implants? Let us know in a comment below or on our Facebook and Twitter pages! Sign up for our free weekly Newsletter, all the latest news in 3D printing straight to your inbox!