#3DStartup: Spectroplast and Silicone 3D Printing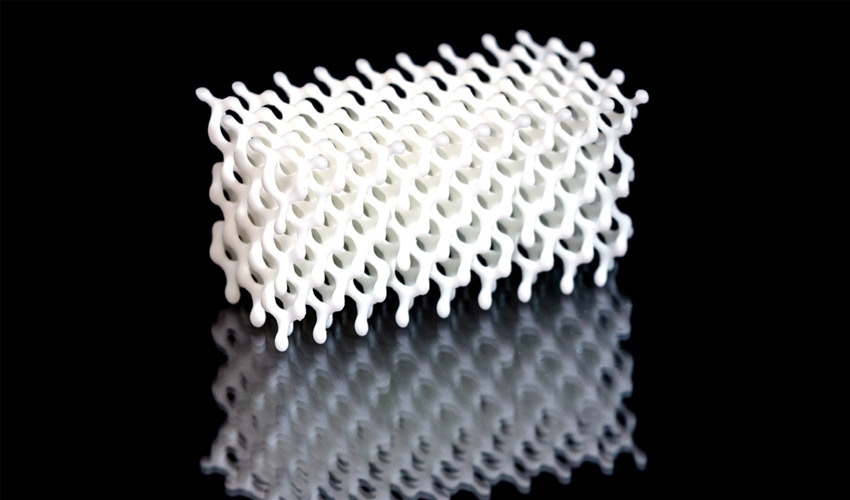 Spectroplast provides a SLA silicone additive manufacturing service in order to produce functional parts for mass markets. The startup spun out of ETH Zurich after a few years of research and development in silicone resins. The company was created by a foursome with different experiences and expertise. We had the chance to interview Petar Stefanov, Co-Founder and CTO of the company. He told us about Spectroplast, his vision of  industrial-scale 3D printing using silicone and the many potential applications of this technology.
Can you present yourself and tell us more about the creation of Spectroplast?
Spectroplast AG is a Swiss start-up from ETH Zurich that was formed in October 2018. Our company has the competence to materialise silicone designs with our cutting-edge 3D printing process using high precision silicone additive manufacturing technologies.
Readily functional products can be made using any off-the-shelf silicone and without using moulds – thereby, cutting costs and time.
Our young and dynamic team with experts in technology, business, and research, intends to commercialise silicone 3D printing using innovative Additive Manufacturing (AM) and bring 3D printed silicone products to the mass market through different industries creating a real and positive impact.
Can you explain how your technology works?
First, the silicone is put in a printing vat, into which the printing platform is lowered right up to the surface of the silicone. Then, a wiper spreads a thin film of silicone onto the platform. Thereafter, light is used to illuminate the areas that need to be solidified. The platform then sinks deeper into the liquid silicone and the process starts all over. At the end, the finished parts arise out of the liquid.
The materials used are compatible with SLA or DLP 3D Printing technologies, meaning that silicone parts can be directly fabricated straight out of a printer. Conventionally, silicone components are fabricated by injection moulding or casting that require moulds. This is both, lengthy and expensive. Direct fabrication allows circumventing the use of moulds completely.
As we can use industry standard silicones, we most often develop the material jointly with the customer to meet their requirements. In addition, we have also developed silicones that cover a range of stiffness that we are expanding on a continuous basis.
For what applications can we use it?
In the first rollout, we are targeting broad industries that require customised sealing solutions or specific silicone components like valves, gaskets, bellows, etc. These areas can range from the very specialised industries in the field of soft robotics or damping applications, to the current automotive and aerospace industry, and to something as regular as the food and beverages sector that makes use of, for example, baking and cooking accessories.
We also envision a direct application of silicone AM in the entertainment industry for artistic and animatronic applications, for toys for children and adults.
The second rollout will target industries with life-enhancing and customised medical applications. This includes customised headphones and wearables, patient-specific hearing aids, customised shoe soles and similar outerwear or external products.
In the future, we see applications in the field of fully customised healthcare products and patient-tailored medical implants.
What are the main benefits of using silicone? The main challenges?
Silicone is a safe and biocompatible material that is already used in a wide range of applications – from sealants to life-saving medical implants. Silicones have yet not been accessible to Additive Manufacturing – which is a well-known technology for materialising rigid objects made of metals, ceramics or plastics that are not soft. However, when you look at nature, you realise that it employs an entire cosmos of soft materials that transform, morph, and self-heal. Nature uses compliant materials to adapt, interact, and conform to its environment. Soft materials exhibit a number of unique characteristics, including multifunctionality, adaptability, and responsiveness.
Such soft materials are yet not accessible to AM. At Spectroplast, we have the world's first SLA silicone printing technology, using which we can expand the range of printable materials from rigid to stretchable materials. There are two main challenges when printing silicones. One on hand silicone has a high viscosity, which means it behaves like a gel that does not spread out. Furthermore, it solidifies at high temperatures. With our patented technology, these limitations can be overcome.
What are your future projects?
By mid 2019, we will expand our component production – ready to be customised and delivered. These will include anatomically-relevant medical models (surgical training phantoms, etc.), baby care (nursing nipples, pacifiers, suction cups) and customised healthcare, medical, exo-plants (hearing aids, etc.)
Looking at 2022 and beyond, we will be able to produce precise personalised healthcare and medical implants that will enhance the lifestyle of those in need. These will include customised medical implants, dental, plastic surgery implants to mention a few.
How do you see the future of silicone 3D printing?
Currently, silicone parts are designed and manufactured for high throughput and mass production. However, there is already a great market demand for customised silicone parts, starting with personalised wearables to patient-specific medical implants that perfectly fit the anatomy of the patient.
Mass customisation with silicone Additive Manufacturing will be the future of silicone manufacturing. There is already today a 7-10% market gap that is not addressed with injection moulding, where conventional manufacturing methods are either technically or economically not viable. In fact, complex shapes cannot be fabricated using moulds. Additionally products below 50k pieces per year are rarely economical due to moulds' high cost.
We can cover the full range of silicone hardness between Shore A 0 and Shore A 80 with highest precision. The material is certified, safe and resilient. This means, all you need to do is imagine – and leave the materialisation of your imagination to us.
Any last words for our readers?
Stay tuned to the next material revolution in Additive Manufacturing that is set to revolutionise the world of 3D silicone printing across all industries, having positive impact on society and environment.
What do you think of the interview? Let us know in a comment on our Facebook and Twitter pages! Don't forget to sign up for our free weekly Newsletter, with all the latest news in 3D printing delivered straight to your inbox!