Discover the Different Sounds Produced by 3D Printed Instruments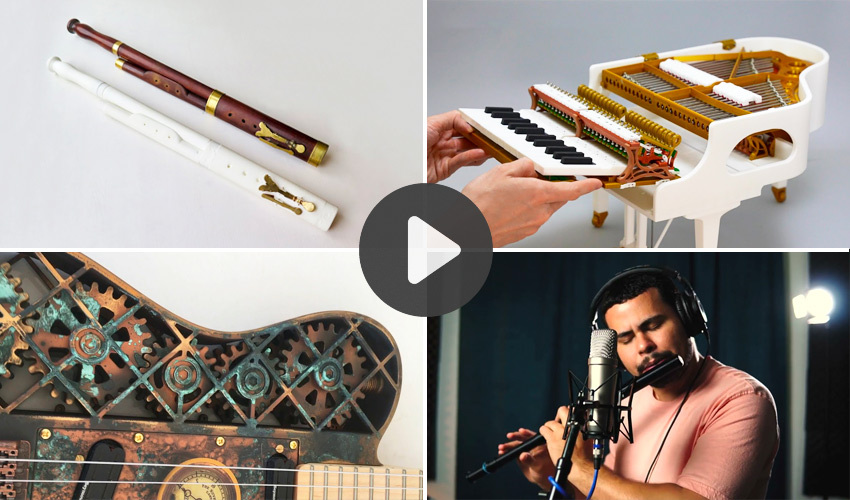 Every year on June 21st, we celebrate the Fête de la Musique, otherwise known as World Music Day. And what better way to do it this year than to discover videos of some of the latest applications mixing 3D printing and music. In the past, we've shown you how 3D technologies can be used to design more efficient, customized or even lighter instruments: from pianos to violins to saxophones, 3D printing is at the heart of music! And this year, we wanted you to listen to the melodies produced by different musical instruments integrating 3D printed elements. Maracas, flute, piano, guitar, open your ears and let yourself be carried away by these beautiful sounds! Have a great World Music Day!
Olaf Diegel Shows Off His Wooden 3D Printed Guitar
If you have been keeping up to date with 3D printed instruments, you have almost definitely heard of Olaf Diegel. The Australian professor is well known for his 3D printing projects on YouTube and social media, including various instruments such as guitars and saxophones, ventilators and more. In order to celebrate World Music Day, we wanted to highlight a recent project of his that is particularly unique. As you can see in the video below, Olaf has 3D printed a wooden guitar. He used binder jetting, specifically the technology from Forust, now a part of Desktop Metal, which uses an inkjet that print a bioepxy made out of lignin onto sawdust. Thus, making the end project both beautiful and sustainable thanks to its innovative use of waste products. The design is incredibly unique, as might be expected from something made from 3D printing and as you can hear, the sound is fantastic as well.
Maracas Made From Failed Prints
While it is becoming more and more common to see 3D printed musical instruments, it is still uncommon to see maracas designed using additive manufacturing. That's mainly why we decided to include this video in our ranking. In it, discover how 3D printing can allow you to make maracas from… failed prints! Avel, the maker in the video, explains the advantages that the technology offers him for this type of application. During the modeling stage, he explains for example that it is possible to modify the dimension of the maracas and thus to adapt them perfectly to the hands of the children!
How Do 3D Printed Instruments Compare to Traditional Ones?
A 3D printed fagottino, an increasingly rare and almost forgotten instrument, was produced for the research project "Out of the bass register." In the video below, you can hear it play alongside a traditional one at the Handel Festival in Halle 2021. To produce the 3D-printed fagottino, 3D scans of an original fagottino were first made, which were then transformed into 3D models. These were then analyzed using computer programs and manufactured additively. The research project has already made certain 3D printed instruments, namely fagottinos and tenoroons, like the ones in the video. Can you hear any difference?
A 3D Printed Baroque Flute
This 3D printed musical instrument is a baroque flute made by Jomalier Figueroa. The fact that this baroque flute was made using additive manufacturing is particularly fascinating because unlike classical flutes, this model has a narrower bore and is reverse conical in shape. Its tone also seems louder, more powerful and sharper. The flute was made thanks to the use of the Ender 3 V2 3D printer and PLA. Hear how the  baroque flute sounds in the video below. It can also be admired in person at the Rijksmuseum in Amsterdam.
The Small Grand Piano
Did you know that the word piano is an abbreviation of the word "pianoforte"? In Italian, the terms piano and forte mean "soft" and "loud" respectively, referring to the variations in volume produced when the pianist presses the keys: the faster the speed at which a key is pressed, the greater the force of the hammer striking the strings, and the louder the sound of the note. In this compilation we could not not include a piano and therefore, we wanted to introduce you to the first functional 3D printed grand piano. If you are passionate about mechanical designs, I am sure you will love this one. This project is inspired by the Grand Piano from Lego, the well-known toy brand, however, unlike it, this piano is fully functional but at a reduced size. It is a perfect sample of the mechanism of a real grand piano but on a small scale!
What do you think of the different 3D printed instruments? Which was your favorite? Let us know in a comment below or on our LinkedIn, Facebook, and Twitter pages! Don't forget to sign up for our free weekly Newsletter here, the latest 3D printing news straight to your inbox! You can also find all our videos on our YouTube channel.