Solvay, L'Oréal and Ultimaker Join Forces For 3D Printing Design Competition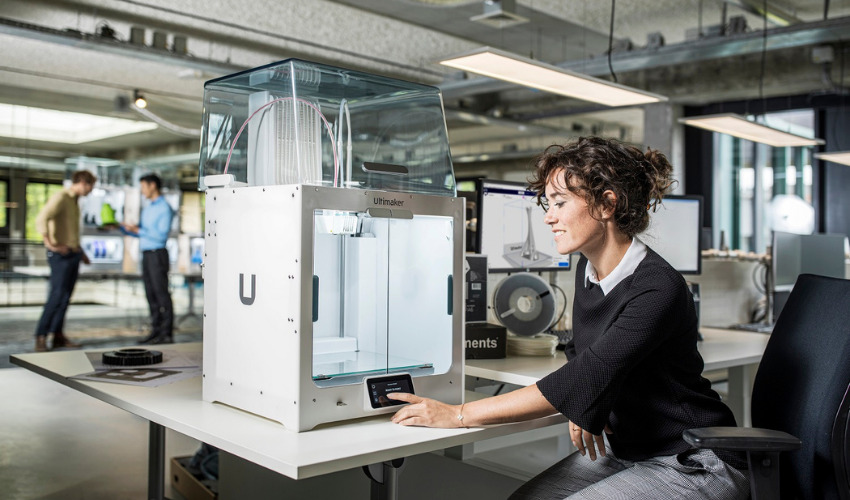 For Solvay's 3rd Annual Additive Manufacturing Cup, the company is joining forces with L'Oréal, the world's beauty leader, and Ultimaker, a global leader in professional 3D printing, to challenge students, engineers, and creators from around the world to create innovative designs for 3D printed real-world industrial application. Each design submission will be printed directly by Ultimaker. Solvay will provide the material to be used for printing, specifically chosen for the challenge from Solvay's portfolio of high-performance filaments and powders for 3D printing which is comprised of Solef PVDF, KetaSpire PEEK, and Radel PPSU AM filaments. 
The winner of the challenge will receive a 5,000 EUR prize from Solvay to be reinvested in academic, societal or entrepreneurial activities, an Ultimaker 2+ Connect printer, and a high-profile tour of L'Oréal's production facilities."It is a fantastic initiative that enables young professionals and engineers to leverage the full Ultimaker ecosystem to design an application for L'Oréal that increases their productivity, and at the same time creates flexibility in their production line," said Miguel Calvo, CTO at Ultimaker.
In prior years, the winning teams from the AM Cup have shown the potential of high-performance 3D printing for creating complex polymer shapes and the teams have demonstrated innovative ways of overcoming the challenges of using fused filament fabrication (FFF). "Solvay's AM Cup was introduced to showcase Solvay's array of AM ready filaments and their potential for diverse complex industrial uses," explained Brian Alexander, AM Global Product & Application Manager at Solvay. "We are pleased to collaborate with L'Oréal who offer a tangible and challenging industrial application and partner with Ultimaker to 3D print our candidates' designs for assessment. Solvay continues to build a robust and diversified AM ecosystem encompassing key partnerships in the value chain to offer our customers high-performance 3D printable polymers and meet the rapid developments of a once niche-technology." Though FFF technology is not the first thing that comes to mind when discussing industrial AM, it is a growing field thanks to new FFF machines made specifically for industrial applications as well as high-performance materials, especially polymers like PEEK or PEKK.
The pioneering solutions powered by 3D printing technology allow for complex geometric forms that cannot be produced using conventional manufacturing technologies such as injection molding or machining, thus accelerating the integration of 3D printing to facilitate more efficient manufacturing processes."L'Oréal has a long history of encouraging innovation and engineering excellence. With this competition, we are proud to continue this tradition, offering the possibility to tackle a real-world industrial problem using 3D printing to accelerate agility," said Matthew Forrester, Head of Material Transformation & Recycling Science at L'Oréal.
Competitions for 3D printing and 3D printing applications have become more common in recent years. Though AM is growing in popularity, there is still a dearth of trained professionals and students working with the various processes. Many AM companies have started their own contents not only to learn about new, innovative ways that AM is being used for a variety of uses, but also to help support start-ups and students as they enter into AM. This is understandable, recent surveys have shown that the biggest obstacle preventing adoption of AM in more OEMs is the lack of training on the technologies. These competitions provide a way to encourage study of AM while also highlighting users of the technologies.
You can learn more about Solvay's 3D printing design challenge HERE. What do you think of Solvay's Annual Additive Manufacturing Cup? Let us know in a comment below or on our Facebook, Twitter, and LinkedIn pages! Sign up for our free weekly Newsletter here, the latest 3D printing news straight to your inbox!
Cover Image: Ultimaker S5 with the Air Manager (Photo Credit: Ultimaker)