Solidworks World 2019, Where Possibility Takes Form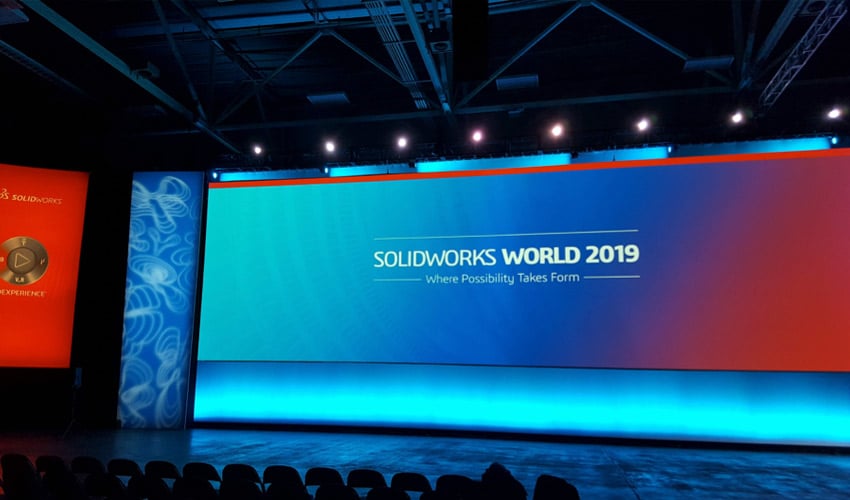 After four intense and very interesting days in Dallas, Solidworks World 2019 has come to an end. Dassault Systèmes continues to host this annual event attended by designers, engineers and users of Solidworks from all around the world. More than 6,000 people and 100 partners attended the grand opening of the event, surpassing last year's numbers. Gian Paolo Bassi, CEO of Dassault Systèmes Solidworks, presented this year's theme: "Where Possibility Takes Form". 3Dnatives was there to learn everything about the latest innovations and technologies.
As expected, this year's show had no shortage of significant updates. 3DEXPERIENCE.WORKS, a portfolio of industry-aware applications on the 3DEXPERIENCE platform, was announced on Day 1. The platform was created following the recent acquisition of IQMS, an enterprise resource planning (ERP) software company. IQMS will be integrated in the 3DEXPERIENCE software and will be known as DELMIAWORKS. Also, xShape, a modelling tool for organic and smooth shape design, will become part of the platform. Such additions will allow Solidworks to offer a wider range of solutions to their 3D design and engineering audience.
3Dnatives had the opportunity to speak with Mark Rushton, Product Portfolio Manager of Dassault Systèmes, who has attended 5 Solidworks shows and has great experience in the additive manufacturing field. When asked about how he sees this year's event compared to the recent years' ones he answered: " This year definitely feels even bigger and more energetic. The 3DEXPERIENCE platform is generating a lot of excitement in the Solidworks user base because it really opens up a lot more doors and increases the scalability of what's on offer."
When discussing about 3D printing he also stated: "The 3D printing industry is changing and is so dynamic, new people pop up all the time, as well as new processes, technologies etc. Everyone is trying to solve one issue of additive manufacturing, some people try to tackle the speed issue,others the material limitations. For customers to be able to have the flexibility, they would need to have many types of machines and probably produce a lot in order to get the return on investment (ROI). So that's where the marketplace (3DEXPERIENCE.WORKS) comes in because it means that rather than having to own all of those different types of printers, you still have access to them and the way it works you submit your 3D model, choose the specifications (process, tolerance, material) and it will filter out who can do that service for you".
The next station for 3Dnatives was to attend the Partner Pavilion, the exhibition hub of Solidworks world 2019, where multiple 3D design, 3D printing and 3D scanning companies were exhibiting their goods and services.
As expected, Makerbot was showcasing their new Method model that aims to bridge the gap between a desktop and industrial 3D printer. The Stratasys subsidiary already offers a Makerbot printing software, however, they are working with Solidworks in order to further support print files from users.
The South Korean company, Sindoh, also presented a couple of new machines. The known 2D printing manufacturer has expanded in the 3D field and keeps offering more to its customers. They are the first company in South Korea to use the Solidworks software as early as the 1990s. At Solidworks world 2019, Sindoh presented their first ever SLA printer, the Sindoh A1. So far, the company was working exclusively with FDM technologies but is now starting to offer more technologies. They also launched the 3DWOX 7X, a large scale FDM printer in order to cover the demand they have on large objects.
Markforged of course had a booth, showcasing their known series of metal 3d printers.  
Big market players like 3D Systems, Ultimaker, Formlabs and HP were of course also present, displaying their products.
What do you think of Solidworks World 2019? Let us know in a comment below or on our Facebook and Twitter pages! Sign up for our free weekly Newsletter, all the latest news in 3D printing straight to your inbox!