SolidCAM Assists CNC Machine Shops in Adopting Additive Manufacturing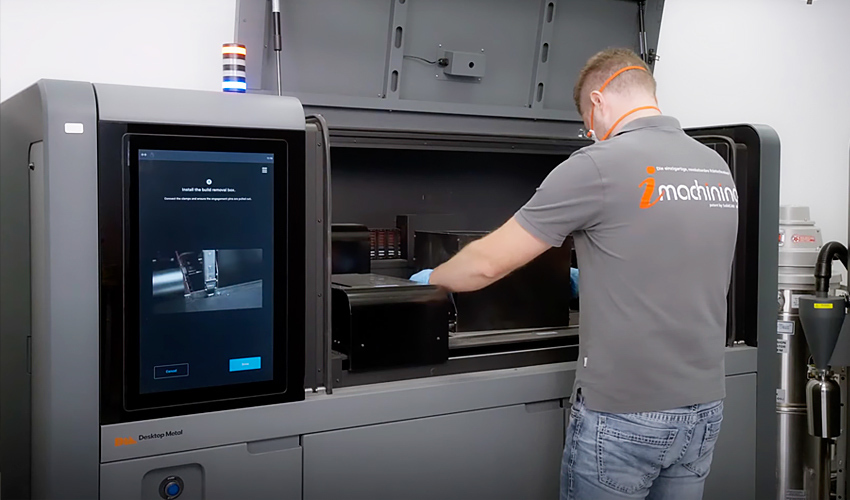 As we know, in the manufacturing industry, additive and subtractive technologies can be key resources when used complementarily. However, in many sectors, there are still barriers to the integration of 3D printing as a production method, whether due to costs, lack of knowledge or lack of qualified professionals. For these reasons, SolidCAM, a leading developer of CAM solutions, aims to ease the adoption of additive manufacturing. This is of particular interest in CNC machine shops, which specialize in machining methods, where the benefits that additive systems can bring are often overlooked. Thankfully, SolidCAM's partnership with Desktop Metal has made additive manufacturing more accessible to machine shops.
A CNC machine shop is defined as an area where highly complex subtractive manufacturing methods are used. They generally use CNC machine tools and cutting technologies to manufacture metal or plastic parts, as well as other materials. Therefore, for them, it is interesting to consider incorporating additive manufacturing into production, including for prototyping and end-use parts. Furthermore, as 3D printing becomes increasingly important in low and medium volume production, it is a key tool for companies to be competitive in the market. This is where a solution like SolidCAM comes in. In conjunction with Desktop Metal and its Metal Binder Jetting technology, adoption is now much easier. Desktop metal's Shop System is the first additive manufacturing platform that brings metal 3D printing to machine shops. Let's look at what this process is all about and what benefits it brings to manufacturing companies.
Additive Manufacturing in CNC Machine Shops
One of the main issues that machine shops encounter when exploring additive manufacturing is that suppliers do not appreciate the demands and requirements of the environment. Solutions are needed that can execute part production quickly and at an acceptable cost. Because SolidCAM works with machines shops daily, providing them with CAM software for best programming of their CNC machines, SolidCAM understands the machine shop needs, in order to guide them to a process that makes sense and is cost effective. Both SolidCAM and Desktop Metal recognize that adoption involves much more than simply placing a metal 3D printer on the shop floor. It is important to have a thorough understanding of how to create an optimal in-house additive manufacturing infrastructure for production and its synergy with subtractive technologies.
To do this, a number of factors need to be considered, such as designing for additive manufacturing or choosing the right applications for 3D printing. It is also essential to know how to manage the entire metal additive manufacturing process, from file preparation to printing, sintering and subsequent CNC machining post-processing. Experts also stress the importance of optimizing the entire process and ensuring that the highest production and quality standards are met. SolidCAM's knowledge, together with Desktop Metal's 3D printing systems, helps to simplify a complex process in order to increase productivity and part yield, with limited operator involvement.
End-to-End Technology Integration
Once a user has decided to adopt 3D printing, first it is necessary to start with some initial 3D design steps. SolidCAM's integrated approach to CAD/CAM provides a significant advantage in this regard. Its CAM functionality can be run within Solidworks and Autodesk Inventor CAD modeling software, both of which have design capabilities for additive manufacturing. Thus, users can apply the best design tools and leverage the same 3D model for CNC programming functions, such as iMachining and Advanced Mill-Turn. In addition, the company is also developing a new module for hybrid machines where 3D printing and machining occur on the same platform. This aligns with Desktop Metal's holistic approach to additive manufacturing, from creating proprietary metal powders to sintering parts.
In both additive and subtractive manufacturing methods, technique is as important an aspect as technology. To cover both and further support machine shops, SolidCAM has created centers of excellence that integrate 3D printing and CNC machining. The goal? To show how to implement additive manufacturing, as well as produce parts for companies that are not ready to take on the full commitment. Dr. Emil Somekh, founder and CEO of SolidCAM, says, "Through combining the two technologies, companies can solve complex engineering problems in new and innovative ways. Metal 3D printing will still need post-processing with CNC machining to ensure the parts are to the finish specifications the customer requires. SolidCAM is positioned as the leader in CAM solutions, adapting its software technology to effectively post-process the growing market of additive parts."
It is clear that SolidCAM's manufacturing expertise combined with Desktop Metal's 3D printing solutions are helping many companies in the adoption of additive manufacturing. Reinforcing this position, Somekh concludes, "SolidCAM views additive manufacturing as a complement to our 24,000 CNC subtractive manufacturing customers worldwide. The ability to print complex metal parts, with speed and repeatability, is now within reach of even the smallest job shops and we have committed to becoming a leading resource in this space for our SolidCAM CNC customers." More information can be found on the SolidCAM website HERE.
What do you think of the integration of AM into CNC machine shops? Let us know in a comment below or on our Linkedin, Facebook, and Twitter pages! Don't forget to sign up for our free weekly Newsletter here, the latest 3D printing news straight to your inbox! You can also find all our videos on our YouTube channel.
*All Photo Credits: SolidCAM