New material from Adaptive3D: the world's softest tough photopolymer?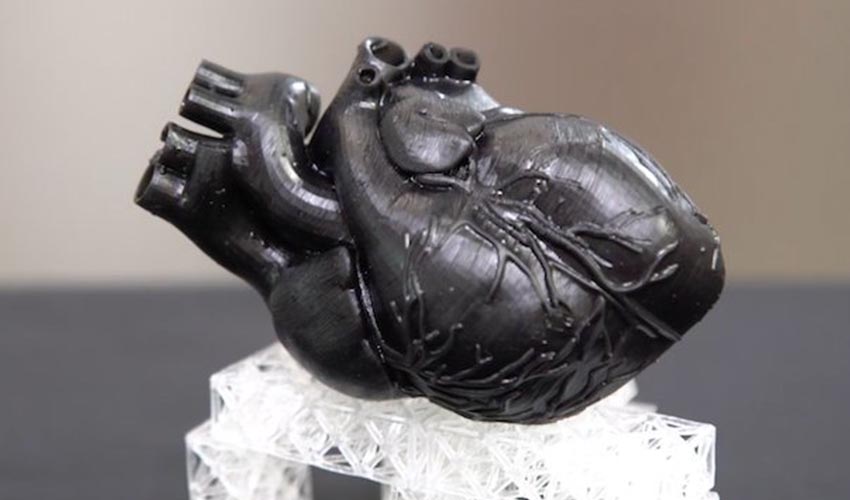 DSM and Adaptive3D are partnering to commercialise what they call the world's softest tough photopolymer. Royal DSM is a global-company, providing products and solutions for Nutrition, Health and Sustainable Living – the company provides innovative solutions for human and animal nutrition, personal care and aroma, medical devices, green products & applications, and new mobility and connectivity. What is its involvement in this new partnership? It will help produce, distribute and sell Adaptive3D's newest additive manufacturing material, Soft ToughRubber.
Soft ToughRubber is a new 3D printable photopolymer from Adaptive3D. A material that changes its properties when exposed to light. It will have applications in medical models and consumer products such as audio earbuds and footwear. Whilst delivering the feel and mechanical properties of silicone, it will also deliver the resolution and finish of DLP (Digital Light Process) technology. Noud Steffens, Market Development Director Additive Manufacturing at DSM explained, "This partnership allows us to combine DSM's global supply chain and strong relationships in key markets with Adaptive3D's proprietary material innovations".
Adaptive3D supplies premium additive manufacturing polymer resin and partners with global leaders to deliver solutions for functional end use products and prototypes. It also offers specialty polymers to a range of industries around the world – the company leads in the area of damping materials, rubber-like 3D printable materials, and low-cure stress photopolymers. "Aside from new applications in consumer products and medical models, Soft ToughRubber adds to the available materials for manufacturers looking for sustainable options" added Walter Voit, founder and CEO of Adaptive3D Technologies. Moreover, "Thanks to additive manufacturing, we are able to reduce material waste in parts production. DLP printing also uses light instead of heat to cure materials, leading to dramatically lower energy consumption and a lower carbon footprint".
DLP 3D printers use a digital projector screen to flash a single image of each layer across the entire platform at once. It is a technology that allows greater print quality and resolution than FDM (Fused Deposition Modelling), for example. Since no material is extruded, rather each layer is added by polymerisation of the material, the layer sizes are much thiner. Soft ToughRubber has been developed and perfected for this additive manufacturing process. Even though the finished part is soft to touch, it remains incredibly strong and durable.
Together, the companies will ensure its commercial availability. Noud Steffens commented, "Yet another example of how DSM's commitment to build a global additive manufacturing ecosystem offers Original Equipment Manufacturers (OEMs) across the globe access to cutting-edge materials." In the future, the two companies intend to work closely together to explore new applications and develop new materials – focusing on developing materials that provide next-generation soft, flexible and elastic solutions.
You can find more information HERE.
What do you think of this new AM material said to be the softest tough photopolymer on the market? Let us know in a comment below or on our Facebook and Twitter page! Don't forget to sign up for our free weekly Newsletter, with all the latest news in 3D printing delivered straight to your inbox!