Slicelab builds furniture with 3D technologies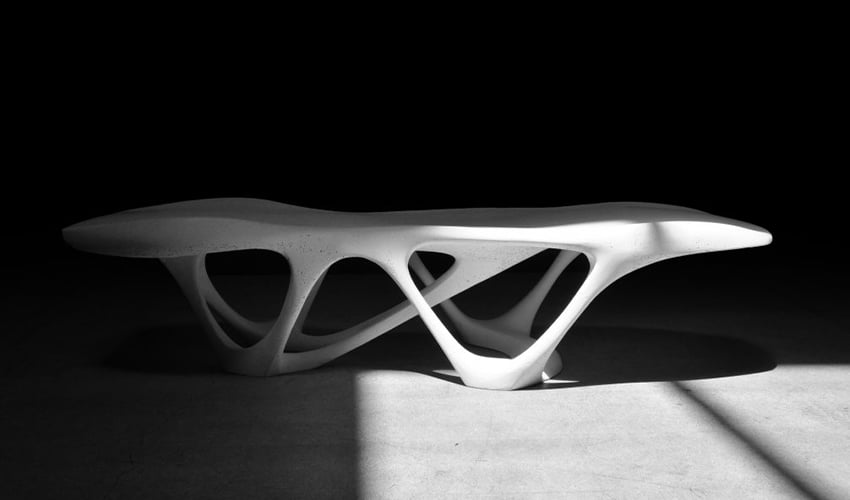 To create original designs and parts with complex shapes, additive manufacturing has proven to be by far the best solution. Several initiatives combining art and 3D printing have emerged in recent years, such as Scan the World. And more and more companies, like Slicelab, are joining the movement. Founded in 2012 and based in New York and Detroit, Slicelab is a multidisciplinary design studio that experiments with new ways of designing. Specializing in digital fabrication, the company offers architecture, product and furniture design services and provides expertise to other companies through manufacturing consulting. Recently, Slicelab has unveiled a concrete table, built using a 3D printed mold.
Named Delicate Density Table, the furniture has dimensions of 5'x17″x15″ (152.5 cm x 45.5 cm x 38cm) and weighs about 90lbs (86kg). Constructed in concrete, the Delicate Density Table was made possible through a combination of simulation and optimization technologies. The American company explains: "The intent of this project was to research a new fabrication and mold making method for complex concrete forms by using 3D printing. With concrete's ability to take on any shape, it shares a strong similarity to how rapid prototyping is able to produce nearly any geometry. The potential of combining these two mediums was seen as a great opportunity." In short, the Delicate Density table is an aesthetically pleasing and dense piece of furniture made possible by 3D printing.
A PLA mold divided into 23 parts
Due to the large dimensions of the Delicate Density Table, Slicelab divided the digital model of the mold into 23 parts. This was necessary in order to optimize the different parts of the mold and to limit the number of supports needed. After printing, all the parts were assembled to form a PLA mold weighing 30 kg. Once the mold was formed, it was filled on the reverse side with white concrete, a method that provides a flawless and aesthetic surface. Finally, the mold was broken down piece by piece into the final piece – a concrete table.
It was the combination of traditional construction methods and 3D technology that made this possible. Slicelab is pleased with this and says that 3D printing played a very important role in the manufacturing process, "This is unparalleled in the traditional mold making techniques regularly seen throughout the field of concrete casting." Yet another example of how additive manufacturing and the field of design are now complementary.
What do you think of Slicelab and the Delicate Density Table? What do you think about the first ever Dutch 3D printed concrete home? Let us know in a comment below or on our Facebook, Twitter and LinkedIn pages! Sign up for our free weekly Newsletter here, the latest 3D printing news straight to your inbox!