Simplify3D, a Slicer for Professionals?
Published on November 2, 2023 by
Aysha M.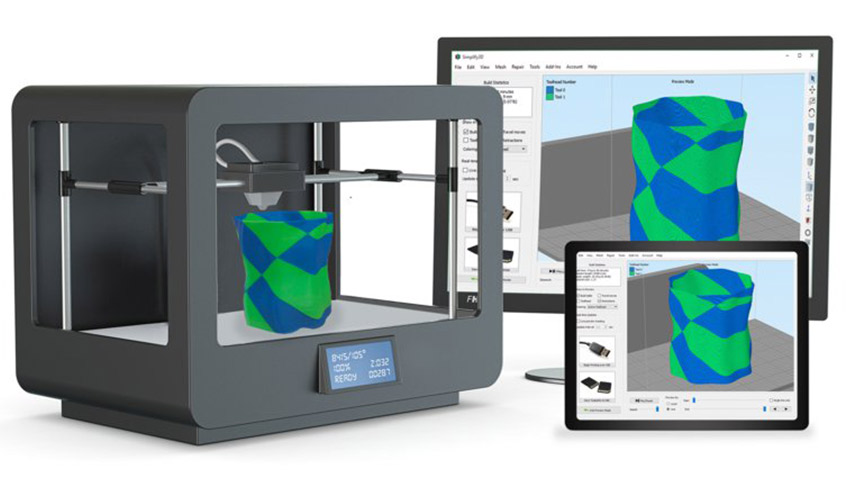 Simplify3D is a slicer designed to help you import a model from online platforms, modify it to your liking, and send it to your 3D printer as G-code so that the object can be printed. Although some programs, such as Cura, are more open to beginners due to a flatter learning curve, Simplify3D's design is aimed at professional application and educational purposes due to its complexity and broad range of compatibility with various 3D printer manufacturers. Another reason why the software is mainly intended for professionals is its cost. A license for its latest Version 5 program (v5.1 since May) costs $199 USD per user, per year, while many other slicers are available for free download. Yet Simplify3D is currently widely used, so what makes it so popular?
The software is available in six different languages, is compatible with Windows, macOS and Linux operating systems and supports STL, OBJ and 3MF file formats. It is also possible to import templates that can be downloaded from online filesharing platforms. Simplify3D can be used with 95% of 3D printer models currently available. And while they add to the compatibility list as they go, we advise you to check if your printer is supported before buying the slicer. As mentioned at the beginning, the software is particularly suitable for users who already have experience with 3D printing and who wish to work on models in greater depth. Simplify3D is also used for educational purposes to demonstrate the possible complexity of slicer software and its functionalities.
The Functions of Simplify3D
According to the developers, it is possible to reduce print times by half when using Simplify3D (compared to other slicers) thanks to its novel algorithms that have been designed for maximum efficiency. Another time-saving advantage is that the slicer program is compatible with the aforementioned 95% of available printers on the market, meaning that there are well over 600 different machines that can connect with the program. Thus eliminating the need for file transfers or the use of any secondary programs when operating two or more different machines.
Simplify3D allows modifications to be made to the models themselves before actual printing along with a slew of improvements and optimizations. One such example is the variable settings wizard, which you can use to divide your model into different parts and make changes to these parts independently of each other. These variable part settings are very useful because they allow you to adjust the thickness, filling and surface structure as required. You can also set the print speed, temperature and much more for each area individually, with some new extra features such as enhanced top-layer finishing for smoother, more detailed results.
There is also a dynamic infill density feature, which ensures the strength and thickness of exterior structures and supports while reducing the overall amount of material used when creating inner pieces. At the same time, the software has the possibility to independently add optimal support structures. It is also possible to create and save profiles, allowing users to access the settings they had defined earlier.
Simplify3D also gives you the ability to support much more complex and accurate models than other software. This is made possible with its dynamic extrusion sizing, which allows the user to choose the amount of filament to be extruded for each section. Another feature meant to ensure optimal results is the automatic reinforcement of small, exposed pieces as well as automatic mesh repairs. This can lead to considerable savings in terms of time and materials spent as printing errors can be avoided and repaired. The preview mode offers another possibility to avoid defective parts. The print can be previewed and reviewed in real time with a great deal of detail and precision, and it is possible to go from one sequence to another easily.
The advantages of Simplify3D are indeed numerous, in terms of time and cost reduction, but also in terms of the material used. The risk of error is also reduced thanks to the precise preview mode offered by the slicer. However, we advise you not to invest in this solution if you do not have experience with slicers as you will not be able to exploit its full potential. To learn more about Simplify3D and the latest version of their software, visit their website HERE.
Have you used Simplify3D before or are you curious to try it? Let us know in a comment below or on our LinkedIn, Facebook, and Twitter pages! Don't forget to sign up for our free weekly Newsletter here, the latest 3D printing news straight to your inbox! You can also find all our videos on our YouTube channel.
*All image credits: Simplify3D