Meeting with Sika, specialist in concrete 3D printing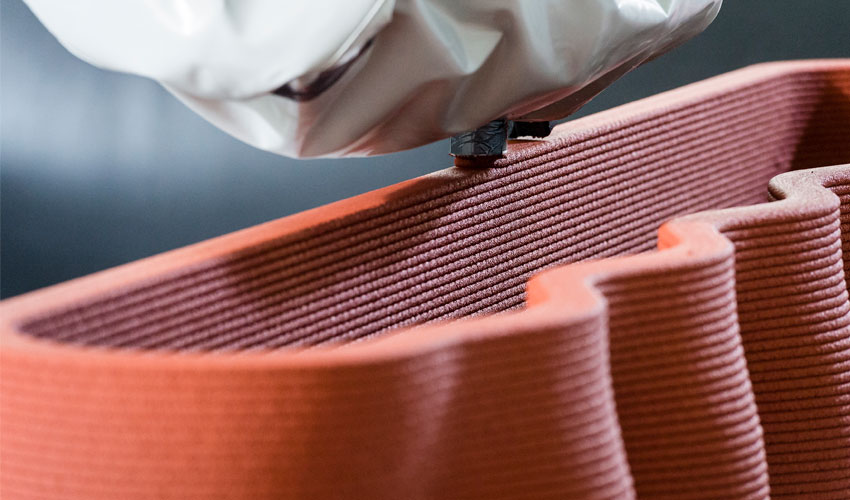 3D printing applied to the construction sector offers many advantages, whether in terms of cost, time or durability of materials. The actors who have embarked on concrete additive manufacturing are more and more numerous, convinced of the benefits that 3D technologies can bring. The Swiss company Sika is no exception; It specializes in the construction and industrial sectors and uses 3D concrete printing to design structures more efficiently. It has developed its printing material and its process, which is faster than other systems on the market today. We met with Olivier Herr, the Laboratory Manager at Sika to learn more about the process and the long-term vision of the Swiss company.
3DN: Can you introduce yourself and Sika?
Hello, my name is Olivier Herr, I am an Engineer in geomaterials and a specialist in cements and concretes. I started my career as an R&D Engineer and in 2012, I joined Sika as the Laboratory Manager. I am currently Deputy Director of Innovation at Sika France and in charge of the development of 3D printing in connection with Sika Corporate. Specializing in chemicals, Sika is a leader in the development and manufacturing of systems and products for bonding, sealing, caulking, strengthening and protection in the construction and industrial sectors. We operate in different markets including concrete, and we have been working in it for more than 100 years.
3DN: Can you tell us more about the technology you have developed?
Our 3D printing process uses robotics innovation and applies it to the concrete industry. Composed of a cement-based ink with a controlled printhead, it allows us to create, layer-by-layer, concrete elements, to mesh with various forms or design. The concrete elements are manufactured according to a digitized plan that is read and transformed into a real object via the printer.
In this process, the inks are pumped and quickly cured. Our expertise in chemistry allows a "take on demand" concrete while ensuring control of interactions between the concrete binder and high-quality additives. Flow and adjustment properties are precisely controlled as well as shrinkage, color and texture properties, allowing us to ensure the durability of the printed materials.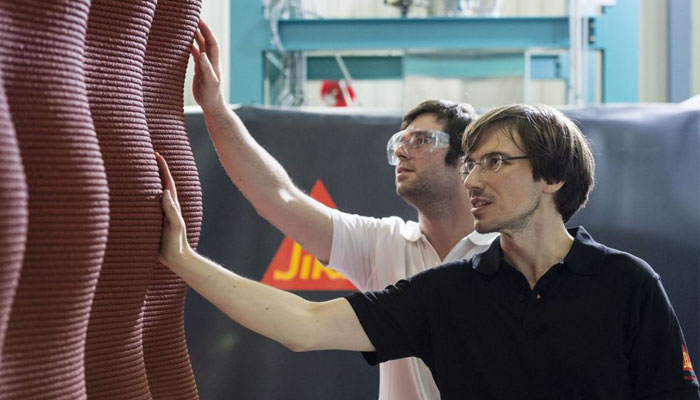 Our process is characterized by a very fast printing speed, the fastest system on the market today. The layers are deposited up to 1 meter per second, and we can print up to 4 tons of ink per hour! It is powered by our ink storage, which is located in silos or big-bags. The ink passes through an automatic continuous mixer, allowing for continuous printing without interruption for several hours.
In addition, our gantry-type printer, particularly suitable for prefabrication factories, makes it possible to obtain a perfect regularity of width and height of the layers, without any defects. We have the most accurate printing system on the market. Today, we are the only company able to provide all the technologies needed for industrial 3D printing of concrete from a single source.
3DN: What 3D printing materials have you developed? How do you make them durable?
As mentioned above, we propose a 3D cement-based ink printing process for the construction field. This ink is akin to fine mortar, in which we incorporate the best Sika chemical technologies to obtain a very fluid and stable ink to feed the printer, but one that hardens in seconds once it has been printed! This grip and a rise in very fast mechanical resistance is a strong point of Sika technology. This is the key that makes it possible to print, without any defect, taller rooms of more than 3 meters.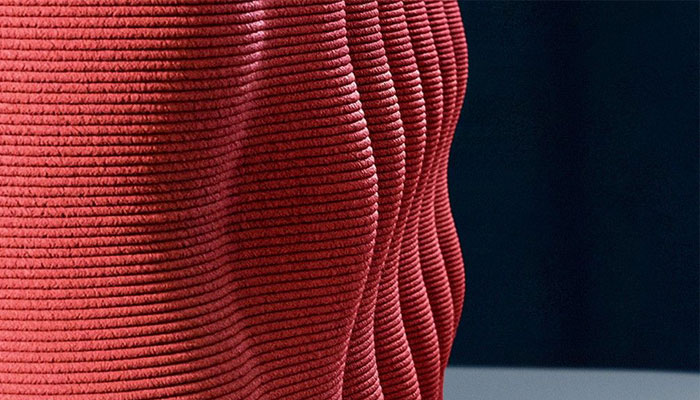 For the construction, the durability of this ink is ensured by the presence of high-performance cement in the formula. The durability of this cement has been proven and is well known by concrete experts. We also demonstrate this in the laboratory.
3DN: What are the advantages of 3D printing in construction?
Thanks to our technology, it is now possible to print concrete quickly and competitively. Our process offers a real gain in production. Indeed, the use of molds and parboiling are no longer necessary in prefabrication, thus reducing costs and manufacturing time. The production time is also reduced with a printing speed of 1 meter per second. The print can go up to 10 meters in height continuously and without breaking.
On the aesthetic side, the printer allows an exceptional regularity of the layers for a flawless facing, and especially the realization of daring shapes that forms do not allow until now! Pigments or additives that change the properties of the ink can be added during printing. This allows, for example, new aesthetic possibilities in the Construction, like color variations on printed sails.
It is also an asset in terms of security; the impression restricts the number of manipulations on site and consequently, the risks related to the manufacturer. Finally, 3D printing significantly reduces the number of existing waste on site or in the factory. The elimination of the parboiling phases makes it possible to save primary energy.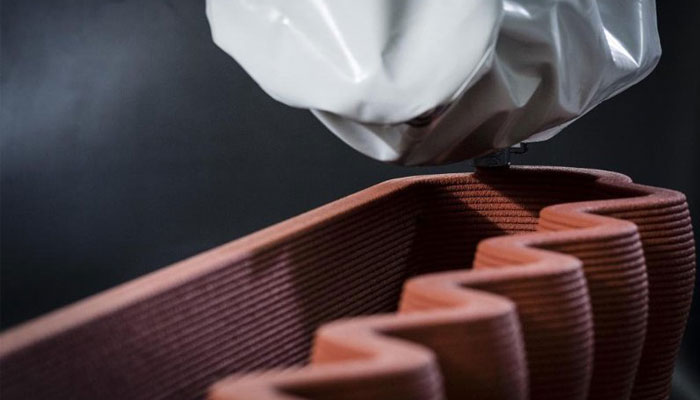 3DN: What do you see in the future for 3D printing in this sector?
Digitization will drive innovation and productivity in the construction industry. Today, thanks to 3D printing of building materials, processes are digitized from start to finish, thus raising standards and increasing speed and efficiency in project execution.
3DN: Any last words for our readers?
Our rapid concrete setting process, as well as its regularity and siding quality, are real advantages in the 3D concrete printing market. We believe that this will make the difference at the industrialization stage of our concept.
You can find more information on their official website.
What do you think of the 3D concrete printing process developed by Sika?  Let us know in a comment below or on our Facebook and Twitter pages! Don't forget to sign up for our free weekly Newsletter, with all the latest news in 3D printing delivered straight to your inbox!