Our TOP 12 list of self-assembled 3D printers
---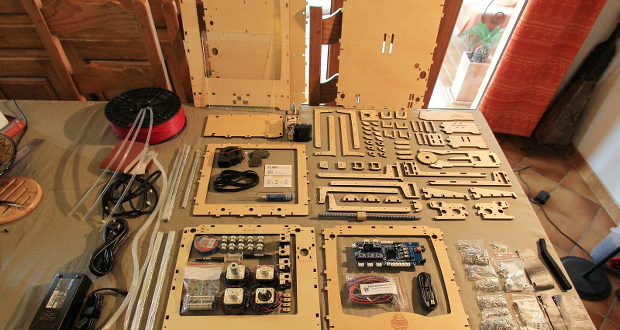 While the majority of FDM 3D printers sold on the market are plug & play models, most of them originated in the RepRap project that was initiated by Adrian Bowyer in 2005 (a movement that still exists today with 3D printing kits). So, to help you decide on your next self-assembled 3D printer (For all you DIY makers and DIY enthusiasts out there), the 3Dnatives team is here to give you our top 12 selection of 3D printers that you can assemble yourself!
1. The Ultimaker Original
The first model is from Dutch manufacturers Ultimaker. The Original 3D printer has continued to reign strong in its popularity even if it's close to 6 years after its original release.
For its performance, the Ultimaker Original offers an accuracy of 20 micros on all 3-axis, a top speed of 300 mm/s and a generous build volume of 210 x 210 x 205 mm. It benefits from a large open-source community as well (thanks to its manufacturers), and is a viable option in comparison to the typical 3D plug & play printers. The Ultimaker Original starts at a price of $995 USD before taxes (about £797). For more information visit their site here.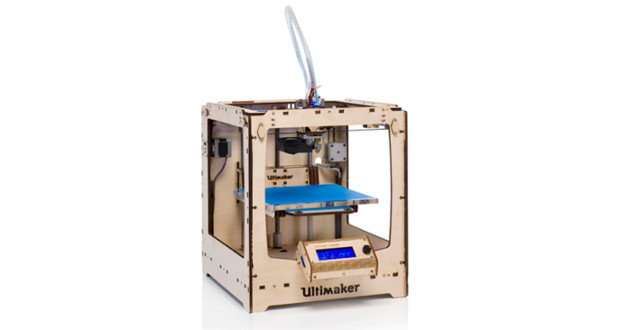 2. The BCN3DR Delta
Straight from Spain, the BCN3DR Delta is a 3D printer that is marketed by the firm BCN Technologies and is delivered only in kit form. This printer works with a delta structure and even allows it to work with both polar and non-Cartesian coordinates.
On the performance side, it has a printing layer thickness of 75 microns and a moving speed of 500 mm/s, with a total build volume of 170 x 180 x 180 mm. It is equipped with a proprietary extruder called a BCNozzel that is capable of reaching a temperature of 500°F (260° C). The BCN3DR Delta is available for €695 (about $750 USD). For more information, visit their site here.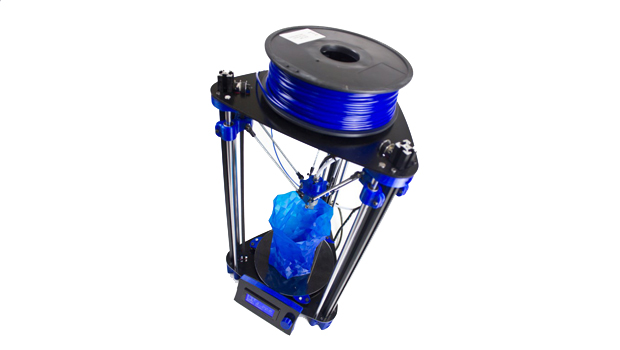 3. The Discovery 200
Priced at just €299 (about $322 USD) or €399 (about $430 USD) for one that's already assembled, the Discovery 200 is from French manufacturers Dagoma and is the most affordable kit in our selection of self-assembled 3D printers. Supplied with an SD card, an inductive sensor (for leveling the plate) and several other components, it takes less than a day of assembly for you to enjoy your new machine.
Despite its appearance, the Discovery offers a significant print volume of 200 x 200 x 200 mm, and has a relatively conventional performance. The machine itself offers a 100 micron layer of thickness, 50 micron XY positioning, and a maximum print speed of 100 mm/s. Although their site is only in French, if you would like more information, visit their site here.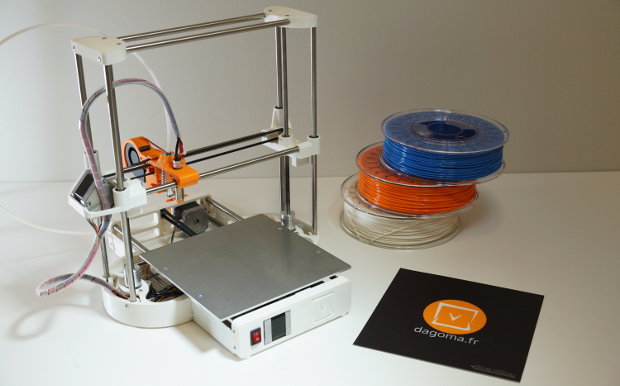 4. The B9 Creator
Toting a new look, the American firm B9Creations has developed their 3D printer the B9 Creator, based on the DLP technology. Operating with a video projector, the process flashes a light in order to solidify the light sensitive liquid resin that is used in forming your object. This machine also boasts the possibility of using competing resins, a serious advantage offered by the B9.
Although it is a kit, the B9 Creator offers technical features that are comparable to market models. These features include a minimum layer of thickness of only 5 microns, a 50-micron XY resolution, and a manufacturing build volume (variable depends on the resolution) of 104 x 75 x 203 mm. The B9 is available either assembled or as a kit for a reduced price of $4,595 USD (about £3,674). For more information, visit their site here.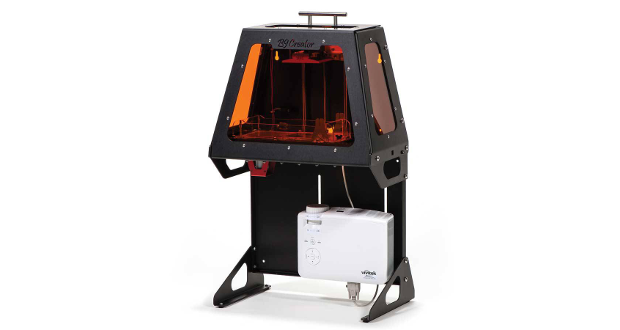 5. The Printrbot Simple Metal
With its small and efficient look, the Simple Metal has drawn upon a long line of 3D printers that have been previously developed by the American firm Printrbot. Printrbot was founded by the charismatic Brook Drumm, a name you may be familiar with as she is usually recognized for receiving the "Best of Budget" award from the 3D Hubs site in 2015.
Available already assembled or as a kit, the Simple Metal machine has succeeded in its simplicity. Recognized for its robustness and reliability, this 3D printer is available with an optional heated plate and can print parts up to 150 x 150 x 150 mm. The Simple Metal is priced at $599 (about £479) or $749 (about £599) when you add a heated tray. For more information, visit their site here.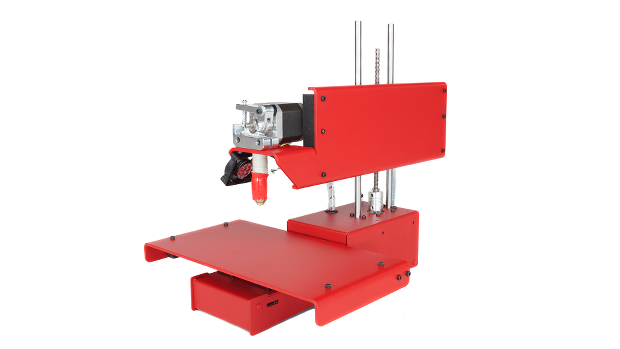 6. The Sintratec
Based in Switzerland, Sintratec is a startup that has developed one of the first low-cost 3D printers that is based on Selective Laser Sintering (SLS) technology, a process that is commonly found in this industry. Following a crowdfunding campaign on Indiegogo, the company currently sells its machine in the form of a kit.
Available at a price of $5000 (the typical price of a 3D SLS printer is more than $200,000), the Sintratec kit is capable of producing PA12 nylon parts with a maximum volume of 110 x 110 x 110 mm. In addition, Sintratec does specify that it will require 4 days of assembly. That must be the price you pay to have laser sintering right at your fingertips! For more information, visit their site here.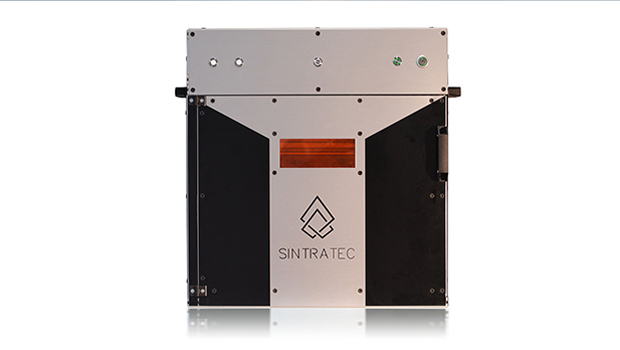 7. The BQ Hephestos 2
After developing many high-tech products (smartphones, tablets, humanoids), the Spanish manufacturer BQ has jumped into the 3D printing scene in 2013 with their first 3D printer called the Witbox. In 2016 they unveiled a 3D printer kit, the Hephestos 2, an improved version of the Prusa i3.
With a 210 x 297 x 220 mm manufacturing chamber, the Hephestos 2 is able to print 50 micro layers at a speed of 200 mm/s. With the ease of its assembly (less than an hour according to the company) and its price of €929, not including tax (about $1001 USD), makes it the perfect kit to start 3D printing with. For more information, visit their site here.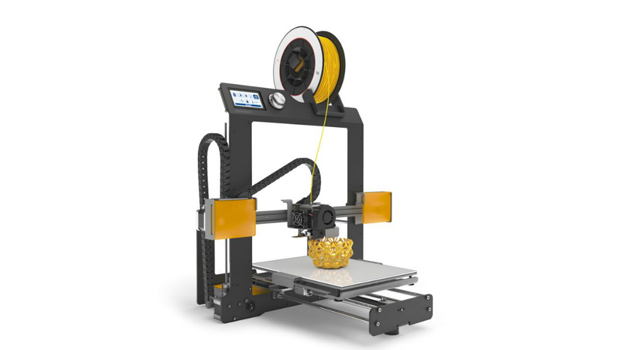 8. The Kiwi 3D
With it's frame and integrated LCD, one would think that the Kiwi 3D is a 3D printer that's already assembled and ready to go. Well, think again! It is indeed a kit created by ShareBot with a starting price of €899 (about $970 USD).
Despite a limited manufacturing volume of only 140 x 100 x 100 mm, the Kiwi 3D builds on the experience of the Italian firm within this sector, and presents itself as a good candidate for budding 3D enthusiasts. Capable of printing 100-micron layers, it is also available assembled. For more information, visit their site here.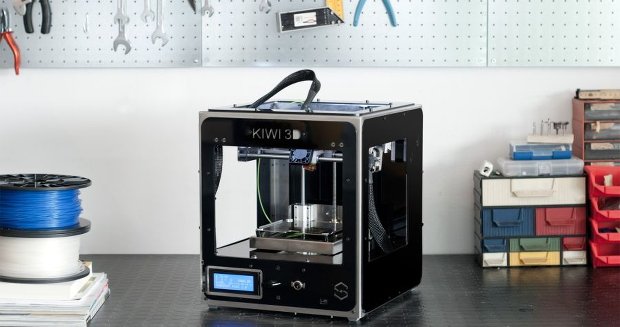 9. The Prusa i3
Another 3D printer that was inspired by the model by Josef Prusa, this little machine has a steel frame that is 3mm thick and is overall solid, stable, and easy to mount! On top of this, the starting price is only $369 USD!
With its heated tray, this open-source 3D printer is able to print objects at a maximum size of 200 x 200 x 180 mm in a resolution of 100 microns, and in several types of filaments. For more information, visit the site here.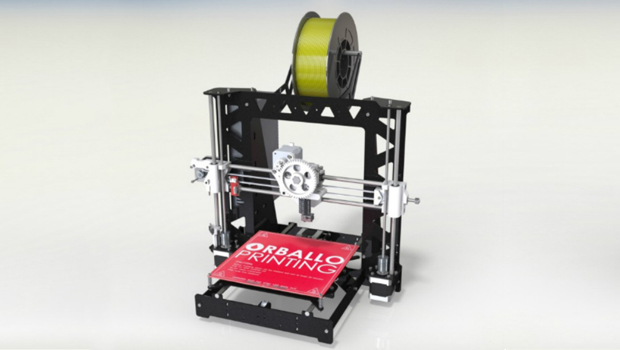 10. The Rostock Max v2
In 2015, the American magazine Make gave their first place position to the 3D printer Rocktock Max v2 in the category of "Best Value". A delta printer that was created thanks to a crowdfunding campaign on Indiegogo.
Although the main feature offered with this machine is that it has a very large printing volume at 28 x 28 x 35 cm, the printer also offers a heating tray that allows you to use different types of filaments. Requiring 20 hours of assembly, this printer is priced below $1000 and is marketed by SeeMeCNC, specializers in printers in kits. For more information, visit their site here.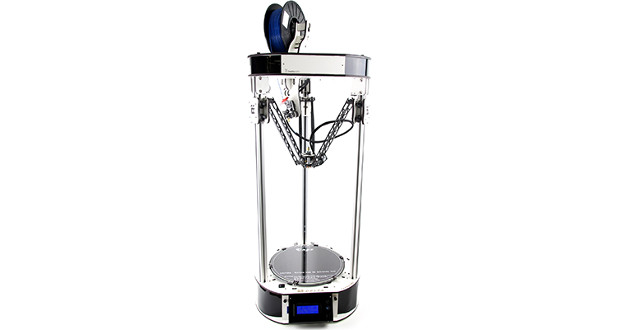 11. The Bukito Kit
The 3D Bukito printer from Deezmaker began as crowdfunding campaign using the Kickstarter platform, and is based in part, on the open-source Vhold System. With Its handle and weight of only 2.6kg (5.7 lbs), the Bukito Kit a machine that is light and easily transportable.
With its special design, the Bukito Kit is capable of printing minimum layers of 50 microns and has a manufacturing build volume of 125 x 150 x 125 mm. Today, you can buy it starting at only $749 USD (about £598). For more information, visit their site here.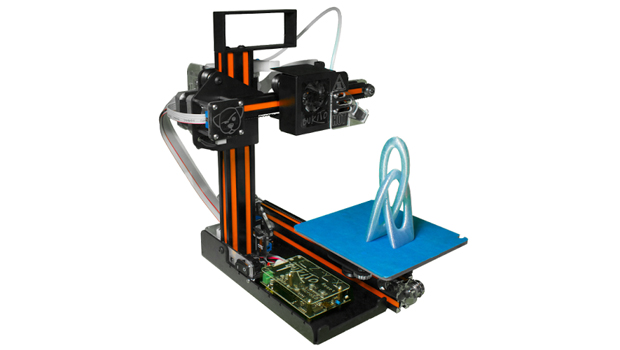 12. The Velleman Vertex K8400
The K8400 is produced in the workshops of the manufacturer Velleman, a recognized actor in the electronic sector that was founded in the 70s. It is one of the rare printers that has a transparent frame and includes a plate of glass, as well as a double extruder option.
Among our selection of self-assembled 3D printers, it is safe to say that this is a printer that will give you a bang for your buck, as it allows you to print objects with dimensions of 180 x 200 x 190 mm (with a layer of thickness between 50 and 200 microns). The starting price for this machine starts around $599 USD ( about £480). For more information, visit their site here.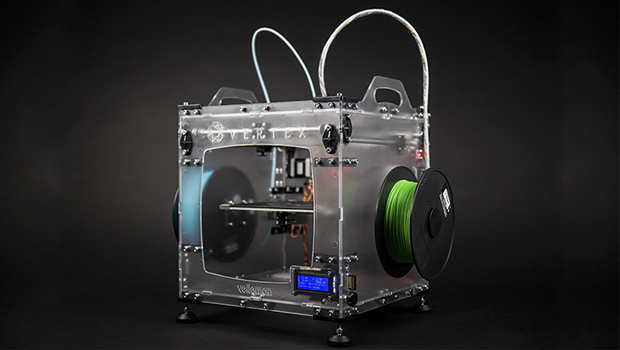 Do you already have a 3D printer kit? Did we miss a model in our list? Let us know in a comment below!
Don't forget to follow us on Facebook and Twitter!
---
You may also like