Searious Business wants to 3D print a sailboat from plastic waste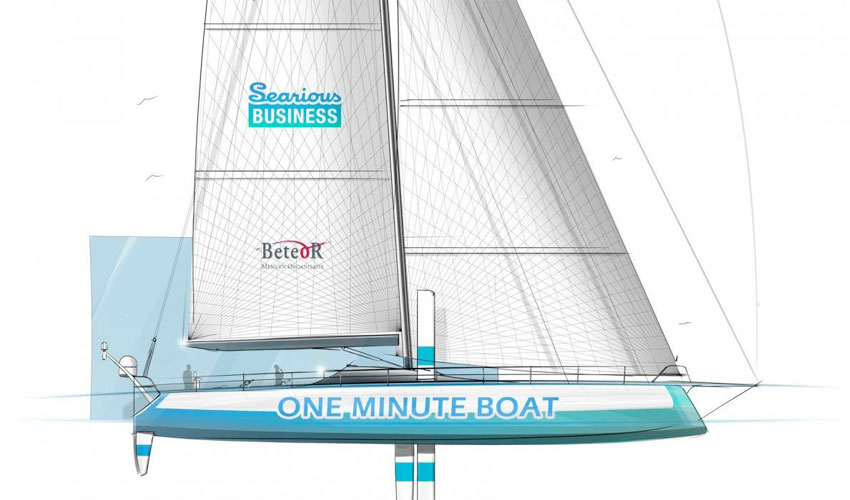 While 3D printing is shaking up many industries, it is also changing the way we use materials today. It is increasingly interesting to various companies and associations in terms of plastic waste recycling. These can be transformed to create new 3D printing materials and thus benefit from a significant added value such as Precious Plastic's initiative. This is also the message that Searious Business, a Dutch association fighting against ocean pollution, is proposing through offering the 3D printing of a sailboat from plastic waste. A project that is still in its infancy for the moment but that could make things move. We met Andrew Hall who explained to us the genesis of this crazy adventure and the associated issues.
3DN : Can you present yourself and your link with 3D printing?
Hello, my name is Andrew Hall and I work as a Consultant helping Organisations, Leaders and Teams with change. Originally, I studies materials science and metallurgy. I'm a firm believer in the power of technology to solve the world's problems and believe that by harnessing that with the power or of our human ingenuity we can achieve almost anything. 3D printing is one of the most exciting technological advances ever in materials processing. It has a great part to play in manufacturing and recycling. I also consider today's rubbish tips to be the source of tomorrow's raw materials. There is such great scope for progress.
3DN : How did the project of a 3D printed yacht come up?
The idea came about after my first meeting with Willemijn Peeters , Ocean Ambassador of the Netherlands and CEO of Searious Business. We quickly realized that Our oceans are in a serious mess. We humans, in our industrialized societies, treat them like of sewer of the earth. Through such wanton destruction, carelessness and pollution, we are poising the very cradle from which all of life on earth emerged. It seems that as land animals, we are largely unaware of the consequences of our actions. We see a relatively recent phenomenon, of non-degradable plastics which are added to the world's oceans at a rate of 20,000 Kg per minute. These plastics in our waste are very harmful for sea-life. They find their way ultimately into the human food chain and directly cause lower fertility and many other health issues besides.
Nowadays, millions of disposable plastic bottles find their way into the sea. These bottles were all made by upstanding, forthright and ethical companies and yet the recycling route is broken. Instead of recycling this waste into other products the valuable and harmful material is dumped and replaced by virgin material made from our dwindling and scarce fossil fuel resources. We suck oil out of the ground, pollute our environment, make plastics for all sorts of packaging and then we just dump most of it. Our generous oceans have had enough.
This is why we want to create something with this plastic and show the world that virtually anything can be made from recycled materials- after all if it's possible to make a Yacht then it's possible to make anything.
3DN : Why is Searious Business turn to 3D printing?
Technology can make many new and interesting products from plastic waste. Twine, fabrics, 3D printed structural element and many more things besides. A dilemma is making durable and necessary things that our society needs rather than just more stuff that might end up as waste in our oceans. Searious Business has been working with partners to turn this waste into high value products. However, more momentum for change is needed. Technology alone is not enough, we need also to change human behavior and work with industrial companies to add brand value through adopting more responsible and sustainable packing solutions.
We worked with the company Lay3rs who 3D printed a model of the one-minute boat with recycled PET. We presented it at the event "Plastic Ocean" in Eindhoven's Parktheater last September and it was a great success.
3DN : What are the next steps of the project?
We have the technology to literally turn the problem on its head. Instead of thinking of plastic bottles in the sea we should think of a plastic bottle on the sea! Let's gather a consortium capable of making a boat out of plastic waste. It would need companies with capabilities in waste handling, chemical processing, weaving, 3D printing as well as in the design and building of boats. The consortium could build a prototype and then sell the idea of an ocean race in recycled plastic boats to companies such as Coca Cola and Unilever! There's nothing quite like a competitive event to get us humans stirred up.
Symbolically, the boat could have a displacement of 20,000 Kg and could be called 'one minute'. We could ask our sponsors to think for just one minute. That's not a long time to ponder the scale of the problem, but if we crowd fund it and get enough people, the 'one minutes' would soon add up.
3DN : Any last words for our readers?
Covering more than two thirds of the earth's surface, our oceans embrace us all. Our race could go around the whole globe to spread the message about stopping the tap of waste into the oceans.
What do you think of the Searious Business initiative with plastic waste? Let us know in a comment below or on our Facebook and Twitter pages! And remember to sign up for our free weekly Newsletter, to get all the latest news in 3D printing send straight to your inbox!