Sandwaves, the 3D printed installation from sand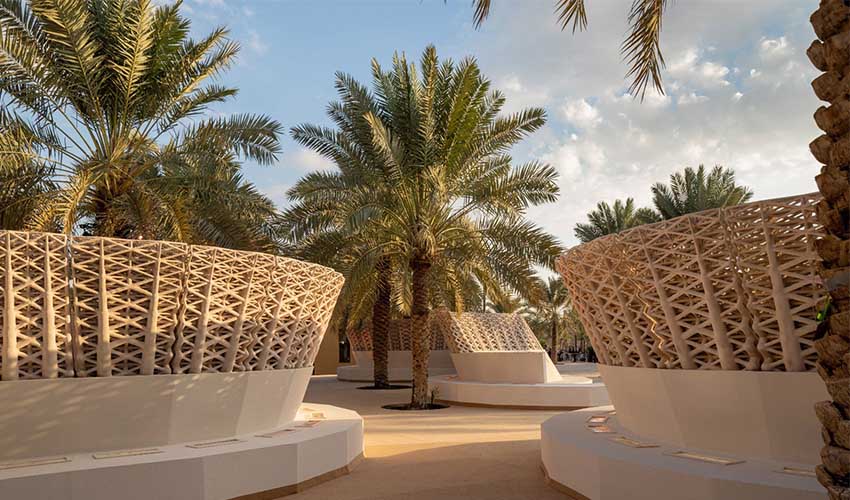 Architecture is always evolving as the years go by. In fact, increasingly, 3D printing technologies are providing the tools to imagine new projects for this sector. In Saudi Arabia, two architectural design studios, Precht and Mamou-Mani Architects have constructed a pair of sustainable installations using additive manufacturing. The first is called Sandwaves and the second Pixel Gate.
Sandwaves is a ribbon-like structure that has been 3D printed from sand and furan resin for use as street furniture for the Diriyah Season, a set of international sports and entertainment events. Sand is a very abundant material in the region, which is why the design studios decided to use it. "We believe that responsibility starts locally and uses regional resources to create visionary projects. The Sandwaves are an example of responsible innovation that can have a positive impact on the future of our built environment," explains Chris Precht, co-founder of Precht.
Looking at the 3D printing process more closely, Sandwaves was created from 58 individual 3D printed elements that were combined to make the continuous ribbon. Precht and Mamou-Mani Architects collaborated with engineers at Format to design these elements. Parametric design tools were used to generate the optimum shape and thickness of each piece. Since sand is not particularly strong, the pieces had to be designed with the right thickness to ensure they would be resistant – each piece weighs approximately 160 kg and was 3D printed on an ExOne printer.
The Pixel Gate installation on the other hand was 3D printed using compostable PLA. This is not the first time the studios use this material, in 2019 they created the large-scale 3D printed installation Conifera with it. Actually, the Pixel Gate is somewhat similar to Conifera as it also made up of many interlocking modular blocks, what they call 'bio-bricks'. This generates a pixelated appearance thanks to optimized material distribution.
Yet another project that showcases the design freedom that can be achieved with 3D printing technologies versus conventional manufacturing techniques! Even though the technology is still far from being able to produce entirely 3D printed buildings, it is progressing quite rapidly. In Saudi Arabia particularly many projects have been undertaken to push the limits of design, and let's not forget that the country has committed to build over 1.5 million private-sector homes over the next ten years as part of their Vision 2030 mandate.
"We believe that true innovation builds upon the achievements of the past. Innovation looks at history, learns from it and reinvents it for our future demands," concludes Chris Precht. You can find more information on Precht and Mamou-Mani. What do you think of these 3D printed installations? Let us know in a comment below or on our Facebook and Twitter pages what you think. Don't forget to sign up for our free weekly Newsletter!