Sandvik Has Developed 3D Printable Cemented Carbide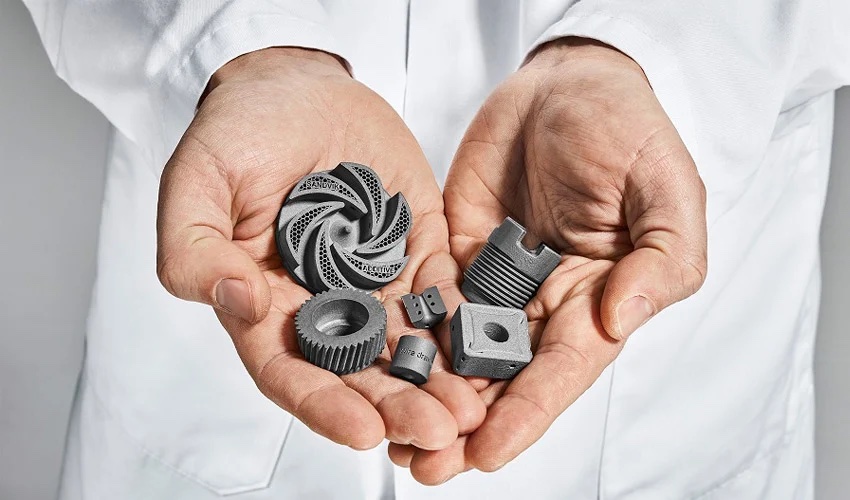 Swedish materials manufacturer Sandvik has been developing cemented carbide for the manufacturing industry for several years now. Recently, the company announced that it has been working on a range designed for additive manufacturing. Manufacturers can then 3D print parts that are highly resistant to wear and have a very high hardness, even under extreme thermal conditions. Sandvik thus proposes to offer one of the hardest 3D printing materials on the market, expanding the range of possibilities for users.
If you're familiar with the company Sandvik, it's because it has already been the subject of several very interesting material developments for the additive manufacturing market. Indeed, in 2019, it had unveiled a 3D printed diamond composite, a first for the market. This time, it is interested in cemented carbide, a composite made from a hard material and a metal binder. It has excellent electrical and thermal conductivity as well as high hot hardness. As they are particularly hard, their machining is very complex, especially when it comes to obtaining complex geometries. This is why the Swedish company wanted to develop a material compatible with 3D printing, which, as we all know, offers more freedom in terms of design.
What are the characteristics of this cemented carbide?
Sandvik therefore came up with a cemented carbide optimized for powder bed printing processes. Anders Ohlsson, product manager at Sandvik Additive Manufacturing, explains, "The most critical component in our process is to work with powders that have the right properties. Above all, high density brings a whole range of benefits regarding the kind of materials we can produce, and crucially impacts the quality achievable in terms of material properties and geometry. Sandvik has developed both a powder and a process that are unique.  With our powders, we can print components that look great, work well, and are fit for use in actual applications and serial production." 
The matrix structure of this powder is composed mainly of cobalt carbide and tungsten which makes the material particularly hard and differentiates it from other metal alloys which are more fragile.
The applications of this new material
Sandvik's teams have printed several parts with this cemented carbide, notably for the company Varel. In particular, they have designed nozzles for injecting fluid through rotary drilling tools used in underground environments. The nozzles are therefore highly stressed and must withstand extreme hydraulic conditions but also high rock hardness. By 3D printing the nozzles, Varel not only saves time and money, but can take advantage of stronger, tougher and more durable complex parts.
The possible applications are vast, and Sandvik says its cemented carbide is particularly interesting in the metal cutting industry, oil and gas, mining and also the food industry. The list goes on, of course, and it is easy to see how such a material can impact industries with high demands. If you want to know more about this powder for 3D printing, you can visit Sandvik's website HERE.
What do you think of this cemented carbide? Let us know in a comment below or on our Linkedin, Facebook, and Twitter pages! Don't forget to sign up for our free weekly Newsletter here, the latest 3D printing news straight to your inbox! You can also find all our videos on our YouTube channel.
*Cover Photo Credits: Sandvik