Saab Successfully Flies Gripen Fighter with External 3D Printed Parts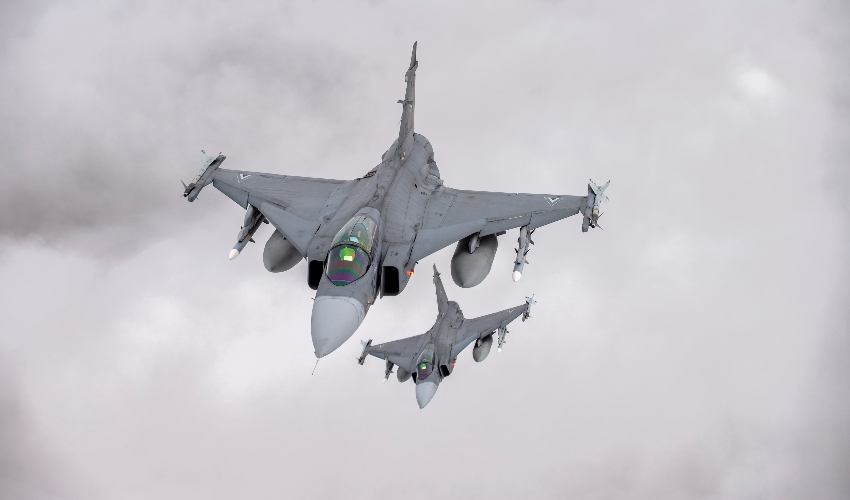 On Tuesday, Swedish aerospace and defense company Saab announced that it had successfully tested a Gripen fighter with 3D-printed parts on the exterior for the first time. The trial was conducted on Friday March 19th in Linköping, Sweden above Saab's facilities. The Gripen fighter was equipped with a replacement hatch, the first external 3D printed part to be successfully flown as part of a Gripen aircraft. Co-founder of the AMEXCI consortium, Saab is of course no stranger to the benefits of additive manufacturing. In fact, this test is part of a larger project investigating the potential use of additive manufacturing technologies for battlefield damage repairs.
Håkan Stake, contract manager for support to Gripen C/D, and manager of the development project commented on the trial explaining, "Post-flight intial inspection of the hatch was very positive and showed no visual structural changes had occurred from the flight. The potential of this approach means that maintenance personnel in the field can get access to individually fitted spare parts and you no longer have to resort to emergency fixes nor cannibalise other broken-down aircraft for their parts, while also further reducing the small number of parts brought on a deployment. This also reduces the operational time lost in repairs".
In order to create the 3D printed replacement hatch for the Gripen fighter, Saab first had to make a scan as there was no existing 3D model. The part was then printed with a high-performance nylon polymer called PA2200. Other than saving crucial time in getting rapid repairs to fighter aircrafts, the main advantage of using 3D printing technologies in this case, is that the part printed is specific to the individual aircraft, minimising the margin of error. Saab is now looking into alternative materials to PA2200 that would also suit this application. Notably, the company wish to increase the flexibility and resistance to cold temperatures resulting from high altitudes. Saab is also looking into developing a container-based portability system for transporting additive manufacturing equipment which will likely prove similar to the one the U.S. Department of Defense commissioned from ExOne.
"This test flight of a component with operational impact is an important step as an aircraft, including all its parts, always has to meet the tough requirements of an airworthiness process. In terms of increasing operational availability in the field, additive manufacturing will be a game changer," concluded Ellen Molin, senior vice president and head of Saab's business area Support and Services. You can find more information about this project on Saab's website HERE.
What do you think of Saab's plan to use additive manufacturing for battlefield damage repairs? Let us know in a comment below or on our Facebook, Twitter and LinkedIn pages! Sign up for our free weekly Newsletter here, the latest 3D printing news straight to your inbox!
*Cover photo courtesy of Saab AB