S-Squared 3D printers creates 3D XXL printer for construction
S-Squared 3D printers (SQ3D) is a New York-based 3D printer manufacturer that has just filed a patent for its solution called Autonomous Robotic Construction Systems (ARCS), a 3D printer designed for the construction industry to speed up the process of making houses. The American company says that it will be able to reduce costs and delays by 70%.
Additive manufacturing at the service of the construction makes a lot of ink flow; the 3D printed house projects created in 24 h keeps appearing, however not all of them are a success. Making it necessary at times to be wary of certain projects that seem too ambitious – one thinks of the startup Cazza Construction which plans to print skyscrapers but have yet to provide more information on their machine or technology. The list of 3D printed houses manufacturers is growing and it seems that SQ3D wants to find its place in the market. This American company is at the origin of different desktop FDM models. They have with this project taken a different turn by developing a 3D XXL printer for the construction sector.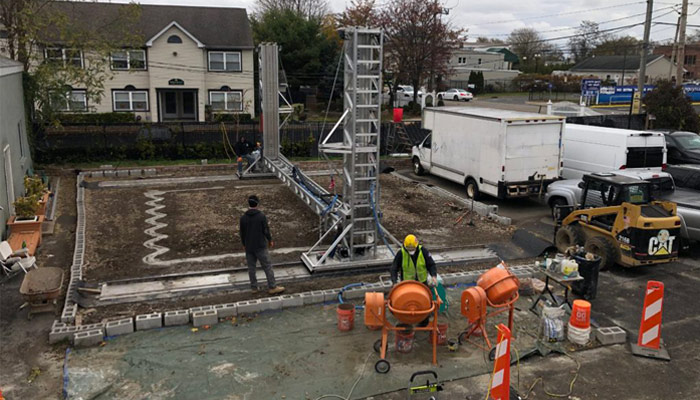 The company explains: "Our mission is to revolutionize the construction industry forever. This kind of outside-the-box thinking and solutions will reduce environmental impact, cut overhead costs, save lives and prevent injuries."
ARCS: an XXL machine for the construction sector
The ARCS printer would be able to create structures; from down to 46 square meters up to more than 92,000 square meters. A quite impressive size for this machine that we would like to see at work. According to the manufacturer, the 3D printed structure would be resistant to even the most extreme water, fire, mold and weather such as hurricanes. Little information is given about the material used but the promises of the manufacturer are more than intriguing!
The ARCS printer would be built in just 6 hours, designed to reduce the risk of construction-related injuries. S-Squared 3D Printers plans to create a network of a hundred machines. The manufacturer concludes: "Our humanitarian goal is to create homes for the less fortunate and impoverished regions." They explain: "Construction costs in these third world countries can be as little as $1,000 for a 500 square foot home. These homes will be built with the potential to withstand hurricanes, tornadoes and virtually any Act of God. " One thing is certain; if this solution starts to develop, it could revolutionise the construction market and offer a solid alternative to current methods. We currently don't know more about the date in regards to further marketing of the machine, and are still waiting for its first achievements but we will continue to keep you updated! In the meantime, find more information HERE.
What is your opinion of the solution developed by S-Squared 3D printers? Let us know what you think in a comment below or on our Facebook and Twitter pages! Don't forget to sign up for our free weekly Newsletter, with all the latest news in 3D printing delivered straight to your inbox!