RPS fuels OBR's Formula Student success thanks to 3D printing
---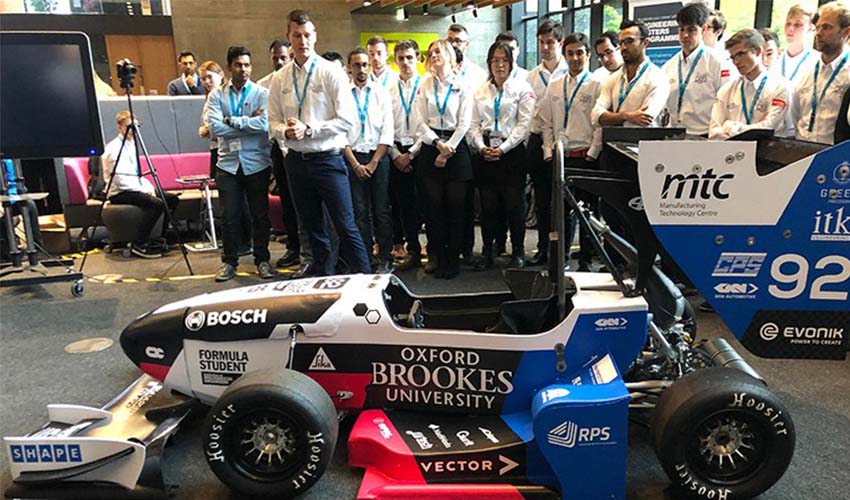 Oxford Brooks Racing (OBR) is participating in Formula Student, Europe's most established educational engineering competition. Formula Student celebrated its 20th anniversary last year and is backed by industry and high profile engineers such as Patron and Ross Brawn OBE. This year, for the second time in a row, OBR is working with RPS on the Formula Student car. RPS was of assistance for a range of components such as the intake plenum and the aero package.
RPS is one of the leading companies working with stereolithography and laser sintering equipment. With proven experience in 3D printing, the company was able to provide advice and expertise for OBR's Formula Student car. Implemented also during the 2018 season, RPS' NEO800 stereolithography with DSM Somos PerFORM resin allowed the team to 3D print the moulds able to stand against the heat and the pressure of an autoclave. As a result, both the accuracy of parts and the turnaround from design to manufacture was massively accelerated.
The NEO800 is an industrial large-format stereolithography system designed by RPS engineers. Some of the features of this machine include exceptional layer-to-layer scanning repeatability, producing parts with industry-leading sidewall quality and the dynamic laser focusing enables parts to be highly accurate and detailed. "The ability to use RPS' NEO800 stereolithography, with DSM Somos resin and HP Multi Jet Fusion technology has proven the benefits of using the perfect combination of innovative technology and engineering design", said the University team.
Moreover, this year, in an effort to save weight, time and cost even further, RPS came to the team with far larger print beds than in 2018, recommending also the use of their Nylon 12 based HP Multi-Jet Fusion PA12. Compared to last year, the students were able to reduce weight by 52% of the intake plenum. This is because Nylon 12 is far lighter, at around ¾ of the density. It was crucial for the OBR team to have a lighter car, as it means a faster car.
Established in 1988, Oxford Brooks Racing boasts the 2nd place overall result at Formula Student 2018, along with the 2nd place in Engineering Design. Each year, Formula Student sees over 100 university teams travel to Silverstone to compete in events that will test their preparation and hard work. Are 3D printing technologies the key to success this year?
What do you think of this collaboration between RPS and Oxford Brooks Racing? Let us know in a comment below or on our Facebook and Twitter pages! Sign up for our free weekly Newsletter, all the latest news in 3D printing straight to your inbox!
---
You may also like