Singer Rosalía Stuns in Original 3D Printed Dress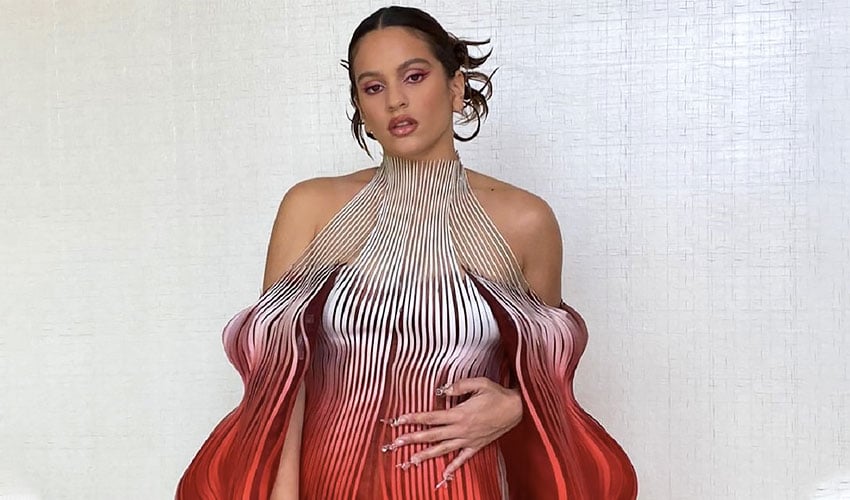 Last week, the British Fashion Awards (BFA), an annual ceremony celebrating the best of Britain's designers, took place in London. Described as London's answer to the New York Met Gala, the event is highly anticipated within the fashion industry worldwide. Regardless of the pandemic-induced move to a virtual ceremony, this year's event was unlike any preceding it. Instead of traditional awards for modelling and design, the British Fashion Council chose to celebrate those who had created positive change in the industry.
In addition to the lucky winners, the guests who were making them known were honoured. Among them, was Rosalía, a Catalan singer wearing a daring original 3D printed dress designed by Iris van Herpen. It's not the first time we've seen the Dutch creator demonstrate the full potential of 3D printing in the fashion world. The technology offers great design freedom to create unique and original pieces that revolutionise the fashion industry. On this occasion, Rosalía, trusting in Iris' talent for design, appeared in a unique and striking dress. The singer was chosen to present the prize for creativity, a category that recognises designers and brands whose creativity has had a global impact in recent years, be it through their designs, campaigns, collaborations, firm business base, or defining the form of fashion.
During her introductory speech, Rosalía remarked that "fashion is a language that allows you to be creative and express who you are". What better way to prove than wearing a 3D printed dress? We've seen other celebrities wear the garment, 'Synthesis', before. Model Winnie Harlow wore it on the cover of Fashion Canada magazine and, in 2019, performer Gwendoline Christie wore a very similar version also developed by Iris van Herpen. Without a doubt, the designer has become a benchmark in the fashion and design industry for 3D printing, as well as multiple other technologies she uses in her collections. She presented one of her other collections created with additive manufacturing in 2019, entitled Shift Souls, which drew on inspiration from the "the evolution of the human form, its idealization over time and the hybridization of female forms in mythology".
The 3D printed dress that Rosalía wore to this year's British Fashion Awards left a clear mark on all those who saw it. This is just one example of how additive manufacturing technologies are increasingly opening up in the fashion industry. In fact, we are starting to see 3D printed models that already carry the most international stars, showing the potential of this technology. You can watch Rosalía's BFA speech here:
What do you think of Rosalía's 3D printed dress? let us know in a comment below or on our Facebook and Twitter pages. Don't forget to sign up for our free weekly newsletter, with all the latest news in 3D printing delivered straight to your inbox!