Robotic Owl Created With 3D Printing For Hulu Film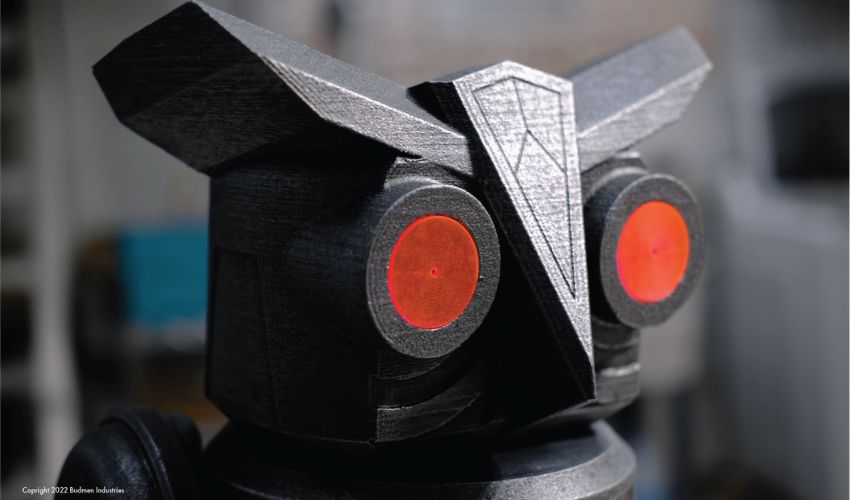 The movie industry is known for creative experimentation and risk-taking, whether costumes, characters, or props. Every studio and team is looking to craft a unique and memorable product, no matter how. In a recent exploit and most current example of this, 3D printing has been used to make a robotic owl for a movie. Budmen Industries is a company run by Steph and Isaac Budmen and based in Liverpool, NY, which offers digital fabrication solutions. Recently, the company was approached by American High, a production company in Syracuse, NY, which makes exclusively 'high-school movies'. They commissioned Budmen to create a robotic owl for their latest film, 'It's A Wonderful Binge'.
The movie, which is named 'The Binge 2: It's A Wonderful Binge', is a Christmas comedy whose premise is that all drugs and alcohol are banned, except for a 12-hour period which happens to fall on Christmas Eve. American High required a 'futuristic' 3D printed owl to suit black-and-white shooting of the movie. They wanted the owl to not belong to any time or place, to fit into a film with no particular time period. Being a surreal comedy set in the near future, it required a well-constructed owl model capable of 'movement'.
Budmen met these ambitions: the owl they made for the movie using 3D printing had a smooth pivot and full range of creative expression. To make the owl fully reactive to on-screen situations, the Budmen team created it with several articulating joints, including the wings and legs. The owl was printed using polymers and acrylics, and finished using paint. It was constructed using stainless steel screws.
3D printing's application to movies is one which is becoming increasingly better-known, not only in independent cinema but also in large-scale productions. In the Black Panther movies from the world-renowned studio Marvel, the crown and necklace worn by 'Queen Ramonda' were created by 3D printing. This is also the case when it comes to animation: the movie Missing Link from LAIKA Studios used 3D printing to create intricate puppets to tell a story. The same studio also used this technology to create the faces for Coraline (2009), a famous animated movie which again featured puppets. 
To find out more about Budmen's owl creation  for a movie using 3D printing, you can find their website HERE. But what do you think of this owl? Has it tempted you to watch the film? Let us know in a comment below or on our Linkedin, Facebook, and Twitter pages! Don't forget to sign up for our free weekly Newsletter here, the latest 3D printing news straight to your inbox! You can also find all our videos on our YouTube channel.
*Unless stated otherwise, all photo credits: Budmen Industries.