Robotic jellyfish 3D printed to protect coral reefs
Preserving our oceans has become a real concern: more and more species are threatened by human pollution. It is urgent to propose solutions to protect this marine ecosystem. 3D printing can be one solution. We can see some progress made with few initiatives using 3D technologies to recreate coral reefs. The project developed by the University of Florida Atlantic and the United States Naval Research Bureau is working towards a similar goal. They have designed 3D printed robotic jellyfish called "Jellybots" whose objective is to monitor the reefs threatened with extinction.
The Jellybots were modelled as real jellyfish and would be able to swim in very narrow spaces without risk of collision or damage. They would be sort of guardians of the oceans. Dr. Erik Engeberg of the University of Florida Atlantic explains: "Studying and monitoring fragile environments, such as coral reefs, has always been challenging for marine researchers. Soft robots have great potential to help with this." He goes on to say that Software robots that are inspired by fish and other marine animals are very popular on the research side. Such an example could be the 3D printed robotic animals, designed blend in and study the animal world.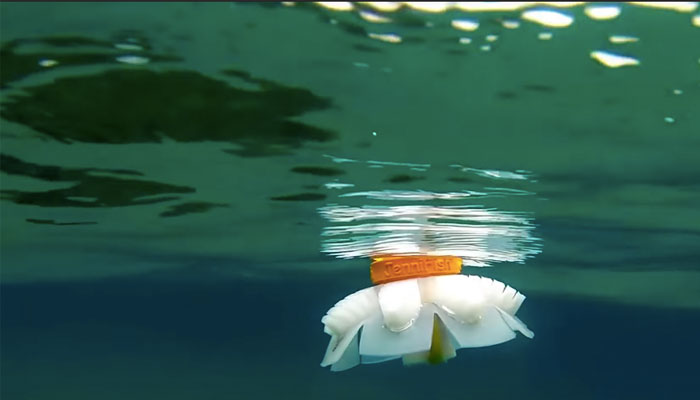 The researchers explain that jellyfish are very effective swimmers, thus motivating their choice in the creation of this 3D printed robot. Engeberg states: "Their propulsive performance is due to the shape of their bodies, which can produce a combination of vortex, jet propulsion, rowing, and suction-based locomotion." A diagram that echoes the Octobot robot inspired by octopus to better study the aquatic environment.
The operation of robotic jellyfish
Jellybots move thanks to their hydraulic tentacles, based on a system of impeller pumps. These pumps use a centrifugal force that pushes the fluid outward. Jellyfish have 8 silicone hydraulic tentacles. The water in which they move would serve to inflate their tentacles and to swim. By turning off the pumps, the tentacles would become flexible, pushing the water outward. This process allows a smooth ascent and descent, creating the movement of the robot.
The team reportedly printed 5 robotic jellyfish. Each would have a different level of hardness for testing silicone with propulsive effects. The researchers also tested the robot's ability to traverse narrow spaces, using circular holes cut into a plexiglass plate. "We found the robots were able to swim through openings narrower than the nominal diameter of the robot," concludes Engeberg.
The researchers then want to integrate environmental sensors like sonar, and create a robot control and navigation algorithm. The goal would be to quickly detect gaps and determine if they can be easily corrected. Check out the robot jellyfish in the video below and get more information HERE.
What do you think about these 3D printed robots? Let us know what you think in a comment below or on our Facebook and Twitter pages! Don't forget to sign up for our free weekly Newsletter, with all the latest news in 3D printing delivered straight to your inbox!