Ricoh's use of additive manufacturing to fight COVID-19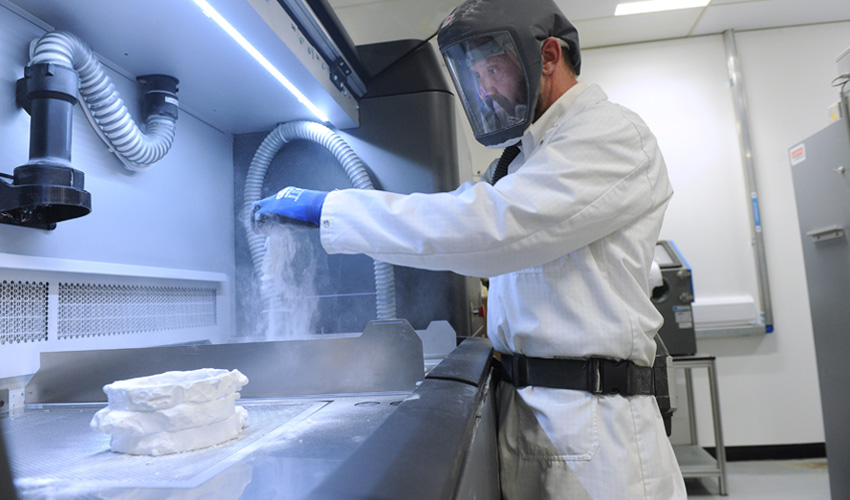 We have already seen how the additive manufacturing industry responded to the health crisis caused by COVID-19, and how it played a key role in stopping the spread of the virus. Ricoh has also contributed to this global mobilization, using its machinery to provide concrete solutions for healthcare workers and all those exposed. According to the company, 3D printing is a practical solution for industries such as dental, medical and industrial, especially when it comes to speeding up the design and production of models. To find out more about Ricoh's technologies and what they have done to fight the spread of COVID-19, we met with some of its team members.
3DN: Could you introduce Ricoh and its relationship with 3D printing?
As a leader in 2D production printing since 1936, innovations in 3D technology was the natural next step for the Ricoh group. Ricoh is a global provider of technology that transforms business processes and information management, so was already using additive manufacturing in the development of its own production printers and industrial systems. The company moved into a new dimension of printing with the release of Ricoh's own AM S5500P Selective Laser Sintering system in 2015. It was then that the 3D print business was established in Europe to offer sales support and produce benchmark parts for customers.
3DN: How did Ricoh integrate AM technologies and why?
Today, Ricoh 3D is in control of its own destiny from a European point of view although still part of a huge global network. That's what makes us different from other service bureaus – we have our own team of design engineers, material scientists and production experts to enable customers to develop and innovate. The business transitioned to a printing service in 2016 when the gap in the market was recognised for Ricoh's own Polypropylene material given its superior purity, flexibility and durability. It is also lightweight, completely watertight and chemically resistant. The same properties that made it the ideal solution for comfortable, yet resilient PPE for healthcare workers battling the COVID-19 crisis. Today, the UK-based marketplace factory offers a full suite of SLS, MJF and FDM systems and facilities including material testing, design services and metrology. With a 828m² injection moulding plant on site too, the team also understand that 3D printing is not the right technology for every application so work with customers to scale up effectively.
3DN: What does DNA bioprinting consist of? What technology do you use it for?
Reference material that can handle a variety of viruses is manufactured by a method in which homologous recombination is used to insert the target gene (one of a variety of viral genes) into yeast genome, creating yeast that contains only a single molecule of the target DNA, and this yeast is then dispensed into wells by means of inkjet technology. The DNA sequence that is used is only one small part of the corona virus sequence. A partial DNA sequence is completely harmless, and the sequence that is used is not extracted from the actual corona virus but is an artificially synthesized DNA sequence.
Cells are used as the receptacle for the target DNA, and a single molecule of a specific DNA sequence is inserted into this receptacle by means of homologous recombination. Proprietary cell-discharging inkjet technology developed by RICOH is used to dispense cells one at a time while taking a cell count, and in this way it is possible to create cells that contain a specific number of DNA molecules containing the specified sequence, measured in 1-molecule units.
The flying droplets discharged by the inkjet are irradiated with laser light, and the cells are counted by observing the fluorescence from the cells in the droplets. The laser light irradiation time is on the 10-nanosecond level, and cell counting is realized by synchronizing this with the droplet's time of flight.
3DN: What benefits does this project bring to the health crisis caused by COVID-19?
PCR is widely used in genetic testing. Thus, it is important for testing laboratories to implement thorough quality control over the testing equipment, the reagents, and the detection method as a whole. This product makes it possible to impose strict quality control on various types of genetic testing, including tests of genetically modified organisms, quality testing in the regenerative medicine field, and clinical laboratory testing of humans. Any oversights in these tests can cause major problems. The reference standard offered by Ricoh contains a single molecule of DNA, so it is possible to ensure that the testing apparatus, reagents, and the tests themselves are functioning properly, and to guarantee that viral DNA can be detected with a high degree of accuracy. "False negatives" can lead to new infections because patients carry out daily activities without realizing they are infected. Accordingly, reducing "false negatives" can contribute to reducing the risk of the infection spreading.
3DN: What future 3D printing projects can we expect from Ricoh?
Given our R&D focus, we're perfectly set up to forge strategic partnerships with our customers and suppliers. One such example is our collaboration with Austria-based TIGER, announced at Formnext 2019, to develop a 30% flame retardant material for electrical, rail, automotive and aerospace applications. If you're looking for a certain material property, our testing facilities are key to adapting to our customers' needs and developing solutions alongside them. Furthering our reach in the medical space this year is the pursuit of the ISO 13485 Medical standard to complement our other ISO certifications. Even prior to COVID-19 we had several medical engagements so we're keen to prove our unrivaled back office system which offers fully digital, automated and seamless traceability.
3DN: Do you have any last words for our readers?
We're not standing still. We recognize that additive manufacturing is a technology of the future – and a technology of now – but we also understand that many companies find it difficult to integrate 3D printing seamlessly and cost effectively. Our specialism in strategic partnerships and serial production means we're perfectly placed to offer a tailored service to each of our customers, and our online instant quote system is a great place to take the first step. You can find more information HERE.
What do you think of Ricoh's use of additive manufacturing? Let us know in a comment below or on our Facebook and Twitter pages! Sign up for our free weekly Newsletter, all the latest news in 3D printing straight to your inbox!