Ricoh 3D and Impossible Objects Develop New Composite Materials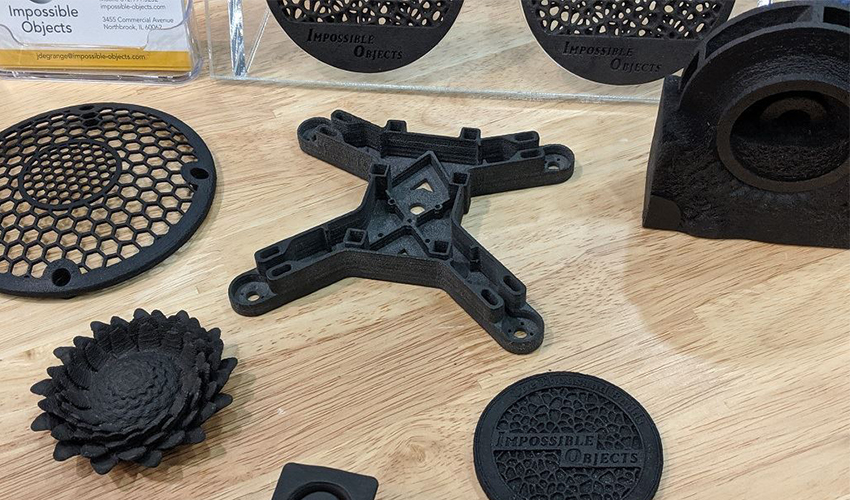 More and more companies specializing in additive manufacturing are turning to composite materials to develop parts. And that's exactly why Ricoh 3D, a Japanese 3D printing service provider, has teamed up with composite 3D printer manufacturer Impossible Objects. This collaboration is aimed at developing a new range of powder-based 3D composite materials. For those who do not know, a composite refers to a material composed of several different materials. But today, the term mostly represents materials reinforced with fibers. These reinforcements make it possible to manufacture lighter, and above all more solid parts. Aware of these advantages, the company Impossible Objects has opted to specialize in this field.
With its CBAM (composite-based additive manufacturing) technology, the manufacturer Impossible Objects produces parts with complex and resistant geometries. According to the company, CBAM is the only process to combine long fiber reinforcements with high performance polymer powders to create continuous fiber composites. Bob Swartz, Founder and President of Impossible Objects, explains: "Our CBAM process represents a significant leap forward in 3D printing, with faster speeds, better material properties and wider material selection. Fortune 100 companies, government agencies, and more have already put it to work to create everything from car and aircraft parts to athletic gear." Before continuing: "By collaborating with the team at Ricoh 3D who recognizes the transformative potential of additive manufacturing, together we will bring these competitive advantages to more organizations across Europe.".
PEEK in carbon fibers and PA12 in carbon fibers
The new range of materials announced by Ricoh 3D and Impossible Objects will consist of carbon fiber PEEK and carbon fiber PA12. It is intended to be used to manufacture industrial parts, to optimize their strength / weight ratio and to limit geometric restrictions. Finally, these composite materials offer superior performance at high temperatures and greater chemical resistance.
Mark Dickin, director of additive manufacturing and molding engineering at Ricoh 3D, concludes: "Composites are set to be an area of huge growth in additive manufacturing in the coming years. These new materials will change the game across a number of industries. Impossible Objects' CBAM process is nothing short of a revolution in the way composites are manufactured, so we are proud to be working with the company to be at the forefront of the European movement."
What do you think of composite materials? Do not hesitate to share your opinion in the comments of the article or with the members of the 3Dnatives forum . Find all of our videos on our YouTube channel   or follow us on  Facebook  or  Twitter !