Revopoint POP 2 Kickstarter Launched by Revopoint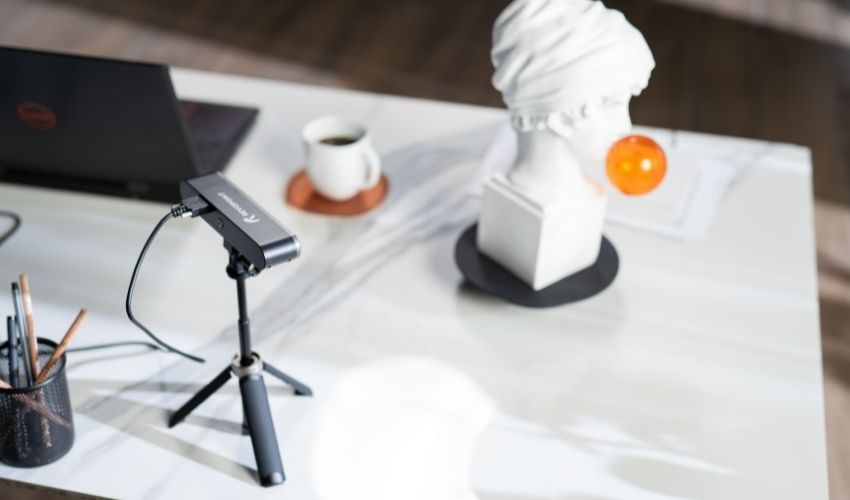 After the success of the Revopoint POP 3D scanner, a cost-effective 3D scanner that is remarkable for its many features, Revopoint has now launched a Kickstarter for their latest scanner: the new Revopoint POP 2. The new scanner is set to have improved hardware and software compared to the Revopoint POP, good news for fans of the company's products. With this soon-to-be launch, the company continues to commit to its desire to create scanners that are a professional-grade quality but for a consumer-grade price, making professional 3D scanning affordable to everyone.
With about a month left of the January 1, 2022 funding deadline, the company has already managed to receive pledges for €1,228,647 of its pledged €8,818 goal with 2,942 backers. This is no small feat and shows the hype surrounding the launch of this latest scanner. Though this is perhaps unsurprising considered that its first scanner, the Revopoint POP, was the most funded 3D scanner on Kickstarter with 6,440 backers at the end of 2020.
What will be different about the Revopoint POP 2?
Seeing how excited people already are about the project, let's dig a little deeper into what to expect from the POP 2 3D scanner. The scanner itself will be a 2-in-1 3D scanner with both handheld and turntable 3D scanning combined. What is also interesting is that the core hardware will be adopting both the principles of binocular and micro-structured light. As a result of this, as well as Revopoint's proprietary micro-projecting chip, users will be able to quickly obtain high-precision 3D point cloud data and single-frame accuracy will be able to reach an impressive 0.1mm. The company also noted that intelligent algorithms on POP 2's built-in-high performance 3D calculation chip will effectively ensure speed and efficiency during 3D scanning.
The two main differences between the Revopoint POP 2 and POP, as highlighted by Revopoint, are that the hardware and software have both been improved. For example, on the new software, users will now have two new scanning options: high accuracy scan and fast scan. This makes it easier for users to customize their scanning experience based on their needs. However, for the moment these options will only be on the Windows version, though generally the scanner can be used as well with Mac, Android and iOS. The scanner will apparently also be smoother to operate thanks to an embedded 6Dof Gyroscope which enhances shape, marker point and color feature point cloud stitching for better scanning fluency, 10Hz FPS and texture-assisted stitching.
Like its predecessor the POP, the POP 2 will be ideal for human body scanning, large-scale sculpture scanning, cultural and creative design applications, medical applications and reverse modeling, etc. It should be user-friendly as well as easy to carry with one-button operation for ease of use. The company also mentioned that the scanner has been designed for everyone, stating "If you're a gadget and high-tech enthusiast in general, Revopoint's latest 3D scanner is definitely for you. However, if you're an active 3D printing creator, a VR/AR model maker, or if your creative work involves using reverse design, then this multi-functional 3D scanner will make a world of difference in your creations." If you want to learn more then head to the Kickstarter (currently holding a sale for Black Friday) or Revopoint's website HERE.
Will you be joining the Kickstarter for the Revopoint POP 2? Let us know in a comment below or on our Linkedin, Facebook, and Twitter pages! Don't forget to sign up for our free weekly Newsletter here, the latest 3D printing news straight to your inbox! You can also find all our videos on our YouTube channel.
*Cover Photo Credits: Revopoint