Revo Foods Expands its Presence in Europe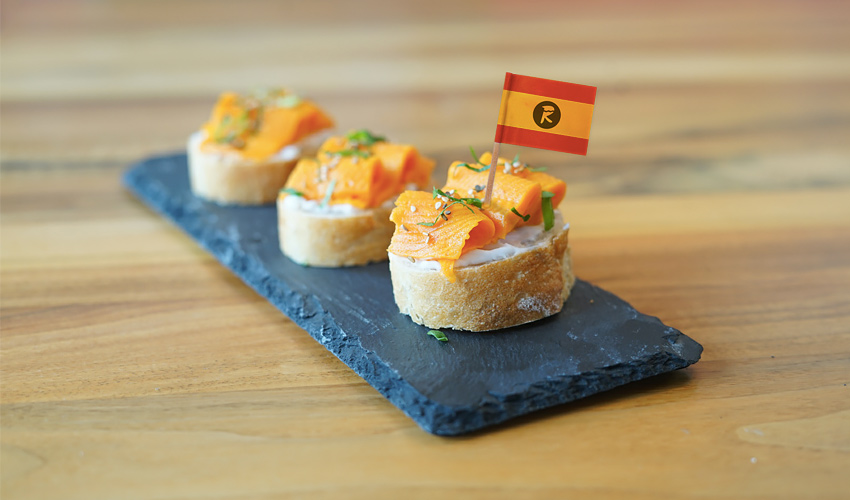 You have certainly already heard of Revo Foods, the Austrian startup that has taken the country by storm with its innovative 100% plant-based 3D printed smoked salmon. Now, Revo Foods has officially expanded their presence in Europe, making the leap to the Spanish market, offering their products in several select stores and restaurants in Madrid and Barcelona. The Vienna-based startup says it chose the two major cities for their high potential in terms of innovation as well as the high consumption of seafood and fish. From now on, residents of both cities can purchase and enjoy this original and completely vegan seafood option.
After the success of its launch in Austria, where it sold out its entire stock in a few days, the startup has now decided to expand further into Europe, notably into the Iberian Peninsula. This is the first expansion into the international market for Revo Foods, who have chosen Spain as their first option for a few reasons.  Of course, the high quality of fish and seafood available in the country played a factor though also the high consumption of seafood. Though it has dropped since 2013, according to a report by Statista, Spain has one of the highest consumptions of seafood in the country. It also notably produces one-sixth of European marine products, making it the perfect place to start the further expansion of Revo Foods in Europe. Robin Simsa, CEO of Revo Foods further commented, "Spain's culinary culture is one of the best in the world, especially when it comes to seafood. The country is known for its exceptional hospitality and the people are very open when it comes to innovation and new experiences, especially in cities like Barcelona and Madrid. Therefore, Spain was the most logical choice to start our international expansion."
A vegan alternative thanks to 3D technologies
Apart from salmon, Revo Foods also offers other seafood products made using 3D technologies. In more technical terms, the salmon the company has developed resembles real salmon in both appearance and taste. But what is the main difference? The vegan option does not include heavy metals, microplastics or antibiotics, and it is produced without contributing to overfishing, a significant environmental concern. This has been the concern of other 3D printed foodstuffs as well, as many products have been designed to help solve environmental issues. To bring it to market, Revo Foods' salmon had to undergo a series of tests, both biological and taste tests in the public eye. They have already seen some success as about 85% of testers of the product positively rated the experience.
Something that is also very striking about the 3D printed salmon is its high nutritional content. Specifically, it is based on vegetable proteins that come from peas, oils and seaweed extracts, meaning it has a wide variety of vitamins, proteins, Omega-3 fatty acids and healthy fats. In terms of its implementation in Spain, Emilio Aragón, Business Development Manager of Revo Foods, concluded, "As a Spaniard, I am very proud to make possible the arrival of our innovative products in Spain. Revo Foods is the ideal alternative to continue enjoying the great taste and high nutritional content that our oceans offer us without altering their marine ecosystems."
The startup expects to announce new products in 2022. For example, plant-based tuna, salmon spreads and other alternatives to sushi and sashimi. So all those fish lovers will be able to enjoy a vegan alternative without compromising on taste. You can find more information about Revo Foods HERE.
What do you think of the expansion of Revo Foods in Europe? Let us know in a comment below or on our Linkedin, Facebook, and Twitter pages! Don't forget to sign up for our free weekly Newsletter here, the latest 3D printing news straight to your inbox! You can also find all our videos on our YouTube channel.