Revo Foods and their 3D Printed Seafood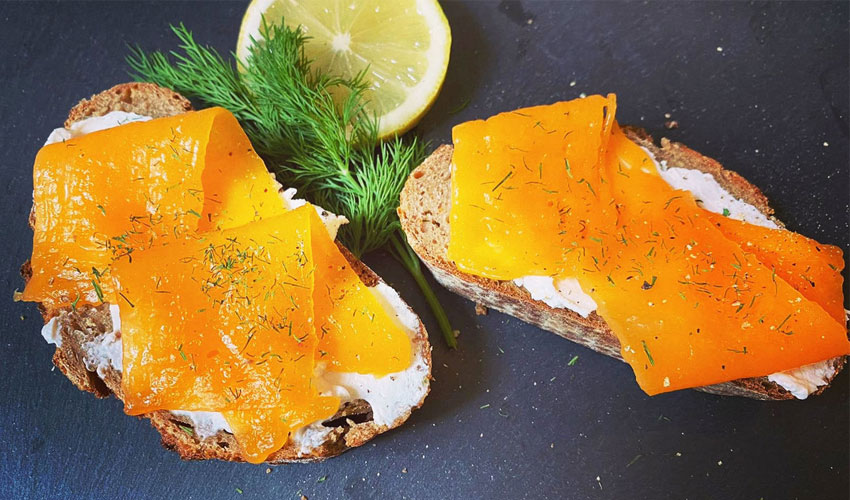 Last July, we presented a crazy concept from Legendary Vish, founded by a group of students who came up with a way to 3D print fish. A few months later, the project was structured and a startup was born: Revo Foods intends to revolutionize the way salmon is consumed today. Using pea proteins, citrus fibres, vegetable oils and seaweed extracts, the Viennese startup wants to develop sliced smoked salmon and a kind of tarama, among other things, and continue 3D printing salmon fillets for sashimi. They also hope to organise their first public tasting in March, in a café in Vienna, in order to garner the opinion of direct consumers.
Whether in the meat or fish industry, 3D printing food has not only proven itself a viable solution to slaughter but also to help fight against the ecological impact of the processing conditions used. As we know, aquaculture leaves a significant mark on our planet, with current consumption of fish and aquaculture products worldwide amounting to 20.3 kg per capita per year. Robin Simsa, Theresa Rothenbücher and Hakan Gürbüz – came together to imagine Revo Foods to address these very issues.
The startup offers different seafood products made from plants. A crazy concept, if not impossible to imagine for some. Revo Foods uses different ingredients, 11 to be precise, including weight proteins, algae extracts, citrus fibres and vegetable oils. Each has its own specific purpose. For example, the oils will allow to find the richness of salmon in the mouth while the seaweeds will recall the salty taste of the sea. Today, the startup offers smoked salmon, The Smokey One, and has recently launched products in the form of spread. These are not 3D printed but are also made from plants and other plant solutions.
Ultimately, the goal of Revo Foods is to develop its automated production line in order to 3D print a greater quantity of salmon, in a variety of shapes. It is currently based on an extrusion process, incorporating a kind of syringe that deposits the mixture of plants and other plant ingredients. The startup also wants to start producing tuna, another fish that is currently widely consumed globally. In any case, the tasting will take place on March 6th in Vienna and would be a first test for the three young founders. You can find more information HERE.
What do you think about Revo Foods? Let us know in a comment below or on our Facebook, Twitter and LinkedIn pages! Sign up for our free weekly Newsletter here, the latest 3D printing news straight to your inbox!
*Cover photo courtesy of Revo Foods