RENCA Makes History With World's First Geopolymer House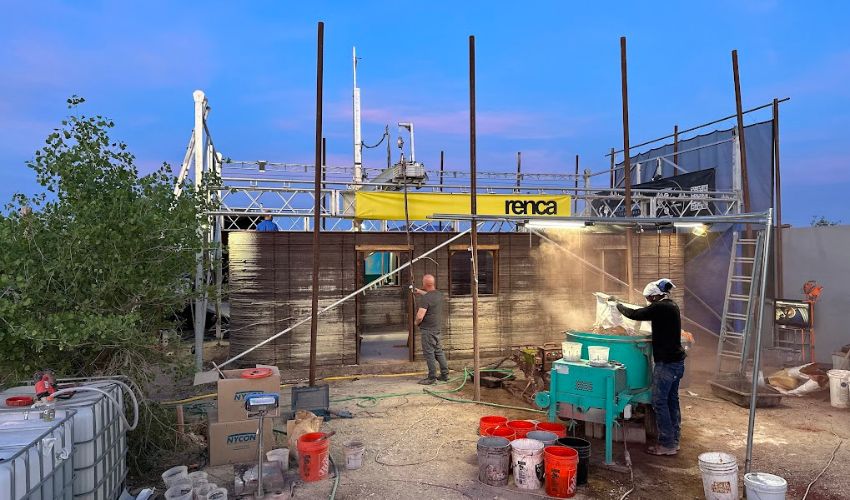 Sustainability in construction has become a global imperative, urging the industry to seek innovative solutions to reduce its environmental impact. RENCA, a pioneer in sustainable geopolymer materials for 3D printing in construction, has achieved a groundbreaking milestone by using their zero-cement geopolymer 3D printing mortar to construct the world's first 3D printed geopolymer house. With sustainability in construction a growing global concern, construction 3D printing is emerging as a promising solution to reduce environmental impact.
A geopolymer is an inorganic material typically created by combining an aluminosilicate source material with an alkaline activator, resulting in a durable, environmentally friendly material with properties similar to cement-based materials but with higher mechanical strength and reduced carbon footprint. Geopolymer materials, free from Portland cement, lime, or gypsum, offer up to 90% more sustainability than conventional cement-based alternatives, making them an ideal choice for eco-conscious construction.
RENCA's journey with geopolymer materials began in 2015, and since then, they have developed over 300 products for various applications, addressing environmental concerns in different industries. In collaboration with Strong Print 3D and Geopolymer International, RENCA overcame the challenges of the harsh desert environment in the western USA to successfully 3D print a complete house structure with their geopolymer mortar.
Construction 3D printing has captured the imagination of the building sector, offering unprecedented design freedom and reduced material waste. However, the carbon dioxide emissions from Portland cement used in existing 3D printing mortars have been a concern. Genuine geopolymer-based mortars and concretes present numerous advantages for construction 3D printing, such as rapid setting times, high strength, and excellent chemical adhesion between layers, allowing continuous printing without interruptions.
This material offers remarkable fire and corrosion resistance, making them suitable for a wide range of applications. Their eco-friendly nature, emitting less CO2 during manufacturing and using industrial by-products, further adds to their appeal. While geopolymer mortars require specific mixing procedures and batch mixing systems, RENCA's ongoing research and development aim to introduce a one-component geopolymer mortar for continuous mixers and a 2K system to control the setting time directly at the 3D printer nozzle, enhancing flexibility and adaptability.
RENCA's accomplishment in 3D printing a geopolymer house marks a significant step towards promoting sustainable building materials and methods, paving the way for a cleaner and safer future for all. With its potential to revolutionize construction practices, geopolymer 3D printing mortar brings hope for a greener and more efficient construction industry. In any case, learn more, HERE.
What do you think of RENCA's zero-cement geopolymer 3D printing mortar to construct the world's first 3D printed geopolymer house? Let us know in a comment below or on our LinkedIn, Facebook, and Twitter pages! Don't forget to sign up for our free weekly Newsletter here, the latest 3D printing news straight to your inbox! You can also find all our videos on our YouTube channel.
*All photo credits: RENCA