The Countdown to Space Flight: Relativity Space's Terran 1 Set for Test Flight on March 8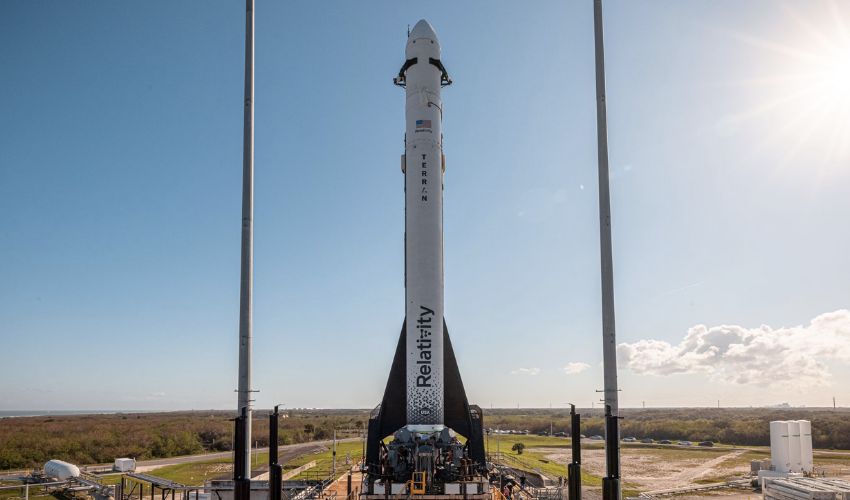 The countdown is on! You might remember us telling you about 3D printing for space being used for rockets, and one of these will soon be put to the test. Relativity Space will launch the Terran 1 on a test flight on March 8th 2023 from Launch Complex 16 in Cape Canaveral, Florida. This test flight has been named GLHF (Good Luck, Have Fun), and the rocket in question is a 110 ft tall, 7.5ft wide expendable creation which, by mass, was created using 85% 3D printing (DMLS was used to create small, complex parts). The nine Aeon rocket engines which power it were entirely created using 3D printing. We first wrote about this announcement back in 2019 and it has finally come to fruition.
The Terran 1 will be able to reach an altitude of 500km (310 miles) and carries a payload of 1,250 kg / 2756 lbs thanks to Relativity Space's nine Aeon 1 engines, powered by liquid oxygen (LOX) and liquid natural gas (LNG). Aside from Aeon 1, there is also  Aeon R, and Aeon VAC. Combined, Aeon engines have undergone over 200 test firings at NASA's Stennis Space Center. The primary stage of the rocket is the nine engines, natural gas, and liquid oxygen, plus an interstage. The second stage is the liquid oxygen and liquid natural gas tanks, powered by one AeonVac engine; the structure of both stages is made by Stargate 4th Generation with a proprietary 3D printed metal alloy.
Relativity Space has featured in the aerospace world several times. In 2021, they received a $3 million contract from NASA to launch small lightweight satellites from this very rocket, the Terran 1! Although it appears that these satellites will not be put into orbit on this first lift off, Relativity Space's website mentions the application of the rocket for 'next-gen satellite launches', so it seems to be a field which they are moving towards. The company is also known for their investment in metal 3D printing; in 2022, we wrote on its large scale metal 3D printers, the Stargate 4th Generation, which have now been used for the Terran 1.
Of course, the space race will be televised! If you want to watch everything happening live from Cape Canaveral, Florida, Relativity Space has set up a livestream to allow you to watch the Terran 1 launch in real time! You can find more details on their website HERE.
Will you be watching Relativity Space's Terran 1 launch in March 2023? Let us know in a comment below or on our LinkedIn, Facebook, and Twitter pages! Don't forget to sign up for our free weekly Newsletter here, the latest 3D printing news straight to your inbox! You can also find all our videos on our YouTube channel.
*All photos credit: Relativity Space