Relativity Space raises $140 million to become first company to launch entirely 3D printed rocket to orbit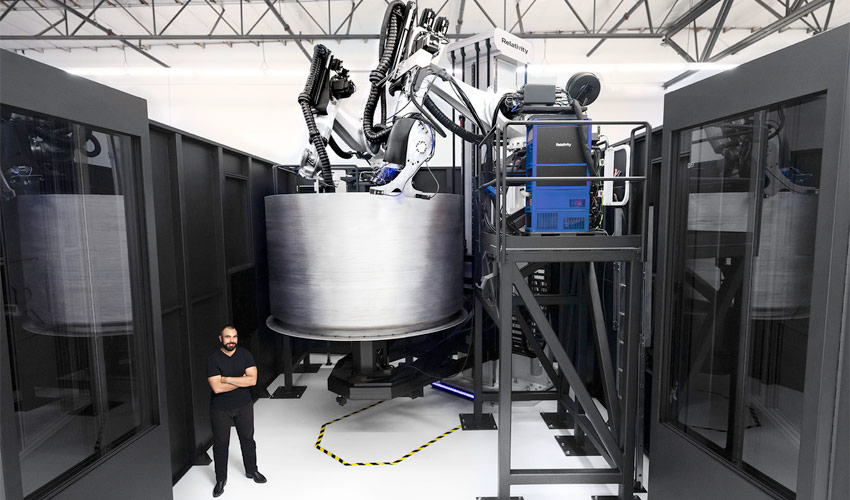 The American startup Relativity Space, specialized in the design of 3D printed rockets, has just raised $140 million, adding to the 45 million already obtained since its creation in 2015. This new amount should enable the young company to complete the development of its Terran 1 rocket and begin commercialization in 2021. Among the investors are several individuals, including former Disney president Michael Ovitz and artist Jared Leto.
We have often told you that 3D printing is not limited to terrestrial applications and can aim to be used in space. It is in this niche that Relativity Space was created. The manufacturer claims that by developing its additive manufacturing solution Stargate, it is able to 3D print 95% of the components of its rockets, thus reducing production time to only 60 days. The company was already planning on a first orbital flight in February 2021. This new investment of $140 million is expected to support this mission, as well as the expansion of its headquarters and the creation of a rocket production plant at the Stennis Space Center in Mississippi, where the company is currently testing its engines.
Relativity Space Raises $140 Million in Series C Funding
Jordan Noone, co-founder and Chief Technology Officer of Relativity, explains that this investment will allow the company to make the first flight of Terran 1 and represents all the capital needed to achieve this ambitious goal. Moreover, they will develop the Mississippi test site, Complex 16, located in Florida, and expand their headquarters and production facility in Los Angeles. Their Stargate solution, which integrates automatic learning, software, robotics and metal 3D printing, should be able to build rockets ready to launch a payload of up to 1,250 kg in less than 60 days. The company's main product, the Terran 1 rocket, has recently undergone improvements, including a 3-metre fairing with a volume twice as large as the original one, an improvement driven by the feedback from the first customers.
Among them are the satellite operator Telesat, the small Spacesight aggregator, as well as the Momentus and mu Space startups. Jordan Noone says the company wants to double its customers now that the financing round is over. He concludes: "This announcement really puts us in a good position for our first flight. The size of this investment is quite rare in the launcher industry, with the exception of SpaceX. We really take this as a strong validation of our investors' confidence in the team and the rocket." We will of course be ready in February 2021 to inform you of the launch of this first 3D printed rocket! In the meantime, find more information on the company's website HERE.
What do you think of this new investment for Relativity Space? Let us know in a comment below or on our Facebook and Twitter pages! And remember to sign up for our free weekly Newsletter, to get all the latest news in 3D printing send straight to your inbox!