Relativity takes over NASA facility to set up 3D printing rocket factory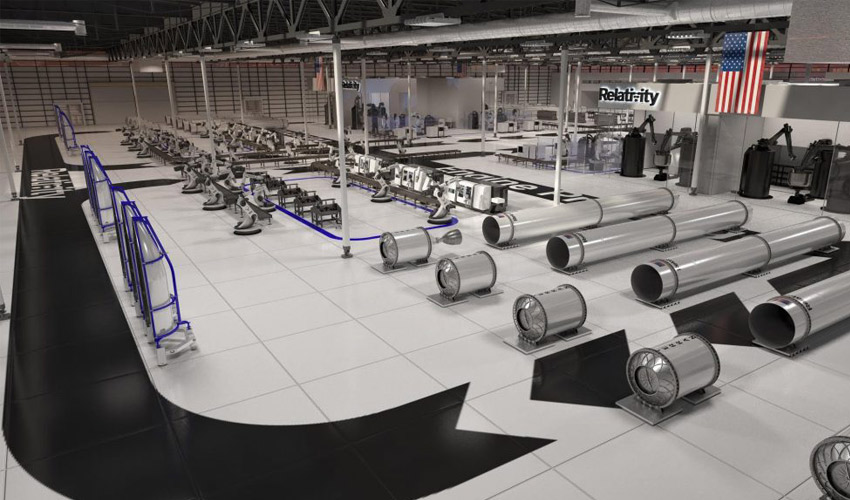 Relativity, the world's first autonomous rocket factory and launch services leader announced at the beginning of June that it secured an agreement with the National Aeronautics and Space Administration (NASA). The company will install part of its production at one of NASA's site to benefit from more than 20,000 square meters to launch its rockets into space by the end of 2020. Above all, this merger will enable Relativity to accelerate the development of its rockets and gain flexibility in its manufacturing process. This is good news for the aerospace sector and confirms that additive manufacturing has more than ever a card to play.
3Dnatives interviewed the startup last year and we discovered a company full of ambition. Thanks to its metal 3D printing system and various investments that now amount for $45 million, the startup is right to be ambitious. The company states that more than 95% of the rocket components are designed using 3D printing technologies and that it should be able to design an entire rocket in only 60 days. It is now located in a former NASA building in New Orleans and benefits from numerous infrastructures that should boost its productivity, such as overhead cranes. Relativity is expected to install its robotic arms and test center for the Terran 1 rocket there.
With this new printing center, Relativity should be able to accelerate the creation of its rockets. As a reminder, the Californian company had succeeded in reducing by 100 the number of components required to manufacture a rocket using their Stargate robotic arm. Tobi Duschl, Vice President of Relativity Operations added, "The agreement with NASA will accelerate our development. This large space will allow 12 to 24 Terran rockets to be produced each year, with more flexibility and a shorter launch time."
Moreover, this is good news for the employment sector as well. Relativity has committed to creating 200 jobs and investing $59 million in the state of Mississippi. Another significant advantage is that the site is close to where Relativity conducts its propulsion tests (about 5 kilometers away), so the rockets can be tested and integrated without being shipped across the country. Tobi Duschl added, "The integration of our 3D rocket printing and test facilities on a single site allows Relativity to offer greater flexibility to commercial and government entities that want to go into space faster, more frequently and more economically."
The aggressive nature of Relativity's goals has been somewhat put in perspective. In a recent article published in MIT Technology Review, entitled 'Does the world need a 3D-printed rocket?', the author mentions other aerospace companies' perspective on Relativity's activities. It writes, "Even fellow rocket companies aggressively pursuing 3D printing aren't entirely convinced this is how the future of additive manufacturing looks. Rocket Labs, one of only a few small satellite launchers that fly commercial flights, has relied on additive manufacturing to create some complex components." The CEO of Rocket Labs, Peter Beck explains in the article that "There's no way that we can produce the volume and the performance of the engines that we're producing now without 3D-printing technology." But an entire rocket? "To go and print an avionics box or tank or something like that doesn't make any sense, because there's much more efficient processes for doing that. " This is one of the interesting insights of the article, something to keep in mind.
For 2021 and 2022, Relativity has already publicly announced that three clients have booked launches – the Canadian communications company Telesat, Washington-based Spaceflight and Thailand's mu Space.
You can find more information HERE.
What do you think of Relativity Space? Let us know in a comment below or on our Facebook and Twitter pages! Sign up for our free weekly Newsletter, all the latest news in 3D printing straight to your inbox!