RAYSHAPE Talks Mass Manufacturing of High-Performance Parts Using DLP Technology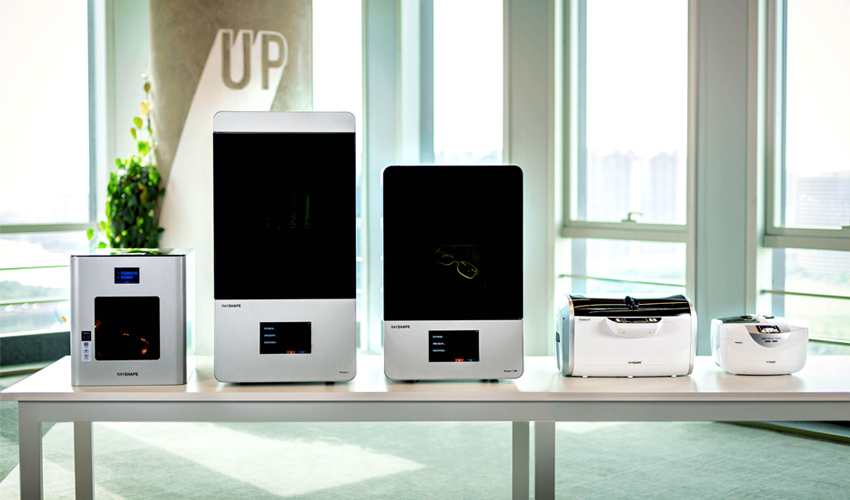 Nowadays, more and more companies are using 3D printing, not only for prototyping but also for the production of final parts. This is thanks to the numerous benefits of additive manufacturing technology, including cost and manufacturing time reduction, manufacturing locally, or minimal material waste, among others. In the case of DLP (Digital Light Processing) resin technology, the method offers fast printing speed, high surface quality, as well as dimensional and material accuracy that would be unthinkable with other methods. One of the companies working with this technology is RAYSHAPE, which is based in China. To learn more about its technology, solutions, and target sectors, we spoke with its founder, Zhen Liu, who introduced us to his company.
3DN: Can you briefly introduce yourself and explain your connection to 3D printing?
My name is Zhen Liu (Bill), the founder of RAYSHAPE. I entered the 3D printing industry in 2013, as soon as I graduated from college. During the nearly six years of working at UnionTech, as CTO, I learned a lot through in-depth research and development of photocuring 3D printing products and industrial application exploration, all of which allowed me to accumulate experience in software, hardware, and material development in addition to team management. As a result, I formed a deep understanding of the direction and opportunities of the 3D printing industry. Therefore, in 2019, I founded RAYSHAPE.
3DN: What is RAYSHAPE, and how did the idea of creating it come about?
RAYSHAPE is a 3D printing technology company focusing on the "mass manufacturing of precision end-use parts". We have diverse solutions, including professional and industrial-grade 3D printers. We have achieved sales of over 1000 3D printers. Investors have recognized our positioning in the market, allowing us to accumulate over 10 million US dollars investment after two years of the establishment.
In recent years, 3D printing has made breakthroughs in the direct manufacturing of end-use parts. However, when it comes to processing precision final parts, not many companies have made significant progress in this field. Based on that, we set our sights on photocuring 3D printing technology to achieve flexible manufacturing precision end-use parts.
3DN: At RAYSHAPE you develop solutions based on DLP technology. What are the benefits of resin 3D printing?
Among all photocuring 3D printing technologies, DLP 3D printing technology has the most advantages: fast printing speed, high surface quality, dimensional accuracy, and high material performance. In RAYSHAPE's current upward-projection DLP technology scheme, the initial resin filling requirement is often less than 1kg, and users can replace the resin tank in less than 1 minute. At the same time, compared to LCD technology, DLP is more suitable for corporate customers who require high reliability and minimum maintenance workload.
3DN: What sectors are you targeting? Could you mention any of your clients?
Our main markets at this stage are digital dentistry, healthcare, consumer electronics, and the manufacturing industry. RAYSHAPE provides a complete solution in digital dentistry, including dedicated software and chairside 3D printers for clinics.
In the Chinese mainland market, we have large-scale chains of dental clinic customers such as Bybo, ARRAIL Group, and Doctor Dental, and dental laboratory customers such as Jiahong, Dent, and GraceFul and West China Hospital of Sichuan University and Shanghai Ninth People's Hospital.
We are currently focusing on the two significant fields of the industrial market, and one is consumer electronics, another is communications. Customers like HUAWEI, Schneider, Tinno Mobile and Anker Innovation trust our products.
3DN: Where do you see the additive manufacturing industry in the next five years?
I think there will be more technological innovations in additive manufacturing. For example, there will be technological breakthroughs in plastic 3D printing technology such as composite materials, high-speed printing, high-precision printing, and non-support structure printing. Additive manufacturing will expand to a broader range of sub-industry application scenarios to solve more problems.
At RAYSHAPE, we will do our part. In the next five-year plan, we will make significant innovations in the DLP 3D printing method, material formula system, software algorithm, and other aspects of 3D printing equipment.
3DN: Any last words for our readers?
The entire industry is developing rapidly, and new technologies emerge one after another. We are also eager to have in-depth contact with more sectors and customers worldwide, and we are ready to cooperate to innovate together. You can find out more at our website HERE.
What do you think of the interview with Zhen Liu and the 3D printing solutions developed by the company? Let us know in a comment below or on our Linkedin, Facebook, and Twitter pages! And don't forget to sign up for our free weekly Newsletter here, the latest 3D printing news straight to your inbox! You can also find all our videos on our YouTube channel.
*Cover Photo Credits: RAYSHAPE