RAYSHAPE Strengthens its International Expansion With The Launch of its Shape 1+ Series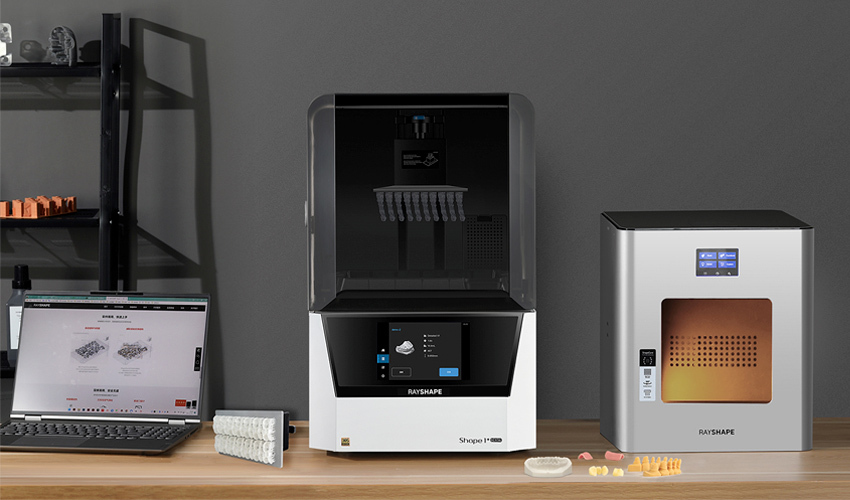 In recent months we have seen how the additive manufacturing industry continues to grow. This has taken place in a number of ways from acquisitions and collaborations of large companies in the sector to increased globalization and research into even more applications for the technologies. This is notably the case for Asian manufacturer RAYSHAPE, known for developing high-precision DLP 3D printers. It has recently announced two major breakthrough developments. The first is the launch of the Shape 1+ series of 3D printers, which includes the Shape 1+, Shape 1+ HD and Shape 1+ Dental machines. With the latest updates, these new DLP 3D printers are expected to be more powerful, accurate and reliable than any other solution. Meanwhile, the second is the opening of RAYSHAPE to the European market through a new subsidiary in London, which positions the brand on the ideal path towards international expansion.
All this exciting news highlights the current state of the 3D industry which, after experiencing a significant slowdown in 2020, we see is slowly making a comeback. We already saw this in the Wohlers Report 2022, which showed that the additive manufacturing market was registering higher growth and more widespread maturation of the sector compared to the previous year. This is especially important, not only in terms of technological and material advances, but also around the openness it means for many companies seeking internationalization. Today we come to talk specifically about RAYSHAPE, how this expansion has been possible and where the company is in the development of new solutions, such as the Shape 1+ series.
Features of the Shape 1+ Series
As mentioned, the new Shape 1+ series from RAYSHAPE consists of three 3D printers. The machines in the range use DLP resin technology, which projects an LED light source through the so-called DMD chip (digital micromirror device). The 7″ touch screen with a powerful integrated computer provides an easy and reliable experience, making the Shape 1+ series really intuitive and simple to operate for the user. The printers also have an air filter inside to control the closed environment during the manufacturing process. It should be noted that all three 3D printers in the Shape 1+ series work with ShapeWare software, a slicer for getting into solid object modeling and for preparing 3D printing parts. On the more technical side, the Shape 1+ series features an industrial-grade linear guide module that serves to ensure greater precision in layer thickness as well as high surface quality. In this way, RAYSHAPE has developed high-strength, high-quality 3D printing solutions that can withstand long-term mass production use.
If we focus on the characteristics of the three DLP machines, we can see that, in general, they are quite similar. However, each of them is specifically designed to meet the most demanding industrial needs in different ways. First, we have the Shape 1+ 3D printer, the most standard of this range. With a maximum manufacturing volume of 192 x 108 x 200 mm and a pixel thickness (in their website it says "Pixel Size") of 100 microns, this machine offers great advantages in terms of precision, efficiency, quality and maintenance costs. Next, the Shape 1+ HD model differs from the previous version in printing volume (144 x 81 x 200 mm) and pixel thickness (75 microns). This solution is particularly interesting for applications requiring extremely precise surface finishes. With the Shape 1+ HD, the parts obtained stand out for their good quality and high attention to detail. Finally, there is the Shape 1+ Dental, which, as its name suggests, is intended for the dental sector. With a production volume and resolution similar to the HD model, this machine is ideal for the production of dental parts such as aligners, crowns or implants. In addition, it is compatible with ShapeMaterials Dental resins, developed by RAYSHAPE for this industry, as well as third-party resins.
RAYSHAPE is Expanding on the International Market
The launch of the Shape 1+ series once again demonstrates the Asian manufacturer's intentions to continue innovating in the field of resin 3D printing. And not only by offering new solutions, but also by making their machines accessible to more people around the world. For that reason, they recently officially opened a new branch in the United Kingdom's capital, with the aim of opening up to European territory. The London branch has been operational since the beginning of June 2022 and has the mission to offer commercial support throughout Europe, including pre-sales and after-sales support. The formalization of this branch has also allowed RAYSHAPE to be present at major industry events, such as the TCT 3Sixty, held earlier this month in Birmingham, UK.
Zhen Liu, founder of RAYSHAPE, adds: "The international market expansion this year comes naturally for us due to the high demand for resin 3D printers. RAYSHAPE's products' advantages lie in reliability and ease of use, and we believe our solutions can solve many users' problems."
Finally, it remains to mention that the company's plans do not stop there. RAYSHAPE expects to continue expanding its availability on different continents; in fact, it is currently in the process of expanding and looking for new distributors and partners to expand operations in the European and North American markets. You can find more information about the company and its new line of 3D printers on its website HERE.
What do you think of RAYSHAPE and its Shape 1+ range of 3D printers? Let us know in a comment below or on our LinkedIn, Facebook, and Twitter pages! Don't forget to sign up for our free weekly Newsletter here, the latest 3D printing news straight to your inbox! You can also find all our videos on our YouTube channel. 
*Cover Photo Credits: RAYSHAPE