RAYSHAPE Talks its Continued International Expansion and Resin 3D Printing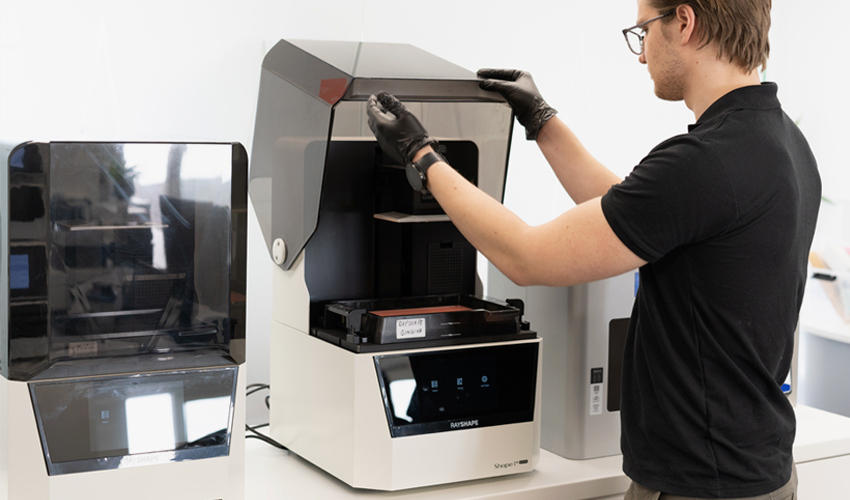 Since its creation in the 1980s, resin 3D printing has experienced significant growth worldwide. The technology continues to advance rapidly, enabling the manufacture of prototypes and end-use parts that are remarkable for their precision and high level of detail. One of the sectors benefiting most from this additive manufacturing method is dental, notably for advanced dental applications. This, coupled with the development of specialized resins with improved mechanical and aesthetic properties, opens up a range of possibilities with this technology. One of the companies that is making headway in the market and experiencing international expansion is RAYSHAPE. We spoke with its founder to learn more about its resin 3D printing solutions, as well as its arrival on the U.S. market.
3DN: Could you introduce yourself and RAYSHAPE?
My name is Bill Liu, founder of RAYSHAPE. I have 11 years of resin 3D printing experience. Founded in 2019, RAYSHAPE is an innovation-driven resin 3D printer developer and manufacturer. Our vision is to develop the best 3D printing technology, diversify its applications and build the global footprint of our business. We are committed to providing total 3D printing solutions to our customers. We've been able to accomplish accelerated growth, completed 5 rounds of funding, and launched a series of equipment, software, and consumables. In addition, we've started global expansion into US and Europe by establishing local subsidiaries.
3DN: Could you tell us more about your line of 3D printers and the resins you offer?
We offer two printer series: P series for mass production of industrial applications and the Shape series for the professional level. Both series are high-speed, high accuracy and open system. For our in house resins, we have industrial resins and dental resins. Industrial resins focus on high performance, such as resins that can resist temperatures of up to 300˚C, electrostatic discharge materials, elastomers etc. Dental resins focus on biocompatibility, such as denture resins, splint resins and gingiva resins etc.
3DN: What makes your solutions standout from other resin 3D printing technologies?
We believe our core competencies are technological innovation and application development. We focus on solving real-world technical problems. And we are also a solution provider through these innovations. Using dentures as an example, the challenge here is biocompatibility, high printing speed and high accuracy. Responding to these challenges, we developed customized printers, resins and a complete work flow. We are able to print denture base and teeth at the same time, completing the printing at 50um layer thickness within an hour. Our solution package includes generating impressions, occlusal reconstruction, CAD design, 3D printing and post-curing.
3DN: Regarding RAYSHAPE's expansion, why is the American market important for the company?
The US market is the most advanced market in terms of 3D printing adoption in dental applications and has tremendous market growth potential. All the major 3D printer manufacturers are present with the latest and best product offerings in this market. This is the best place for RAYSHAPE to showcase our product offerings and innovative solutions to our customers, to form partnerships with the key players in the digital dentistry value chain. Penetrating into the US market would enable us to enhance our brand recognition and help us expand our business presence on a global basis.
3DN: Where do you see the company and 3D printing in general in the next 10 years?
In the next 10 years, we will keep developing and launching new technologies and new products, providing a full-line solution and becoming a leading player in 3D printing in the world. As for in general? Well it's safe to that 3D printing will play an even more important role in new applications and new industries. You can find out more about RAYSHAPE HERE.
What do you think of this latest international expansion by RAYSHAPE? Let us know in a comment below or on our LinkedIn, Facebook, and Twitter pages! Don't forget to sign up for our free weekly Newsletter here, the latest 3D printing news straight to your inbox! You can also find all our videos on our YouTube channel.
*All Photo credits: RAYSHAPE