The 3D printing innovations at RAPID + TCT 2019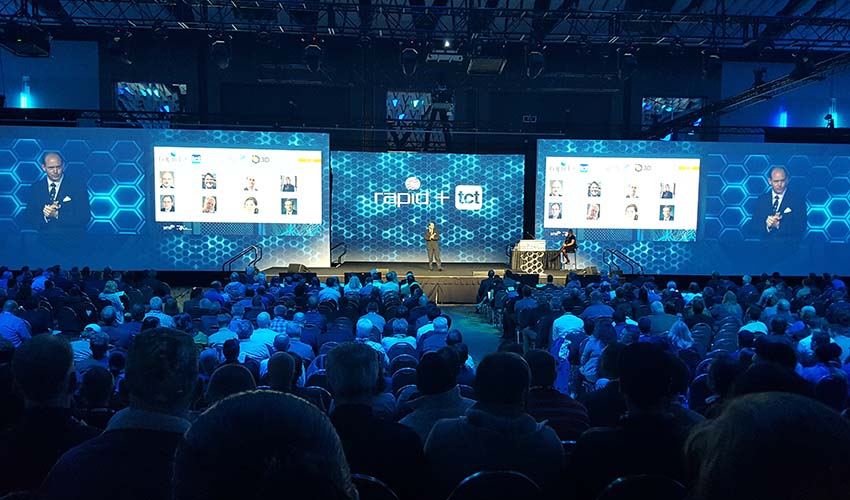 With new technologies, machines, and materials constantly emerging in the market, additive manufacturing is evolving quicker than ever before. This is why RAPID + TCT 2019 is such an important event for the industry. It is an opportunity to meet the main actors of the sector, see what's new and learn all about the latest technologies and partnerships. The key word for this year is possibly partnership, as you will discover from our list of 3D printing innovations at RAPID + TCT 2019, many companies have made strategic partnerships to help each other expand and evolve. The show is also a great opportunity to network, this year it counted over 6,000 industry peers and 300 exhibiting companies. So, which announcements caught our eye? Find out below!
1. Sandvik unveils first 3D printed diamond composite
Sandvik has introduced a new composite material: it's supposed to be the first to contain diamond. The resin used in the SLA process is a mixture of diamond powder and polymer. In this way, the material is supposed to retain the physical properties of a pure diamond. Anders Ohlsson, Delivery Manger at Sandvik Additive Manufacturing adds: "Historically, 3D printing in diamond was something that none of us imagined was achievable. Even now we are just starting to grasp the possibilities and applications that this breakthrough could have." It should be noted that the printed diamond composite does not retain the optically glossy properties of a natural diamond. However, the hardness of the material in particular has immense potential for the aerospace and automotive industries.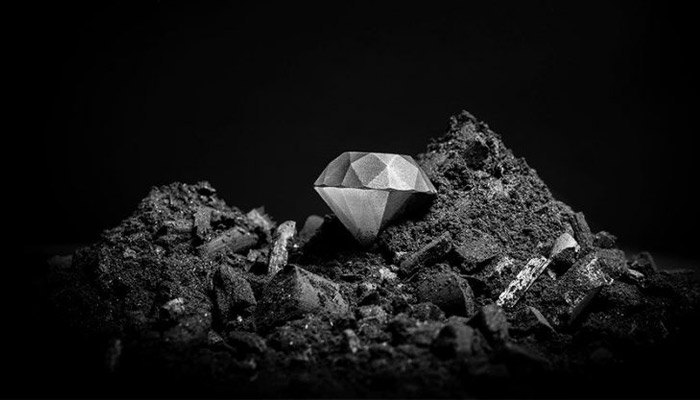 2. DyeMansion launches new colour line
To meet the special requirements of the industry for colour solutions in the AM sector, the post-processing expert DyeMansion from Bavaria presented its new colour line ColorsX. At RAPID +TCT 2019, DyeMasion presented the new colours for the perfect finish of automotive and neon applications. According to the finishing expert, this is only the beginning, Kai Witter, Chief Customer Officer at DyeMansion added, "Some of our earliest customers who made use of DyeMansion Print-to-Product technologies for serial production are from the Automotive and Lifestyle industries. While working closely with our customers, joint strategies are always about creating even more value to their businesses. So, I feel very delighted to now offer additional value creating products."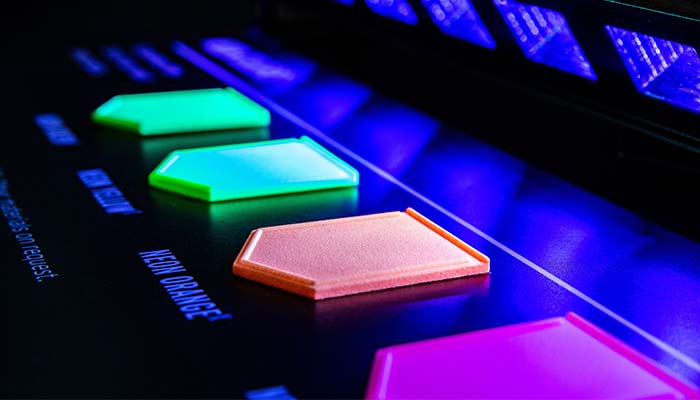 3.  BigRep introduces STUDIO G2 3D printer
The German manufacturer of large format 3D printers, BigRep introduced its latest 3D printer in Detroit, the STUDIO G2, which is a successor to the BigRep STUDIO. This machine also has a new slicing software called "BLADE", which is supposed to offer a better control of the printing parameters. The BigRep STUDIO G2 has a building volume of 500 x 1000 x 500 mm, with a pressure bed that can be heated to 100ºC and a temperature-controlled pressure chamber. The 3D printer is designed for industrial applications such as prototyping, tooling, moulds or end products. Dr Stephan Beyer, BigRep CEO said: "The STUDIO G2 marks a new generation of printers and is an excellent addition to our growing range of large format 3D printers for the industry. The STUDIO G2 is based on proven, successful technology, but has been optimised for industrial customers with critical features."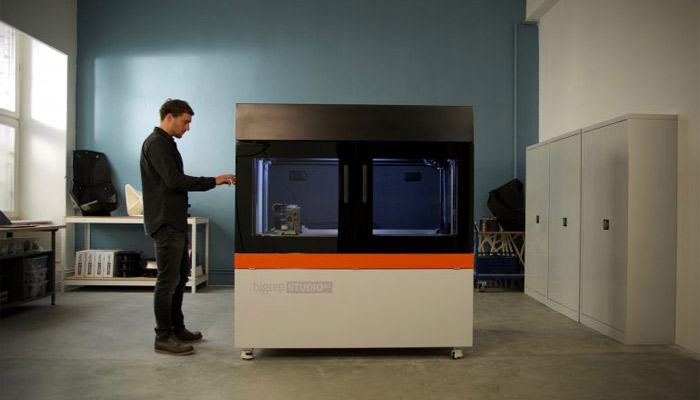 4. The new Origin One 3D printer from Origin
Origin is a Californian startup founded in 2015 and well-known for launching its Open Additive Production platform – it offers an alternative manufacturing method based open materials, expandable software and modular hardware, with the aim of meeting demand for better quality materials and customisation. At RAPID + TCT 2019 they have revealed the launch of their new machine: the Origin One 3D printer. This SLA/DLP 3D printer is based on Programmable Photopolymerization (P3) technology. It offers a not so large but quite tall building volume of 192 x 108 x 350 mm and aims to enable high-volume production. On top of this, the company also announced an exciting partnership with ECCO, the shoe manufacturer. In fact, ECCO will integrate Origin's 3D printing solution in their Research & Development department in Denmark to reduce development time, lower costs, and accelerate time-to-market of their products.
5. XJet sells Carmel 1400 3D printer to Marvel Medtech for breast cancer prevention
At RAPID+ TCT 2019 it was announced that the American-based startup Marvel Medtech has acquired the Carmel 1400 3D printer, based on XJet's NanoParticle Jetting™ (NPJ) technology. The startup plans to use the printer to 3D print a ceramic cryotherapy probe. This component is key within their new robotic intervention guidance system. In other words, it is designed to freeze and destroy the most dangerous tiny breast cancer tumours and prevent them from growing. It should be used during MRI scans in clinics across the USA, and represents a completely new approach to breast cancer prevention. Marvel Medtech explains that for a long time they were not able to find a ceramic-based 3D printer able to accurately and cost effectively produce their ceramic probe. This is they are adopting XJet's Carmel 1400 solution.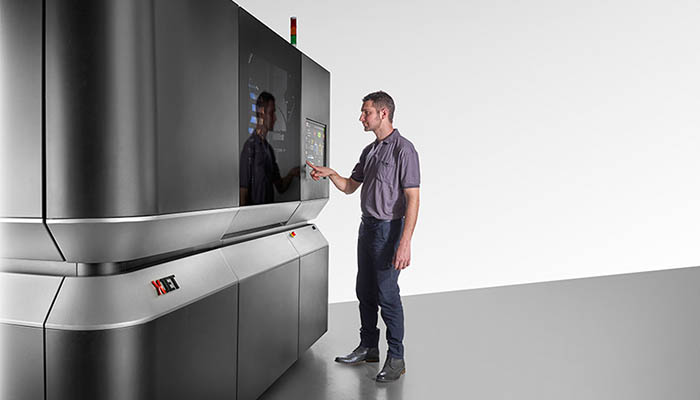 6. Impossible Objects unveils their CBAM-2 3D printer
Impossible Objects, the 3D printer and materials manufacturer known for its composite-based additive manufacturing (CBAM) technology unveiled a new 3D printer at RAPID+TCT 2019. Their CBAM technology is designed specifically for composites and industrial production needs. As a result, their CBAM-2 AM solution, will be able to deliver complex parts on an industrial scale, speeding up the process by as much as 10x. The system combines high-performance polymers with long-fiber glass carbon and fiberglass sheets to produce composite parts that should be stronger, yet lighter and with better temperature performance. Additionally, the company announced a collaboration with BASF – its Model One and CBAM-2 3D printers will support BASF's Ultrasint PA6 powder. This will allow customers to print high-performance carbon fiber-PA6 composite parts for the first time. Apparently, this composite will be stronger than PA12 yet less expensive: up to four times stronger than FDM parts and twice as strong as Multi Jet Fusion (MJF) parts made with PA12.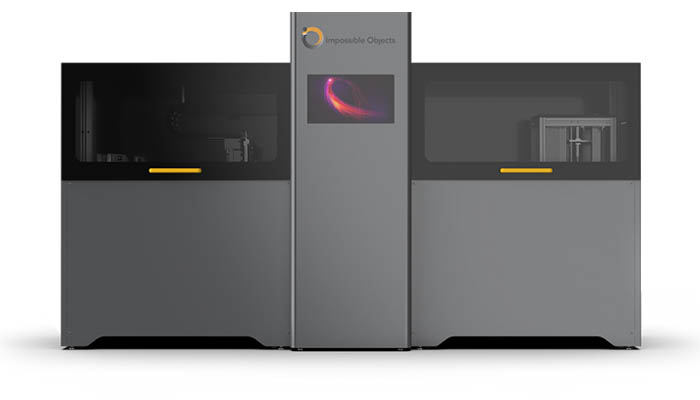 Overall, RAPID+TCT 2019 was filled with exciting announcements and new partnerships. The well-established actors of the AM industry had some exciting reveals in terms of collaborations. For instance, the giant Solvay announced that it has become the AM materials partner to Stratasys to develop new high-performance AM filaments exclusive to Stratasys' FDM F900 printers. HP has also announced a new collaboration with SmileDirectClub that could disrupt the orthodontic industry by providing 3D printed custom-made mouth molds at scale – up to 20 million in a single year. We also heard from Desktop Metal and Indo-MIM that announced a strategic partnership to accelerate the global adoption of metal 3D printing. You get the idea, RAPID+TCT 2019 is a key event for the 3D printing industry and the ground-breaking announcements are always to be expected at the show!
Check out the other events for the industry you can still attend this year HERE.
Let us know if this ranking was useful in a comment below or on our Facebook and Twitter pages! Don't forget to sign up for our free weekly Newsletter, with all the latest news in 3D printing delivered straight to your inbox!