TOP 13 PEEK and ULTEM 3D printers
---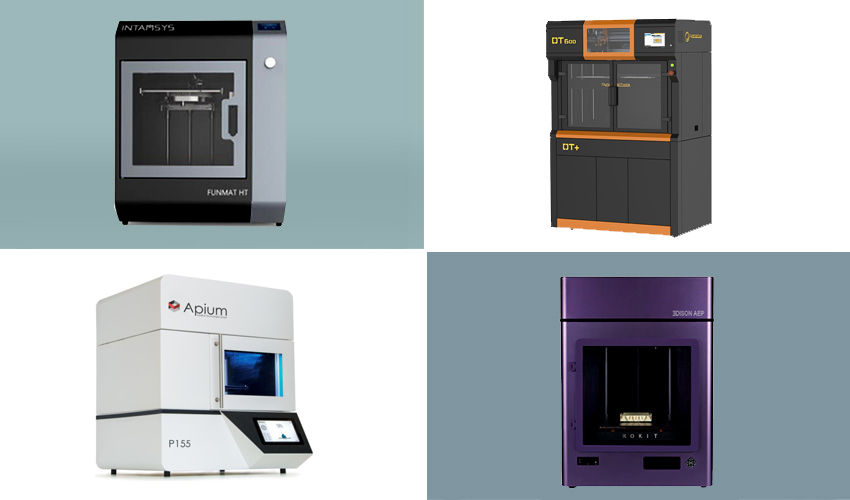 The growing interest of professionals for more technical printing materials is being felt. Focusing on two thermoplastics, the PEEK and its more affordable version ULTEM, these are two high-performance polymers that have been growing in popularity in recent years.
PEEK (polyetheretherketone) is part of the PAEK family (polyaryletherketone) while ULTEM is the trade name for PEI (Polyetherimide), which was developed by General Electric in the 1980s. For more on PAEK and PEI, find our article here. What are their main characteristics? High mechanical performance and very good resistance to high temperatures, with applications in the fields of aeronautics and aerospace.
However, these two super thermoplastics require more complex printing parameters, namely an extrusion temperature of more than 350° C, a heated chamber and a printing bed capable of rising to more than 100° C. Technical constraints that explain why the number of compatible 3D printers is relatively low on the market. To help you in your research, 3Dnatives has now bundled together with the best 3D FDM printers capable of printing these PEEK and ULTEM materials.
TOP 1: The MAGIC-HT PRO
The 3D printer MAGIC-HT-PRO of the Asian manufacturer IEMAI 3D, is a high performance machine equipped with double printhead. It is capable of reaching up to 450 ° C which allows it to manufacture with the majority of polymers on the market, but especially with specialized engineering materials such as: PEEK, PEAK, PEKK, PPSU, ULTEM, CARBON, METAL. It has a print volume of 310 x 310 x 480 mm, it has a heated chamber and printing tray, reaching 120ºC and 170ºC respectively. Due to this it also has a liquid cooling system. It has Wi-Fi connectivity, touch screen and filament detection. It can be found on the manufacturer's website for a price of around € 16,000 ($18,287).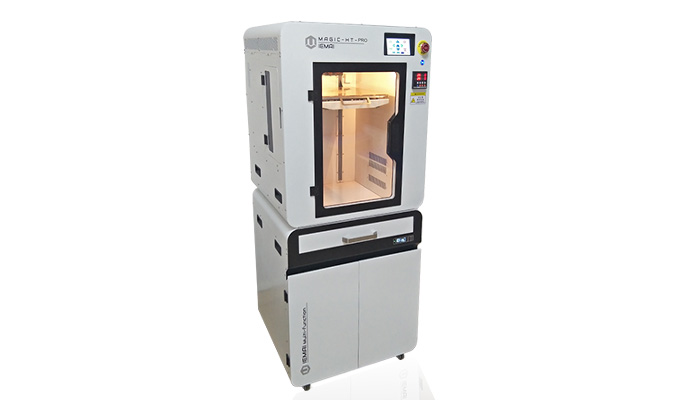 TOP 2: The AON3D printer
Created by a Canadian manufacturer, they have developed their M2 printer with two extruders and a generous print volume of 454 x 454 x 640 mm. With a print head of up to 470° C, a 170° C heated bed, and 120° C print chamber, the AON3D machine can print a variety of materials including PEEK and ULTEM, offering all professionals more resistant parts at a lower cost.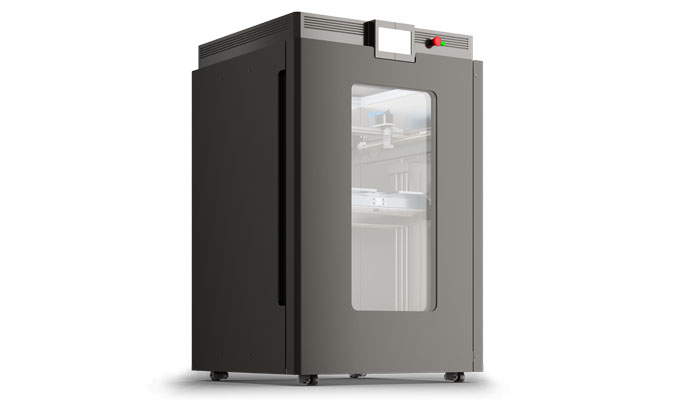 TOP 2: The Apium P155
The Apium P155 3D printer from the German manufacturer of the same name has a metal print head that can go up to 540° C, a heated bed of up to 160° C and offers an accuracy of 0.05 mm on the Z axis. With its print volume of 140 x 135 x 148 mm, it allows the user to create complex and resistant parts while maintaining a lightweight. Its touchscreen facilitates the use of the machine and makes it an ideal tool for all professionals in aeronautics, medical or automotive.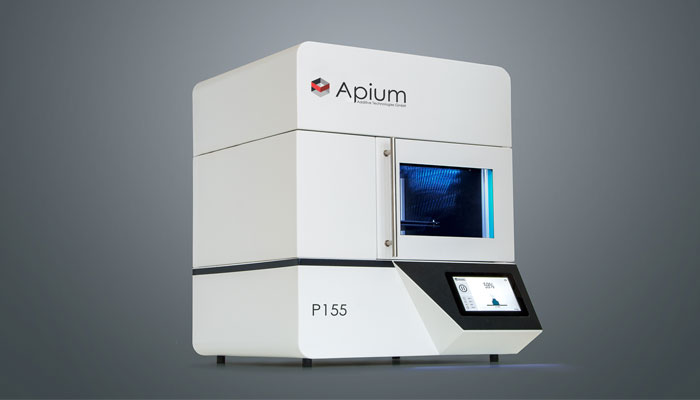 TOP 3: INTAMSYS and its Funmat HT printer
The Funmat HT 3D printer has two extruders, one for low temperatures and the other for the highest – up to 450° C. It has a heated bed that can go up to 150° C and a printing chamber with a temperature of 90° C. It is compatible with most of the filaments on the market including ULTEM and PEEK to create pieces with a maximum volume of 260 x 260 x 260 mm.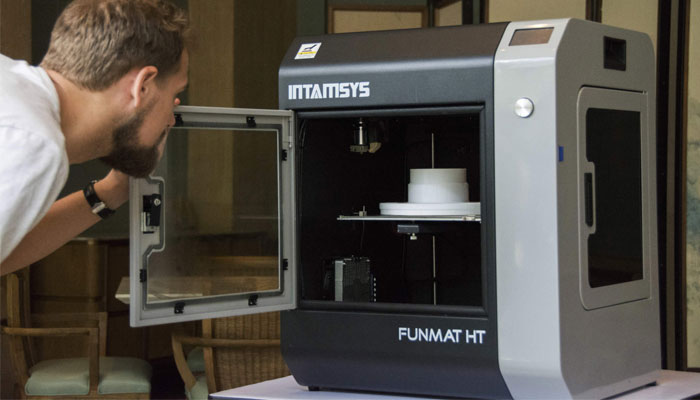 TOP 4: The Hyrel 340 by Hyrel 3D
The American manufacturer Hyrel 3D has developed a 136-kilo 3D printer compatible with technical materials thanks to the modular print heads. Its heated bed can reach 110° C (with an option of going up to 200° C) and its print volume is 400 x 300 x 250 mm. It is compatible with all US-designed printheads including the MK1-450 that can reach up to 450° C to create parts from PEEK and ULTEM.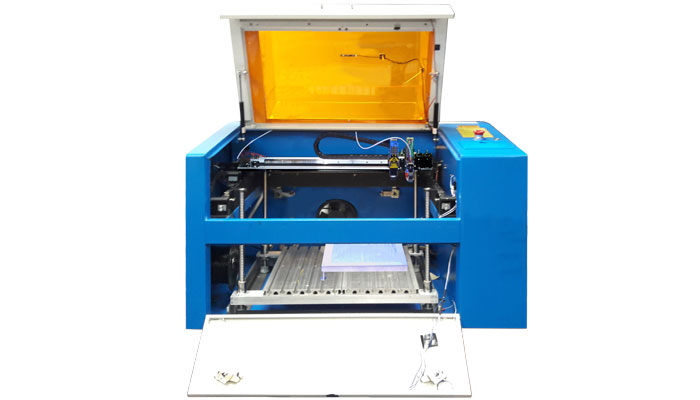 TOP 5 – Hage3D and the 140L
Austrian manufacturer Hage3D has designed the 140L 3D printer that has a generous print volume of 700 x 500 x 400 mm. Its print head reaches 450° C and its printing chamber reaches 85° C. Its 7-inch touch screen facilitates the printing process and its control. The 140L is ideal for the aerospace, automotive and all medical engineering sectors.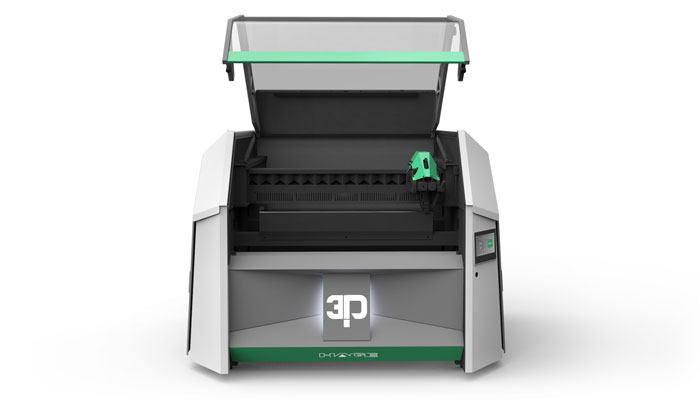 TOP 6: Roboze ONE +400
The Italian manufacturer Roboze has revealed its second 3D printer, the Roboze ONE +400 in 2016. It is an affordable office machine that has the particularity of reaching high temperatures – up to 400 ° C – allowing it to print more technical materials such as PEEK, ULTEM but also polycarbonate. Its patented motor system offers higher print speed and resolution than traditional systems. The company initially focused on medical and dental applications, but the Roboze ONE + 400 is also used in the automotive and mechanical industries.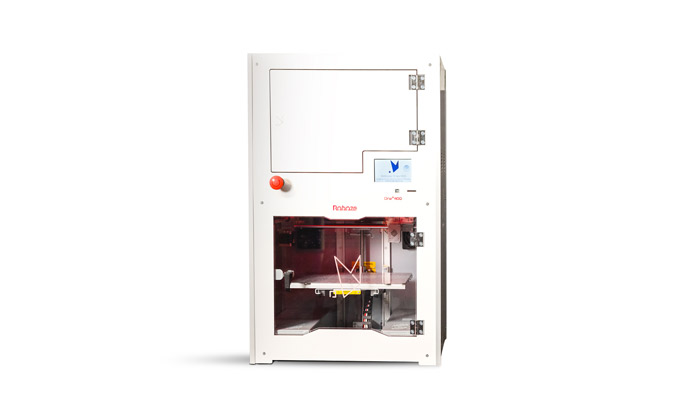 TOP 7: Stratasys Fortus 450mc
The American giant Stratasys has developed the Fortus 450mc to enable manufacturers to print high-performance materials of large size. Its print volume is indeed quite generous at 406 x 355 x 406 mm. It is an ideal machine for all specialized sectors such as automotive, medicine or aeronautics that are looking to create solid components, resistant prototypes and production tools of all kinds.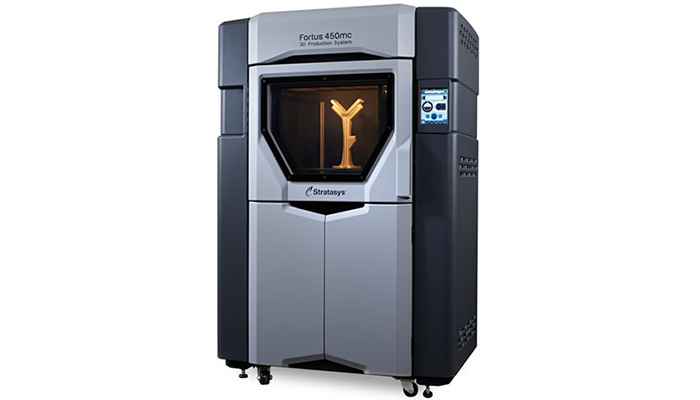 TOP 8: CreatBot F430
Chinese company CreatBot started marketing its CreatBot F430 printer in 2017. With a double extruder, it is able to print with different filaments including a more technical range. This is made possible by a print head of up to 450° C and a heating bed. Its print volume is 400 x 300 x 300 mm.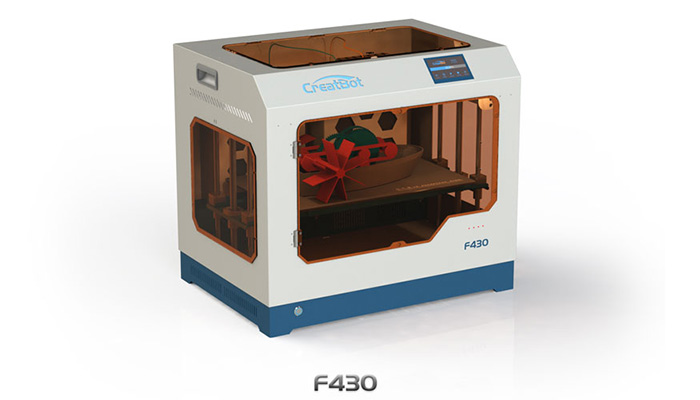 TOP 9: Tractus3D T650P, the delta 3D printer
Dutch startup, Tractus 3D, has specialized in the development of industry-centric 3D delta printers. Its melt deposition machines offer the possibility of reaching high temperatures thanks to its extruder and heating bed and are therefore compatible with technical materials such as PEEK and ULTEM. The T650 P printer has a print volume of 170 x 170 x 285 mm and a minimum layer thickness of 0.05 mm. It is currently available starting at €7,900.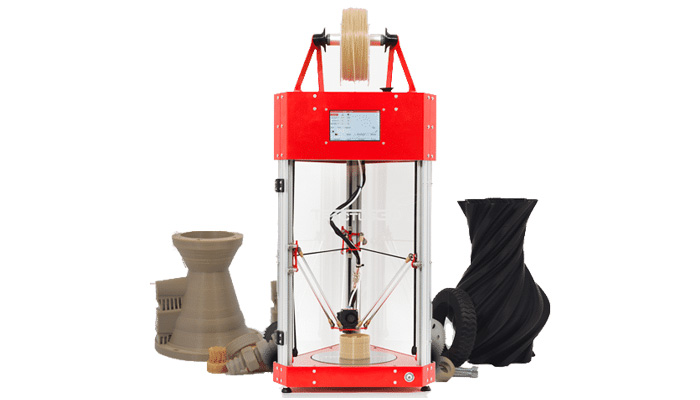 TOP 10: 3DISON AEP, a certified printer
The 3DISON AEP printer was developed by the ROKIT company based in Seoul, South Korea. This FDM printer makes it possible to create 260 x 200 x 245 mm pieces with high strength materials. It has also been awarded the KC Asian certification which means that it meets all the prerequisites in terms of safety, health, and environment. Its print head can go up to 400° C and its printing bed can go up to 280° C.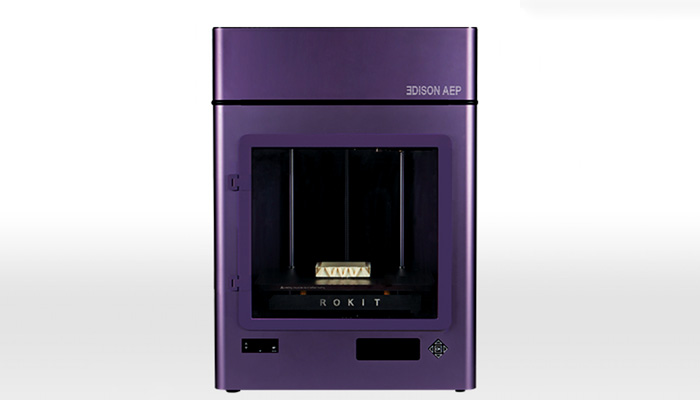 TOP 11: DT600 +, the double extrusion printer
Dynamical Tools is a Spanish company specializing in additive manufacturing solutions for the industrial sector. Dynamical tools began by developing the DT600, an FDM printer that has since evolved into the DT600 +. This machine allows for the printing of high-performance materials such as ULTEM or PEEK. Equipped with two extruders, it has a print volume of 600 x 450 x 450 mm. The temperature of its print head reaches 500° C while its hot bed can go up to 150° C.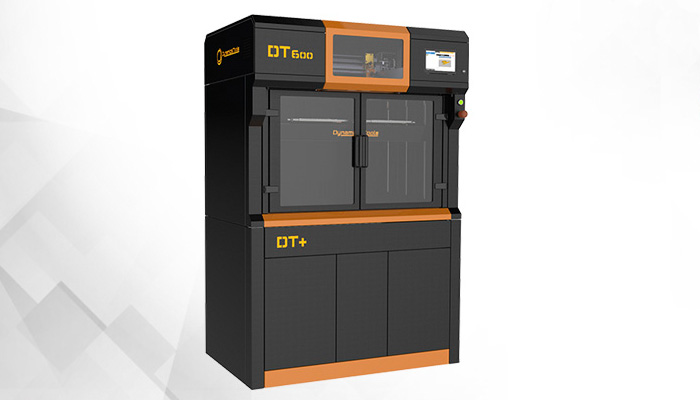 TOP 12: INDUSTRY F340
The INDUSTRY F340 is an evolution of the first industrial machine of the Polish company 3DGence which, after its creation in 2014, has relied heavily on industrial additive manufacturing. This machine has a print size of 260 x 300 x 340 mm and three types of interchangeable print heads depending on the type of material you want. The PRO MODULE is compatible with materials up to 265° C such as ABS, HIPS, PET and nylon. The HT MODULE is suitable for manufacturing parts with PC, PC-ABS, PC-ESD, up to 340° C. Finally the HTmax MODULE which can go up to 500° C is ideal for printing more industrial materials like PEEK.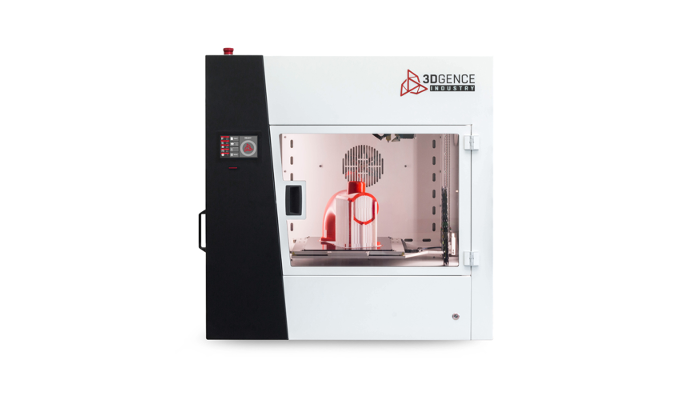 Did we miss a 3D PEEK or ULTEM printer in our ranking? Let us know in a comment below or on our Facebook and Twitter pages! Don't forget to sign up for our free weekly Newsletter, with all the latest news in 3D printing delivered straight to your inbox!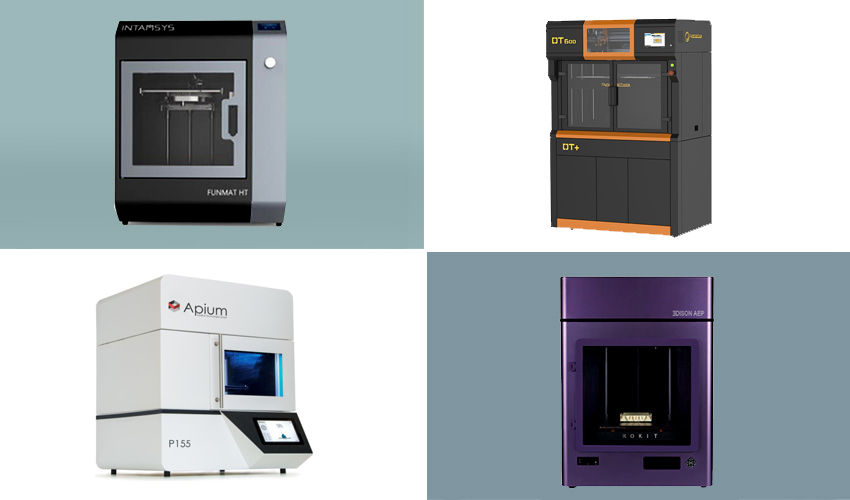 ---
You may also like