The Top Bicycles Made With 3D Printing
Published on September 22, 2020 by
Aysha M.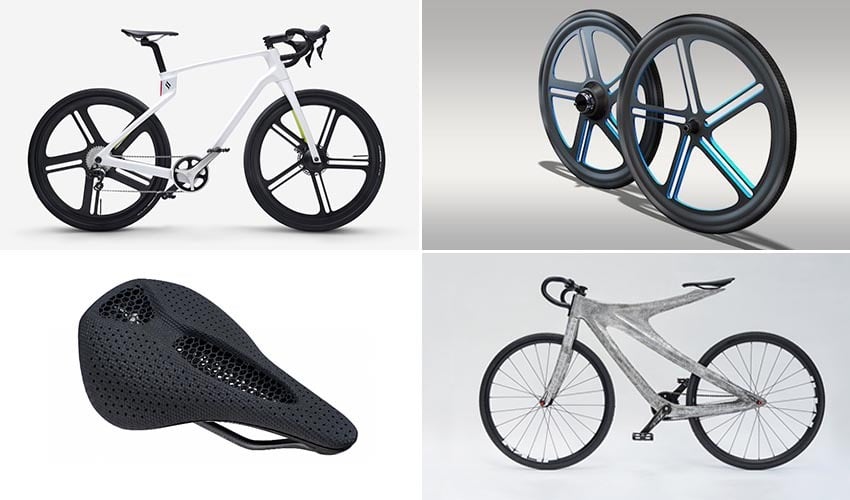 As you know, additive manufacturing is starting to play an important role in the world of sports, where it allows to design custom-made equipment, more adapted to the morphology of each athlete: while focusing on increasing comfort, it also offers better performance. Cycling is undoubtedly one of the sports where 3D technologies are most widely used. The goal is to imagine a bike that is lighter, faster, more comfortable, while reducing manufacturing time and costs. At the moment, there is no such thing as a bike 3D printed in its entirety – it's more a matter of certain components, such as the saddle, frame, pedals, etc. So today, we present 12 bikes that have been made using 3D printing, be it commercialized products available on the market or just unique projects that demonstrate the advantages of the technology. The bikes are listed in alphabetical order.
The Bikes Available on the Market
Bike frame by Arevo
A startup from Silicon Valley, Arevo, has developed a six-axis robotic 3D printing platform capable of designing composite parts. In order to demonstrate the advantages of its solution, it has imagined a 3D printed frame from carbon fibers. The part was produced in a single run and took only a few days to manufacture – the process normally takes 18 months from design to production. In particular, Arevo worked with Emery Bikes to create Emery One, the first electric bicycle with a 3D printed carbon fiber frame.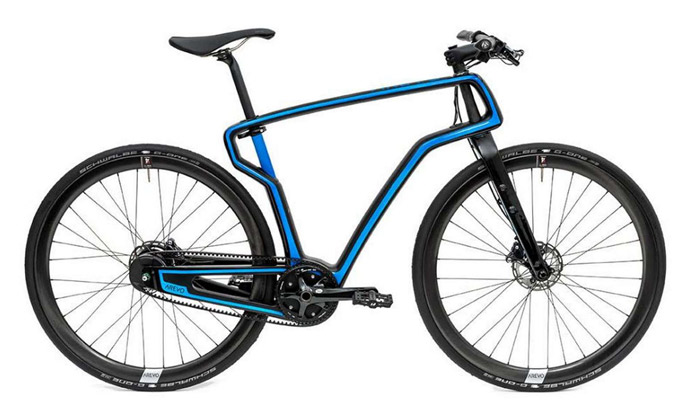 Atherton Bikes
Specializing in mountain bike production, Atherton worked with UK metal 3D printer manufacturer Renishaw to produce the titanium sleeves for its bike frames. These are connectors that connect the cylindrical tubes that form the frame of the two-wheeler. They were printed on the RenAM 500Q machine with four lasers. This saves Atherton time, but also allows the company to change the sleeve design if necessary – simply by modifying the CAD file and testing different designs.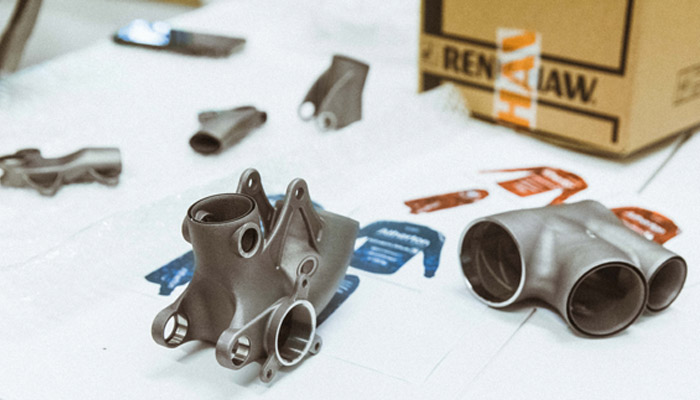 Empire Cycles & Renishaw: 3D printed bike frame
Empire Cycles is a bike designing and manufacturing company from the North-West of England that offers innovative designs to mountain bikers and downhillers. Working with UK metal AM manufacturer Renishaw, it optimized the design of its mountain bike using additive manufacturing technologies. By using topology optimization software, Renishaw was able to determine the most efficient place for material, removing it from areas of low stress until a design optimized for load bearing was generated. Therefore, the mountain bike frame's weight was reduced by 33%. The resulting mountain bike is lighter yet stronger, showcasing a 3D printed titanium alloy frame and seat post bracket. The frame was additively manufactured in sections using Renishaw's AM250 machine.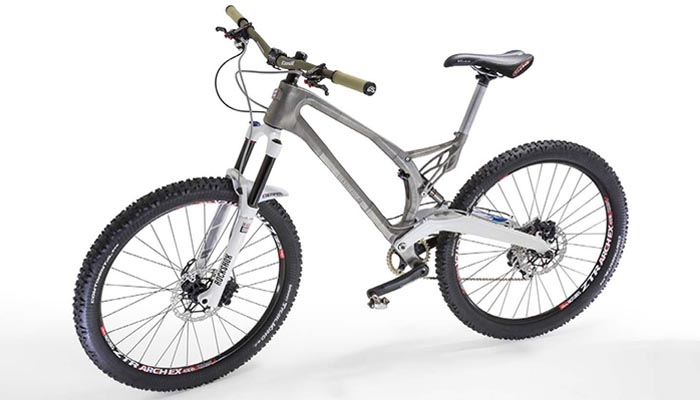 Specialized 3D printed bike saddles
Specialized Bicycles, based in the US, manufactures fitness, mountain and road bikes. In a recent collaboration with 3D printer manufacturer Carbon, the company redesigned the saddle, which it considers one of the most important parts of a bike's body. The challenge when it comes to the saddle is designing a part that can maximize rider performance while providing comfort and stability. Using Carbon's technology, the company replaced the traditional foam saddle with an intricate elastomeric lattice structure that overcomes the limits of foam. Therefore the new design, in hand with the Carbon Digital Light Synthesis technology – which relies on a process of photopolymerization – allows riders to rebound quickly, disperse pressure and improve breathability.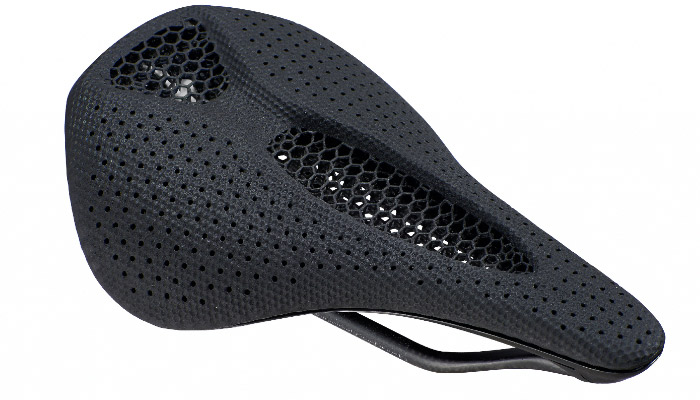 Superstrata
Superstrata partnered with Arevo to design its 3D printed unibody bicycle, which the two companies jointly unveiled this summer. Typically, 3D printed bike frames consisted of several elements that are glued and welded together. The biggest disadvantage of that conventional manufacturing technique is that such frames can quite easily fall apart under pressure. Therefore, Superstrata decided to additively manufacture unibody bikes, using continuous carbon fiber technology. By using carbon fiber reinforced thermoplastics, Superstrata managed to achieve high impact-resistance and light weight – according to the company, one bike weighs less than 2 water bottles or 1,3 kg! Since Directed Energy Deposition (DED) 3D printing technology enables a perfect customization, each frame can be custom produced to fit the individual's body type.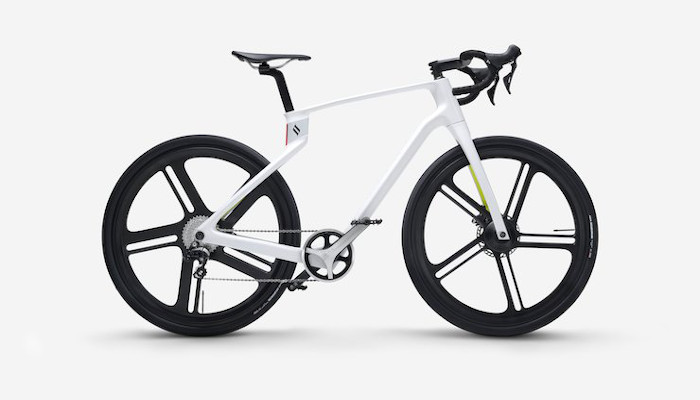 Urwahn Bikes
The German bike manufacturer, Urwahn Bikes partnered with Schmolke Carbon, specialized in the fabrication of carbon fiber bike parts, to develop a 3D printed frame for its racing bike. The first thing you notice on this bike is the copper plating on the 3D printed steel frame. Besides its shiny exterior, this racing bike has a geometric advantage over other bikes: the elastic suspension of the rear wheel gives the rider additional riding comfort without sacrificing bottom bracket stiffness. This effect is especially noticeable on longer rides and uneven surfaces.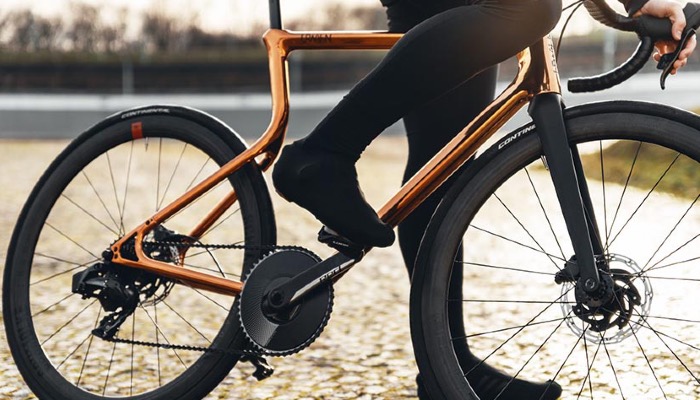 Volkswagen x Kinazo electric bike
The Slovak company Kinazo worked with the automotive manufacturer Volkswagen to design its 3D printed electric bike, the Kinazo e1, which was first released in 2017. Kinazo aimed to create an electric bike with an integrated battery in the frame and its own system of controlling the electronics through a mobile application. They also wanted it to be customizable. 3D printing was a perfect solution, as it would allow not only customization but also for the frame to be produced in one piece! Therefore, Kinazo turned to Volkswagen, which, at the time, had one of the largest metal 3D printers in the world: a Concept Laser X LINE 2000R. With a build area of 800 x 400 x 500 mm, the machine was big enough to 3D print the bike's frame. The bike was prototyped in aluminum and weighed about 20 kilograms.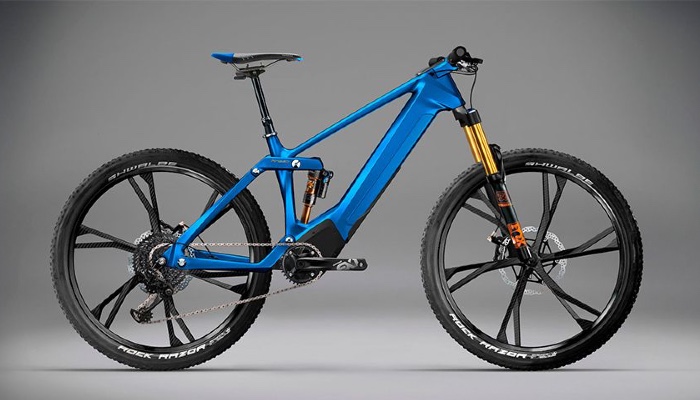 WX-R Vorteq
The British company Vorteq developed the WX-R track bike in collaboration with engineers from the bike manufacturer Worx. The aim of the project was to overcome air resistance. For the realization of the bike, they used the portable 3D scanning technology, Artec Leo, a CFD analysis and a CAD program. This enabled them to develop a high-performance carbon fiber bike that has already won two medals, three personal records, two national records and a new Asian record at the UCI Track World Championships in early 2020. In the future, the WX-R track bike will be used in sprint events at the Olympic Games!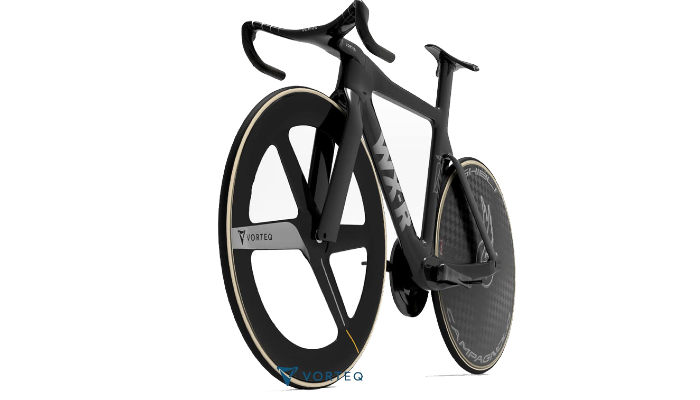 The 3D printed bike projects
3D printed Arc Bike II
The Amsterdam-based company MX3D, which specializes in RAM (Robotic Additive Manufacturing) technology, has developed its own bike called the Arc Bike II. It was 3D printed in 24 hours using WAAM (Wire Arc Additive Manufacturing) technology. Unlike its predecessor, which was made of stainless steel, this one is much lighter because it is made of aluminum. It should also be easier to customize since the design of the bike can be adapted to the proportions of the cyclist's body using generative design software. The bike is not intended to be commercially available, but is currently being used as a demonstrator of the benefits of WAAM technology.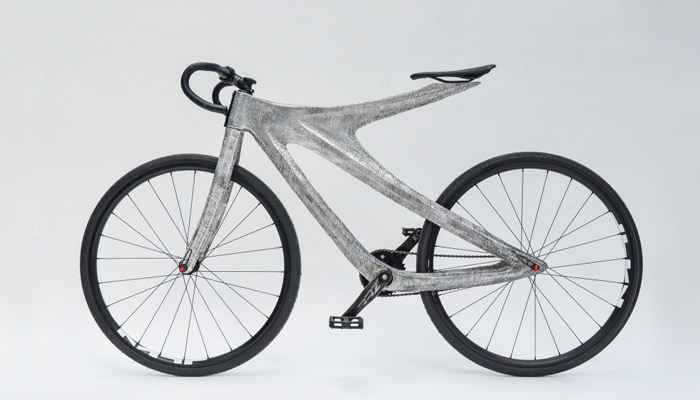 BMW Balance Bike
A balance bicycle is a bike without pedals, chains or gears that helps children learn balance and steering. Dutch designer Roel van Heur has designed a model inspired by a BMW luxury motorcycle. The frame and forks of the Balance Bike were made of stainless steel, cut and welded into shape, and then hand brushed for an authentic finish. The Balance Bike also contains 3D printed parts, such as the fake fuel tank and fork sleeves. This small 3D printed bike is a personal project and shows the capabilities of 3D printing.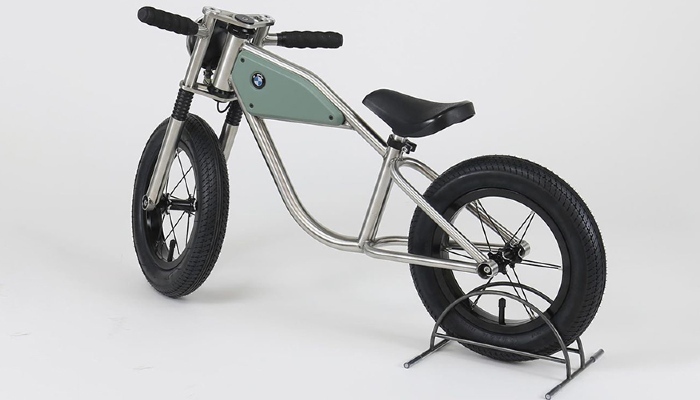 Freicycle
Developed by Dr. Dennis Freiburg, the Freicycle broke the Guinness record for the world's lightest electric bicycle in 2019. Weighing less than 7 kg, this bicycle features 3D printed parts, which helped to significantly reduced the final weight. The German mechanical engineer started with a model whose chassis weighed less than 1 kg and whose brakes were mounted on the rim. Pedals and brake calipers were an example of lightweight parts that could be integrated through additive manufacturing. The engine part often adds a lot of weight to a bike, so Dennis converted the main engine to a friction motor supported by the rear wheel. Being able to reach a speed of 48 km/h, the Freicycle is certainly an incredibly efficient solution.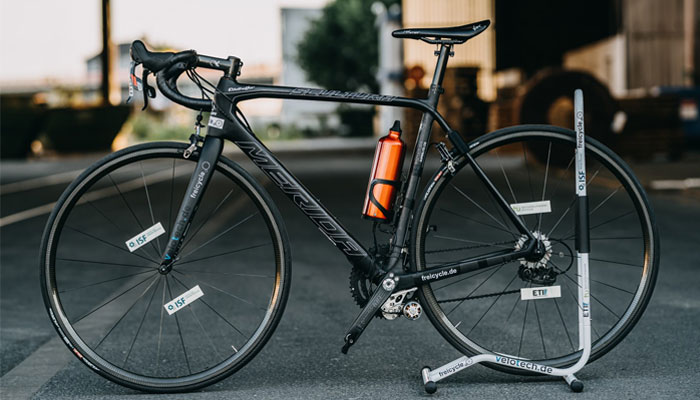 3D printed bike by Sculpteo
Sculpteo has once again proven that it is capable of providing solutions to all obstacles that may arise by optimizing manufacturing processes. This time, they proposed one of the most visionary and original products: the first 3D printed bicycle that moves thanks to digital functions. Sculpteo's engineers and managers took this bike on a trip from Las Vegas to San Francisco. The goal? To demonstrate the strength of the product as well as the advantages of the technology used. Their Agile Metal Technology was a key point of the project. It is a very complete software suite designed to facilitate and accelerate metal 3D printing projects. It can be considered today as the first 3D printing artificial intelligence application, created to help evaluate and anticipate all the problems that a project like this can encounter during the manufacturing process.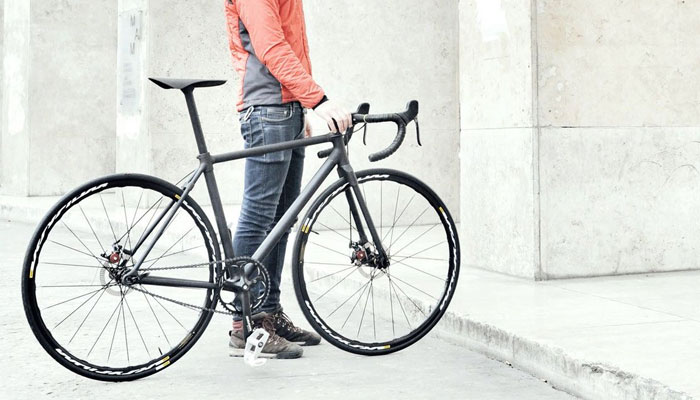 What do you think about this ranking of 3D printed bikes? Let us know in a comment down below or on our Facebook and Twitter pages! Don't forget to sign up for our free weekly Newsletter, with all the latest news in 3D printing delivered straight to your inbox!