RAMLAB designs the first boat propeller using additive manufacturing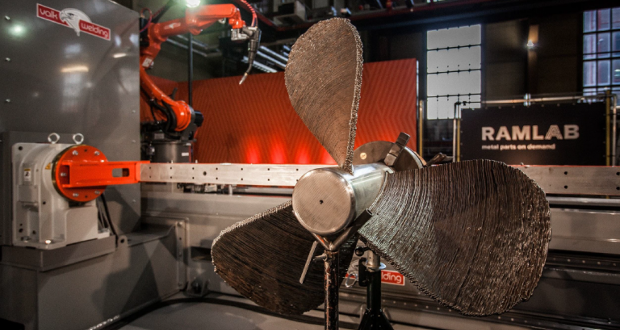 In our latest addition of our TOP 5 videos of the week, we showed you a promising initiative for the marine industry coming straight to us from the Netherlands. Fiedlab (RAMLAB), an additive manufacturing company that is based in Rotterdam teamed up with Autodesk to produce a boat propeller prototype that is making history by bringing additive manufacturing to the maritime sector for the first time.
Deciding to work out of the Dutch port in Rotterdam was no coincidence, as it is the largest port in Europe; a major hub for a large number of carriers from around the world, and managing more than 460 million tons of goods a year. With the amount of traffic this port sees, it makes sense that when a ship is in need of a spare part, they need one as quickly as possible. Because typical waiting time for parts can take weeks to months and can cost millions of dollars in both ordering and storage costs, it comes as no surprise that the port would be looking for cheaper ways to maintain their ships.
To help bring in these cheaper solutions, the Port of Rotterdam has opened the RAMLAB, a factory that is directly on site and that is equipped with two 6-axis robotic arms that are capable of 3D printing large metal parts. The RAMLAB team works with a dedicated network of hardware and software partners, academic institutions and end users; all of which help the functioning of this port.
Among their dedicated network of partners includes the 3D printing giant Autodesk, who has played a key role in the development of RAMLAB's innovative industrial approach. This approach combines additive and subtractive manufacturing, enabling the acceleration of part production with large metal parts for boats that are able to be printed in only a few days. This has helped to reduce costs and time, without sacrificing the quality and precision of the print.
"Creating an 'on-demand' manufacturing capability for replacement parts will have a major impact on reducing wasted time and cost currently incurred across the maritime industry when ship parts are damaged," explained Steve Hobbs, the VP of CAM and Hybrid Manufacturing at Autodesk. "We're excited to be working alongside some of the key player sin the marine industry to bring to reality this very tangible example of the future of making things."
The next step will be the creation of a full-scale final version that will be secured on a partner boat by this summer. "With the work being done at RAMLAB, the group hopes to accelerate the cross-industry adoption of hybrid manufacturing for making large-scale parts on demand," explained VVincent Wegner, Managing Director of RAMLAB. "Our aim is to make the Port of Rotterdam not just an important gateway for Europe, but also a leader in the development of new manufacturing methods. Autodesk is a key partner for us due to its expertise in how to design and manufacture using both the latest additive manufacturing techniques and more traditional CNC and machining methods."
Check out the video below to see the propeller in question:
How do you think additive manufacturing will help the maritime sector in the future? Let us know in a comment below or on our Facebook and Twitter page!